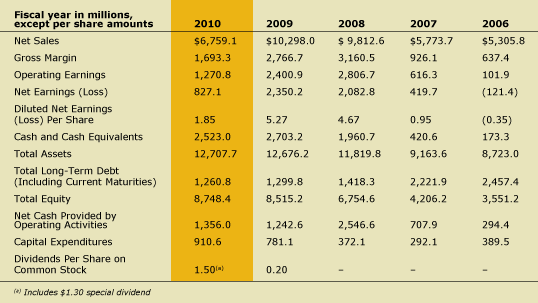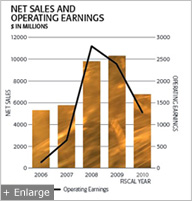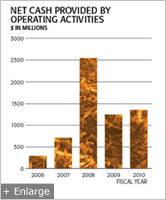 ABOUT THE COMPANY
The Mosaic Company is one of the world's leading producers and marketers of concentrated phosphate and potash. Our operations are vertically integrated from the mining of mineral resources to the production and distribution of crop nutrient, feed and industrial products for customers around the world.
POTASH
Mosaic's annual potash capacity of 10.4 million tonnes is second largest in the world. In 2010, we represented approximately 38 percent of North American production and 12 percent of global production. We operate three mines in Saskatchewan and two in the United States. Mosaic ships 53 percent of our output to North America, with the balance exported globally. We possess an estimated 100 years of high- quality ore reserves.
PHOSPHATES
Mosaic is the world's largest producer of finished phosphate products. Our annual capacity of 9.7 million tonnes represents approximately 13 percent of global production and 56 percent of North American production — more than the next two largest producers combined.
REACH
Through our extensive global distribution capabilities, Mosaic serves customers in more than 40 countries. Our distribution assets are particularly well aligned to address the needs of customers in high-growth regions such as China, India and South America.