Chairman's statement
Significant strategic progress
We have made further progress this year on our ambition to be a converged communications leader in all of our European markets, a mobile data leader in Africa and India, and an Enterprise leader internationally. These strategically strong positions will enhance our ability to achieve our purpose as a Group – which is to connect everybody to live a better today, and build a better tomorrow.
A key development was the announcement in May 2018 of our intention to acquire Liberty Global's cable assets in Germany, the Czech Republic, Hungary and Romania for €18.4 billion, which will transform Vodafone into Europe's leading next generation infrastructure owner and a truly converged challenger to dominant incumbents. In addition, we made good progress in securing approvals for the merger of Vodafone India with Idea Cellular, which is expected to close in June 2018.
A strong financial performance
In addition to these strategic achievements, the Group enjoyed a strong financial performance. Our organic service revenue growth remained modest at a little below 2%, but our sustained focus on cost efficiencies through the "Fit for Growth" programme contributed to organic adjusted EBITDA growth of 12% (8% on an underlying basis)1, with broad-based improvements across most of our markets. This in turn drove a 47% rise in organic adjusted EBIT and 44% growth in adjusted earnings per share.
Progress in Netherlands, challenges in India
In order to strengthen our assets strategically amid highly competitive markets, in recent years we have announced joint ventures in the Netherlands ('VodafoneZiggo') and India ('Vodafone-Idea'). Despite a 4% local currency revenue decline in the year, VodafoneZiggo's financial performance is expected to stabilise during the year ahead, supported by the success of its convergence strategy and significant cost and capex synergies.
Vodafone India experienced a 19% organic service revenue decline during the year, reflecting intense competitive and regulatory pressures. Nick Read will outline in his CFO's review the steps which we are taking to strengthen the combined company's future financial position, ensuring that we can compete effectively going forwards in a consolidated market.
The future is exciting – for our customers and for Vodafone
Vodafone's ultrafast and widely available fixed and mobile networks are enabling a range of exciting new technologies, which contribute to society and create an exciting future for our customers, employees and shareholders. Our new global brand campaign, ''The future is exciting. Ready?'', which launched last autumn, communicated that Vodafone will support our customers every step of the way, helping them to make the most of new and exciting innovations.
We have ambitious sustainable business goals
Our sustainable business strategy, lies at the heart of our development, as we are convinced that the long-term success of our business is closely tied to the success of the communities in which we operate. Vodafone's digital networks and services act as a catalyst not only for economic growth, but also for equality and empowerment. We focus our efforts where we believe we can make the greatest impact, and we now have long-term external and internal ambitions in place to deliver our strategy.
Key highlights include our commitment to reduce our greenhouse gas emissions by 40% and purchase 100% of electricity we use from renewable sources. We also intend to support 10 million young people by 2022 through our future digital jobs programme, "What will you be?", which will help to address the dual challenges of youth unemployment and a growing digital skills gap.
Returns are improving
We have previously highlighted the need for the Group to improve the returns that we are achieving on the substantial organic and inorganic investments that we have made in recent years. In part, this relies upon a better balancing of competition and investment considerations by European regulators and governments, particularly as we approach spectrum auctions for 5G. However, we also remain focused on making improvements under existing industry conditions.
This has been a challenging year for the Telecoms sector in Europe and particularly in India. While we underperformed the FTSE 100 we outperformed our peers, in some cases materially so, as a result of the progress we are making. The Board's confidence in our outlook is demonstrated by a further 2% increase in our dividend per share to 15.07 eurocents for the year.
CEO succession: our thanks to Vittorio
In May 2018, we announced the succession plan for the Group Chief Executive role. From 1 October, Vittorio Colao will be succeeded by Nick Read, our current Group CFO, with Margherita Della Valle (our Deputy CFO) succeeding Nick Read and joining the Board after the AGM in July.
On behalf of the Board, I would like to express our gratitude to Vittorio for an outstanding tenure. He has been an exemplary leader and strategic visionary who has overseen a dramatic transformation of Vodafone into a global pacesetter in converged communications, ready for the Gigabit future. Vittorio will leave as his legacy a company of great integrity with strong inclusive values that is exceptionally well-positioned for the decade ahead. I also would like to recognise from a governance perspective the great way in which Vittorio has worked together with the Board in an atmosphere of openness, transparency and trust.
Nick has been the co-architect of the Group's strategy together with Vittorio, combining extensive international operational and commercial leadership with world-class financial acumen. I am confident Vodafone will benefit greatly from his experience, insight and wisdom in his new role as Group Chief Executive. Margherita has a strong track record in financial leadership at the highest levels, and I am delighted to welcome her to the Board. I would also add that the appointment of Nick and Margherita serves as a testament to the strength and depth of the Vodafone senior leadership team that Vittorio has assembled and led over the last decade.
Gerard Kleisterlee
Chairman
1 Excluding the net impact of EU regulation, UK handset financing, and settlements.
Core programmes
We are building a competitive advantage through our core strategic programmes
Scroll to explore
Network leadership
Our sustained investment in network quality has enabled us to establish differentiated and market leading network positions
We continue to invest in our network and IT infrastructure to further expand coverage, improve reliability, and enhance data speeds. As a result, we now have leading or co‑leading mobile network NPS scores in 14 out of 20 markets.
92%
of European data sessions at high definition video standard
0.34%
lowest ever drop call rate in Europe
107m
marketable households passed. Europe's largest fixed NGN footprint
In order to maintain our leadership position we will continue to enhance our network and deploy new market leading technologies.
Evolving our 4G network to be 5G ready
We are continuing to evolve our 4G network towards delivering gigabit data speeds, increased network capacity, improved response (latency) times, and new service capabilities. These network enhancements are being delivered through a range of advanced technological solutions. As an example, we are now rolling out massive MIMO (multiple input and multiple output) antennas in our markets. These antennae fundamentally change the way in which we transmit radio signals. Rather than the signal being transmitted everywhere, massive MIMO provides multiple beams of signal and each beam is assigned to a unique user or group. It therefore delivers a better and more reliable user experience, creates less interference, and has the benefit of increasing the site capacity by improving spectrum efficiency. This evolution of 4G combined with new 5G radio spectrum and antennae will provide the underlying network infrastructure for 5G.
Radio site evolution
Non-massive MIMO Massive MIMO
Future-proofing our fixed line infrastructure
In fixed, we are upgrading our cable infrastructure to the latest DOCSIS 3.1 technology and deploying fibre deeper into the network. This delivers a significant improvement in maximum user speeds and network capacity. The rollout of DOCSIS 3.1 is now well advanced in Spain, while in Germany we have commenced a two year rollout programme starting in 2018.
Customer eXperience eXcellence ('CXX')
Delivering an outstanding and differentiated experience for our customers
The Group's customer experience excellence (CXX) programme is our core marketing strategy for brand and service differentiation. Through our CXX programme we aim to deliver an outstanding and differentiated user experience for our customers, further building on our network leadership position.
17/20
markets we have market-leading or co-leading Consumer net promoter scores
19/20
markets we have market-leading or co-leading Enterprise net promoter scores
+8
points average score improvement to next best (over 3 years)
The programme focuses on four key aspects of our customers' experience with Vodafone, summarised by the acronym 'CARE'. Given the strategic importance of the programme, CXX performance indicators including Net Promoter Scores ('NPS') and brand consideration represent up to 40% of the annual bonus award for employees across the Group.
As the initiatives described below illustrate, we have made good progress this year in each of the areas covered by our CARE framework:
Connectivity that is secure and smart
Our "Secure Net" proposition is now live in ten markets, providing customers with extra security protection. And we have mobile network guarantees in place across 17 markets, promising customers their money back if the network fails to meet their expectations within their first month of use.
Always excellent value
Through our Big Data platform, which is live in 15 markets, we are able to notify customers of personalised solutions which meet their specific needs. Today, 35% of our communications with customers in these markets are supported by Big Data analysis.
Real-time relevant rewards
Loyalty and reward programmes have now been implemented in 18 markets and are available either via the My Vodafone app or the Vodafone website. In 14 markets, we have also introduced gamification activities to make redemption of these rewards a fun experience, such as "Shake", where customers shake their phone to receive rewards.
Easy, Personal Instant Access
The My Vodafone app, which is now live across all of our markets, provides customers with a flexible way of monitoring and managing their services online. By the end of the financial year, My Vodafone app penetration across the Group reached 60%, up 5% year-on-year with customers on average using the app over nine times per month.
We expect to further enhance our customers' experience through digital channels and platforms. The focus will be on scaling up real-time and personalised offers, deploying artificial intelligence (AI) across both service and sales touchpoints and simplifying the access and use of our services, for example, via touch ID login and integrated virtual assistants.
Fit for growth
Our comprehensive cost efficiency programme
"Fit for Growth" is a comprehensive cost efficiency programme designed to drive operating leverage and margin expansion across the Group.
Impact over three years
80%
of procurement centralised
€340m
saved through network design standardisation
€240m
Group support function savings through zero based budgeting
This targeted programme uses external "best in class" benchmarks to determine cost saving opportunities both at a local market and a Group level, where our global scale can provide a competitive advantage.
At the start of this year we launched our second phase of Fit for Growth, enabling us to broaden and deepen our cost saving initiatives.
We have also developed a new customer profitability analytics platform, which has now been rolled out across nine markets. We see a substantial opportunity for margin improvement as we take commercial actions to capitalise on these insights.
We have continued to make good progress this year in lowering our operating cost base, reflecting the success of our Fit for Growth efforts. These Group initiatives include centralising procurement, developing shared service centres in low cost regions, improving sales channel efficiency, standardising network design and zero based budgeting ('ZBB') initiatives. As a result, we were able to lower our net operating costs on an organic basis for the second year running. Importantly, this cost reduction was achieved while maintaining our robust commercial momentum and despite a 63% increase in mobile data traffic during the year.
This sustained focus on cost efficiencies meant that for the third year in a row we were able to grow our adjusted EBITDA faster than service revenues, supporting a significant improvement in our adjusted EBITDA margins. This improvement was broad-based, with 20 out of 25 markets growing adjusted EBITDA faster than service revenue during the past year. Overall, we achieved a 1.3 percentage point improvement in the Group's underlying organic adjusted EBITDA margin (excluding EU regulation, UK handset financing, and legal settlements).
Digital Vodafone
We are reinventing our business model through Digital Vodafone
Scroll to explore
Digital Vodafone
The next phase of the Group's strategic development
The "Digital Vodafone" programme develops and strengthens our existing Customer eXperience eXcellence ('CXX') programme and enables us to build on our Fit for Growth achievements.
We aim to deliver the most engaging digital experience for our customers, blending the digital and physical assets of Vodafone to provide personal, instant and easy interactions.
By using advanced digital technologies our ambition is to enhance our customers' experience, generate incremental revenues and continue to reduce net operating costs on an organic basis.
Digital customer management
We intend to increase the use of data analytics to provide predictive, proactive and personalised offers to our customers, optimising the efficiency of our marketing spend, enhancing ARPU and improving our direct channel mix. The My Vodafone app and our digital marketing channels will, over time, become our main customer acquisition and management platform.
We will also be able to meet any customer request through automated, digital support – for example, by using chatbots and digital agents that utilise rapidly developing artificial intelligence technologies, developed and shared on a Group-wide basis.
Digital technology management
We will rapidly install new "middleware" on top of our legacy IT systems. This "Digital eXperience Layer" will accelerate the deployment of new digital capabilities, de-coupling them from the longer and financially costly upgrade cycles for our legacy billing and other systems. In addition, real-time data analytics will enable even smarter network planning and deployment, as well as more precise ROI-based investment decisions.
Together with the ongoing effort to migrate 65% of our IT applications to the cloud, we aim to achieve significant capex and opex efficiencies, allowing us to re-invest based on customers' actual and predicted profitability.
Digital operations
We see substantial scope for digitalisation to accelerate the simplification and automation of standard processes, in both operational and support areas. These include IT and network operations, customer management back office functions and all other administrative activities.
We have already established an automation unit and we have made good progress with over 200 bots active in our Shared Service Centres.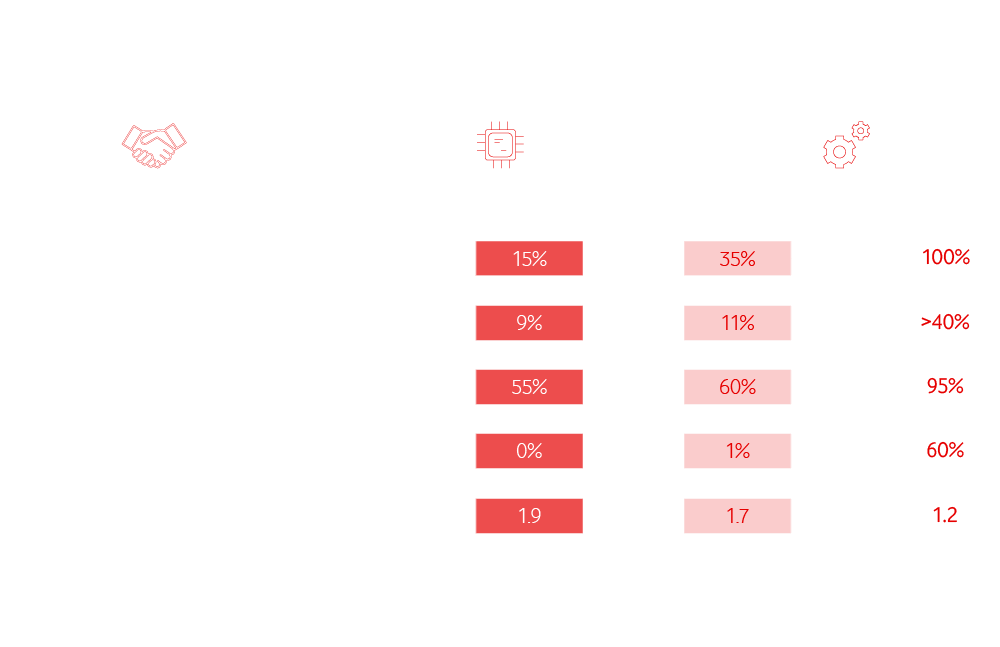 Strategic review
We measure our success through our strategic growth engines
Scroll to explore
Chief Executive's strategic review
Vittorio Colao
Chief Executive Officer
Building a digital leader in data communications
This has been a year of robust commercial momentum and significant strategic progress, with a strong financial performance that exceeded our initial expectations for profitability and cash generation. Our customers enjoyed our best ever mobile network performance, and together with improvements in customer service and in the stability of our modernised IT and billing platforms, particularly in the UK, this contributed to our highest ever net promoter scores ('NPS') at year-end.
Our growth engines
Mobile data
Group mobile data growth
Fixed and Convergence
Group broadband net adds
Enterprise
Service revenue growth
Our three "growth engines" performed well. Mobile data growth remains strong, up 63% year on year, and our "more-for-more" propositions helped to offset regulatory headwinds. We remained Europe's fastest growing and leading challenger in broadband, adding 1.1 million households during the year, and also added 0.8 million converged customers, typically increasing ARPU and reducing churn. Meanwhile, our Enterprise business continued to outperform our peers thanks to the success of our world-leading IoT division, despite an overall declining market environment. We achieved all of this, while lowering our net operating costs on an organic basis for the second year in a row, thanks to our Fit for Growth initiatives.
Network leadership: preparing for 5G
The substantial investments we made during Project Spring, supported by sustained ongoing capital expenditure, have allowed us to maintain our network leadership and co-leadership positions in mobile. In several markets – notably in Germany and Italy – the gap in performance between ourselves and the value players continued to widen, supporting a premium price differential.
We are optimistic about the long-term potential of 4.5G and 5G services, and we intend to invest in the upcoming 5G spectrum auctions over the next two years in order to maintain and optimise our spectrum position across all technologies.
We expect to deepen our 4.5G coverage and then launch 5G services in 2020, once handsets are widely available, as this will become the lowest cost option to add incremental capacity. We expect 5G investments to be funded from within our existing levels of capital expenditure.
Acquiring Liberty Global's cable assets in Germany, Central and Eastern Europe
In May 2018, we announced our intention to acquire Unitymedia in Germany, as well as the UPC cable assets in Central and Eastern Europe ('CEE'), from Liberty Global for a total enterprise value of €18.4 billion. This transaction transforms Vodafone into Europe's leading next generation infrastructure owner with 54 million on-net homes, out of a total NGN footprint of 114 million. In Germany we will become a converged national challenger, and in our predominately mobile-only markets in CEE we will significantly accelerate our convergence strategy. In total we will acquire gigabit capable networks passing 17.4 million marketable homes, including 11.0 million in Germany, with an attractive organic growth outlook given a speed advantage versus local incumbents and relatively low broadband penetration. In-market consolidation across the four countries is expected to create synergies with an NPV of over €7.5 billion, with run-rate cost and capex savings of €535 million by the fifth year post completion (before integration costs). The transaction is subject to regulatory approvals and is expected to close around the middle of calendar 2019.
Creating a new market leader in India
I am pleased with the progress we are making in securing regulatory approvals for the merger of Vodafone India with Idea Cellular, which is expected to close by the end of June, and we recently announced the appointment of a combined management team. Separately, in April 2018 we also announced the merger of Indus Towers with Bharti Infratel, creating India's leading listed tower company in which we will own a significant liquid stake.
Customer eXperience eXcellence ('CXX') and Digital Vodafone
Our efforts to deliver an outstanding customer experience, capitalising on our leading network quality, contributed to further gains in NPS across most of our markets during the year. In 17 of our 20 markets we now have a leading or co-leading consumer NPS score. Even more importantly, the NPS gap between ourselves and the third placed competitor (typically the value-players) is now 16 points.
During the year we decided to initiate a new strategic programme, "Digital Vodafone", which will leverage on our earlier work with the CXX programme. We aim to transform our business model by delivering the most engaging digital experience for our customers; using advanced data analytics to improve all commercial and technology investment decisions; and automating key aspects of our operations. Our ambition is to generate incremental revenues and to further reduce net operating costs on an organic basis.
The programme is already being implemented across our largest operating businesses, where we are merging commercial and technology teams to achieve better and more efficient product and service development, at a lower cost than in the traditional "siloed" functional model. We are also insourcing critical digital skills, in order to reduce reliance on external developers and adopt more agile working processes, and we have strengthened our internal digital marketing platforms and units, to achieve a better return on our media investments.
This transformational programme will be the most important source of differentiation and efficiency gains for Vodafone in the coming years.
Chief Executive succession
It has been a privilege to spend 20 years of my life working at Vodafone, the last ten of which as Group CEO. The company has evolved from a collection of assets – mostly consumer mobile – and minorities, to a strong mobile and fixed infrastructure owner, with co-controlled JVs and a strong Enterprise business. I am highly confident that Nick Read and Margherita Della Valle, whom I have worked with extensively throughout this time, are the right choices to lead the company through this exciting next phase of convergence and digital transformation.
Vittorio Colao
Chief Executive
Mobile data
Providing the best mobile data experience
63%
growth in mobile data traffic
63%
growth in 4G customers
51%
increase in average customer data usage
Context
The demand for mobile data is growing rapidly. Over the past three years data usage on our network has more than tripled
This is being driven by increased smartphone adoption, customers moving to 4G (which provides faster data speeds and lower latency for a better user experience), and an increasing trend towards bigger data bundles
Customers want to use data in a "worry-free" way, without incurring unexpected costs whether using their mobiles at home or abroad
Our substantial network investments create a strong platform to capture this demand and enable us to differentiate ourselves versus our competitors on data quality
Our goals
To monetise this growth in mobile data through a range of "more-for-more propositions" (where we provide additional benefits to customers for a small incremental monthly fee), as well as providing personalised offers supported by our advanced data analytics
Provide worry-free offers to customers to further encourage data usage
Further increase smartphone and data penetration across our customer base. In Europe and AMAP smartphone penetration is 73% and 43% respectively
Accelerate the adoption of new consumer IoT products and services, both using our own "V by Vodafone" and third-party solutions
Further improve and enhance our network to provide the best data experience
The demand for mobile data has continued to grow rapidly
During the financial year, data traffic across our network increased by 63% (Europe: 61%, AMAP: 66%). Additionally, India data traffic increased fourfold following a steep decline in data prices. This reflected strong 4G customer growth, up 63% to 122 million customers (an increase of 47 million in the year), together with increased data allowances. Smartphone usage also continued to grow, with customers using 2.5GB on average each month, up 51% year-on-year (Europe: 2.6GB, AMAP 2.2GB, India 3.5GB).
Monetising data growth through 'more-for-more' propositions
In Europe, we are monetising the growth in data usage through a range of "more-for-more" propositions as well as personalised offers utilising advanced data analytics. As a result, underlying consumer contract ARPU is stabilising across many of our markets, although regulatory drags and a mix shift towards lower priced SIM‑only contracts are weighing on reported ARPU metrics.
In AMAP, data revenues grew strongly, supported by the relative scarcity of fixed internet access, low data penetration and the success of our personalised offers to customers.
We have launched new "worry-free" services
In 2017, we launched "Vodafone Pass", an innovative proposition which allows customers to buy passes that give worry‑free access to social, media and video applications without using their data allowance. Vodafone Pass is now available in 13 markets, with 13.0 million unique users enjoying over 19 million passes by the end of the year.
Following the introduction of "Roam-like-at-home" regulation in Europe our customers can now also benefit from worry-free roaming across 35 markets where they can use their domestic voice and data allowances abroad at no additional cost. As a result roaming data usage is up 132% YoY.
The future is exciting
In November, we launched our new "V by Vodafone" consumer Internet of Things (IoT) business.
This enables customers to connect both Vodafone branded and third party electronics products to Vodafone's leading international IoT network. These products can be easily managed using the "V by Vodafone" smartphone app, providing customers with a single overview of all IoT-enabled products registered to their account.
Customers pay a low-cost fixed monthly subscription for each "V-Sim"; initial products include the V-Auto, V-Camera, V-Pet, V-Bag and V-Home connected devices.
Fixed and Convergence
Winning fixed share, combining fixed and mobile
107m
households covered by our NGN footprint - Europe's largest
19.7m
broadband customers
0.8m
converged customers added in the past year
Context
Over the next five years, the number of households with NGN broadband (i.e. fibre or cable) is expected to double within Vodafone's European footprint. This equates to c.50 million additional NGN households
This shift to NGN represents a significant window of opportunity for Vodafone to capture substantial and profitable market share gains
This opportunity is available to us as a result of our flexible and capital-smart infrastructure strategy, which has enabled us to create Europe's largest NGN footprint covering 107 million households
Gaining scale in fixed also allows us to sell bundles of fixed and mobile services within a single contract to our combined base, providing the opportunity to lower customer churn, grow ARPU through upselling additional services and increase customer lifetime value
Demand for convergence across our European markets is moving at different speeds, but we are well prepared to capitalise on this opportunity as it develops
Our goals
To make substantial and profitable market share gains in fixed line
Further grow and optimise our NGN footprint utilising our capital-smart strategy
Increase on-net penetration on our owned NGN network. Today, penetration across our European markets is 28%1
Continue to grow fixed service revenue as a percentage of our total service revenues. Over the last five years this percentage has grown from 22% to 25% today (29% in Europe)
Drive convergence across our markets in a disciplined way – making our customer base increasingly secure and more valuable
We have Europe's largest NGN footprint
Our fixed NGN footprint has continued to expand and now covers 107 million marketable households, an increase of 11 million in the year. Within this, 36 million households are on our fully owned network ('on-net') including VodafoneZiggo in the Netherlands, and a further 7 million households are covered through strategic partnership agreements where we have attractive commercial/access terms. This provides us with a significant platform for growth.
Using our flexible and capital smart infrastructure strategy
Our market-leading NGN footprint has been achieved using a flexible and capital efficient strategy which combines build/co-build, strategic partnering, wholesale and acquisition/buy options. This approach allows us to continually optimise and improve our fixed access position over time. For example, during the year we signed a number of strategically important agreements, these included:
Our "Gigabit investment plan" in Germany, where we intend to invest approximately €2 billion on ultrafast services by the end of 2021. We expect this largely success-based plan to drive incremental growth and attractive returns. We aim to deploy fibre to around 2,000 business parks, working with partners and independently; partner with local municipalities to reach around 1 million rural consumer homes with FTTH; and upgrade our existing cable infrastructure to deliver 1Gbps speeds to 12.7 million households.
A long-term strategic partnership with CityFibre in the UK. This provides us with the ability to market FTTH to up to five million UK households by 2025 at attractive commercial terms. Our initial commitment is to one million households.
We are Europe's fastest growing broadband provider
Penetration of our European on-net NGN households is 28%1, leaving substantial room for growth given competition primarily comes from incumbent's copper-centric networks. Our off-net wholesale penetration is just 4%, a further growth opportunity.
During the past year, we added 1.3 million new broadband customers across the Group and maintained our position as the fastest growing broadband provider in Europe. As a result, our total broadband customer base across the Group is 16.1 million (19.7 million including JVs and associates). This strong commercial performance was supported by record growth in our NGN customer base of 2.0 million, reaching 9.9 million (13.2 million including VodafoneZiggo).
Gaining momentum in convergence
Our momentum in convergence has accelerated with 0.8 million converged customers added in the past year. In total our converged customer base now totals 4.5 million (5.5 million including VodafoneZiggo). We are seeing clear improvements in both customer churn and NPS for converged customers. The opportunity to grow our converged base remains significant with c.35% of our consumer broadband base in Europe (including VodafoneZiggo) taking both fixed and mobile products.
1 Including VodafoneZiggo.
The future is exciting
In May 2018, we announced our intention to acquire Liberty Global's operations in Germany, the Czech Republic, Hungary and Romania.
This further accelerates our convergence strategy, enabling us to become the leading NGN owner in Europe, expanding our 'on‑net' footprint to 54 million cable and fibre households covered and a total reach of 114 million homes and businesses including wholesale arrangements.
Enterprise
Connecting the people, places and things that matter to businesses
2.1% ex-regulation
Service revenue growth
14%
growth in IoT service revenue
Context
The ability to turn inanimate objects into intelligent assets, collecting data and communicating, now makes it possible for businesses of all sizes to create new revenue streams and business models. Digital transformation is now a means of competitive differentiation
The divisions between mobile, fixed and IT have blurred and competition from OTT providers is intensifying
The growth of IoT, security and other value added services such as data analytics, artificial intelligence and virtual reality continues to accelerate
Our goals
To help businesses, small and large, to succeed in a digital world
We aim to maintain our strong mobile market share and gain a profitable share in fixed line and converged services
We also aim to lead the market in integrating value added services for SOHO and SMEs and be the partner of choice for large enterprises to connect their people, places and things to the Cloud
Our Enterprise business
Enterprise is a key part of our business, representing approximately 29% of Group service revenue. During the year, we continued to grow enterprise revenues by 0.9%*, led by the success of our world-leading IoT platform, despite headwinds from roaming regulation in Europe. Excluding the impact of regulation, we grew service revenue by 2.1% in the year.
What differentiates us
We have a unique global footprint that spans 25 countries where we own networks and have partner agreements in 47 countries. As a result, we have a cost advantage compared to nationally based competitors who are forced to wholesale at a higher cost in order to provide services outside of their home footprint.
We are also able to provide global service level agreements ('SLAs') to multinational customers as we own all of our infrastructure.
Being a challenger in fixed line, we are not held back by either legacy infrastructure or the loss of fixed voice revenues and continue to gain market share. Additionally, the upcoming technology shift to Software Defined Networking enhances the opportunity for us to provide new fixed services.
Our business also continues to benefit from greater exposure to fast growing emerging markets, such as South Africa, Turkey and Egypt, which make up 17% of Enterprise service revenues.
Finally, we have a market-leading platform in the rapidly growing Internet of Things ('IoT') segment. This provides us with the benefits of owner economics, and the ability to control the platform's development and deployment as customer demands evolve. We also provide not just connectivity but truly "end-to-end" IoT services. This year, we grew our IoT business by 14%*, adding more than a million SIMs per month and scaled our services businesses in key verticals including automotive and financial services. In total, we now have 68 million SIMs on our network.
This differentiation is reflected in our leading NPS scores, where we are the leader or co-leader in 19 out of 20 countries.
Outperforming our peers
These important differences have enabled us to maintain our service revenue growth over the past year while also continuing to outperform our peers.
We are also highly focused on our cost base and have implemented a multi-year margin improvement programme. This includes retiring expensive-to-run networks and services and migrating legacy customers to more profitable solutions. Through our own digital transformation programmes, we are also driving operational efficiencies by using Artificial Intelligence, machine learning and greater use of digital self-service tools.
Challenges
Consistent with the industry, we continue to experience downward pressure on mobile prices and ARPU, driven by aggressive competition and the consumerisation of Enterprise services, such as the Bring Your Own Device ('BYOD') trend. We are also reaching high penetration levels of smartphones, and near ubiquitous availability of Wi-Fi that enables OTT operators to offer substitute services. For example, using WhatsApp to call when abroad instead of roaming on our network.
To off-set these challenges, we continue to develop value added services such as "Device Lifecycle Management" and new tariffs that monetise data.
All amounts marked with an "*" represent organic growth which presents performance on a comparable basis, both in terms of merger and acquisition activity and movements in foreign exchange rates.
The future is exciting
Our performance in the IoT automotive segment remains particularly strong, with over 14.4 million vehicles connected to our IoT platform. Vodafone is the only telco that is a Tier 1 supplier to automotive original equipment manufacturers ('OEMs'), with customers including eight of the top ten car manufacturers globally.
We are continuing to expand our services in the automotive and insurance sectors with five vehicle manufacturers taking additional telematics services and we are now the second biggest provider of Usage Based Insurance information in Europe.
Financial performance
Improving margins and strong financial results
Scroll to explore
Chief Financial Officer
Nick Read
Chief Financial Officer
Digital Vodafone will build on "Fit for Growth" achievements
I am pleased to report that for the third year in a row we grew our adjusted EBITDA faster than service revenues, supporting a significant improvement in our adjusted EBITDA margins, which have now risen from a low of 28.3% in 2015 to 31.6% in 2018. Adjusted EBIT has recovered even more sharply with organic growth of 47%.
€41.1bn
Group organic service revenue
+1.6%1
€14.7bn
Group adjusted EBITDA
+11.8%* (underlying +7.9%)
15.07€c
dividend per share +2%
This margin improvement was supported by a further annual reduction in our organic operating costs on an absolute basis, reflecting the success of our "Fit for Growth" efforts. These include centralising procurement, developing Shared Service Centres and undertaking zero based budgeting efforts across the Group. Importantly, we achieved this cost reduction while maintaining robust commercial momentum, and despite a 63% increase in mobile data traffic during the year.
Our ambition is to continue to reduce net operating costs over the long-term through the "Digital Vodafone" programme, which aims to achieve savings by digitalising key aspects of our customer management, technology management and operational processes – activities which at present represent over €8 billion of annual cash costs. We are increasing our investments in "Agile" cross-functional teams, digital tools and IT capabilities, in order to strengthen our ability to market directly to our customers via the web and the My Vodafone app. By the 2021 financial year, our target is that over 40% of our sales are via digital channels, up from just 11% today. This will allow us to reduce the commissions paid to third-party distributors and optimise the size of our retail footprint.
We are also creating efficient digital customer care solutions, including AI-enabled chatbots, in order to reduce the loading in our call centres, with a target that 60% of contacts are via digital agents by 2021. And we are introducing new "smart capex" allocation methodologies, based on broader and deeper data analytics which enable us to understand our profitability both by customer and by mobile site.
Maintaining a strong balance sheet post acquisitions
Vodafone has benefited throughout its history from a strong balance sheet and a robust investment grade credit rating, providing reliable and cost-effective access to debt capital markets. Our proposed acquisition of Unitymedia in Germany and cable operations in Central and Eastern Europe from Liberty Global does not alter this fundamental commitment.
We believe that modestly higher financial leverage – within an expected range of 2.5x–3.0x net debt/adjusted EBITDA moving forwards – is fully justified by an improved organic growth outlook and a more resilient revenue mix, as the Group becomes both more converged and more European following the acquisition.
Our determination to maintain a robust investment grade credit rating is reflected in our intention to issue around €3 billion of new mandatory convertible bonds, as well as hybrid debt securities (which receive equity credit from rating agencies), as part of the financing for the acquisition. We will have the option to buy the mandatory convertible bonds back in three years' time, avoiding equity dilution for our shareholders, providing that we have sufficient headroom within our targeted leverage range. On a pro-forma basis for the transaction with Liberty Global, our leverage was 3.0x as at 31 March 2018.
Developments in India
Given high competitive intensity and regulatory pressure, Vodafone India's service revenue contracted by 19%* and adjusted EBITDA by 35%* on an organic basis during the year, while Idea Cellular reported a similar financial performance. We have taken a number of steps during the year to strengthen the financial position of the future joint venture, raising approximately €3.5 billion in incremental financing for the business. These actions include:
The sale of Vodafone India and Idea's standalone tower assets for €1.0 billion, which we announced in October 2017
Idea's equity raise of €0.8 billion in January 2018, which Vodafone Group will match at the time the merger closes; combined with other adjustments, we currently estimate a net capital injection into India of up to €1 billion at closing in June 2018
The option to sell Idea's 11.15% stake in Indus Towers to Bharti Infratel for approximately €0.8 billion in cash (based on the announcement on 25 April 2018); alternatively, the JV can elect to receive shares in the enlarged Indus Towers Ltd when the merger between Indus Towers and Bharti Infratel completes (by the end of fiscal 2019, subject to regulatory and other approvals).
These measures will support the joint venture while it focuses on capturing operational synergies as fast as possible; in addition, post competitor rationalisation the Indian mobile market has scope to recover, especially given the cash outflows currently experienced by the remaining operators. However, the company's financial leverage is currently high on a pro-forma basis. In the event that in the future the joint venture partners decide to put in additional funding, the Group would draw upon the value of its stake in Indus Towers.
Strong 2018 financial results – exceeding guidance
During the year we exceeded our initial guidance for "4-8% organic adjusted EBITDA growth" and "around €5 billion of FCF pre-spectrum". At our half year results we revised our guidance upwards to "around 10% organic adjusted EBITDA growth", stating that we expected "to exceed €5 billion of FCF pre-spectrum". We more than met these revised targets, with 12%* organic adjusted EBITDA growth and €5.6 billion of FCF pre-spectrum on a guidance basis. However, it is important to note that excluding the benefit of UK handset financing, settlements in the UK and Germany and the impact of EU regulation, our organic adjusted EBITDA growth was closer to 8%*.
A covered dividend
During the year we invested €1.1 billion in spectrum, renewing our 2G spectrum in Italy and making a down-payment for the UK 5G spectrum auction. Consequently, our FCF generation post spectrum and restructuring was €4.0 billion, higher than our cash dividend obligation of €3.9 billion. In the coming two years we expect higher spectrum costs as we look to acquire 5G spectrum in the 3.4-3.7GHz bands, as well the 700MHz band, across most European markets.
On the basis that this concentration of auction activity does not change our long-term average annual spectrum cost, which was €1.2 billion taking the average of the past nine years, we expect that our FCF generation will – on average – continue to cover our dividend obligations. This provides the Board with the confidence to reiterate our intention to grow the dividend per share annually, and recommend a further 2.0% increase in the dividend to 15.07 eurocents for the year.
Looking ahead
In the 2019 financial year, we expect to grow adjusted EBITDA by 1–5% on an organic basis, excluding the impact of UK handset financing and settlements, despite the arrival of a new entrant in Italy and increased competition in Spain. This implies an adjusted EBITDA range of €14.15–€14.65 billion at guidance exchange rates, under current accounting standards. We expect to generate FCF pre-spectrum of at least €5.2 billion.
During the coming year we will report our results under the new IFRS 15 accounting standard as well as under the prior accounting standards. Under IFRS 15, we expect our organic service revenue growth will be slightly higher, and our absolute adjusted EBITDA slightly lower, primarily due to the elimination of the impact of UK handset financing under our current accounting standards, with no impact on FCF.
My priorities:
Delivering a Digital Vodafone, leading in a Gigabit world
I feel both privileged and hugely energised by the opportunity to lead Vodafone, supported by a world class team, and I would like to recognise Vittorio for transforming Vodafone into the company it is today, and personally thank him for his mentorship over the past 12 years.
My immediate priorities will be to continue to work closely with Vittorio to conclude the India merger process, to make good progress in securing regulatory approvals for the acquisition of Liberty Global's cable assets, and to accelerate the Digital Vodafone programme.
The Group has a clear strategic direction, so in the coming year I intend to focus on our organic performance, building on our leadership in next-generation networks and mobile to place us at the heart of a converged Gigabit Society. We need to deliver on our integration plans and the substantial synergies arising from our transactions in India, Germany and Central and Eastern Europe. At the same time, we must use Digital Vodafone to transform not only the world around us, but also our own business – enhancing the experience for our customers, while simplifying and streamlining our internal processes to achieve a much higher level of efficiency, and generate higher returns.
Nick Read
Chief Financial Officer
Financial KPIs
The Group delivered a strong financial performance supported by our good commercial momentum and sustained focus on cost efficiencies. As a result we were able to exceed both our initial and revised financial targets for the year, delivering 11.8% organic adjusted EBITDA growth and €5.6 billion of free cash flow pre-spectrum. Our dividend per share grew by 2% to 15.07 eurocents.
Organic service revenue growth
%
Growth in revenue demonstrates our ability to grow our customer base and/or ARPU. Our goal is to continue to grow our service revenue. We met this goal again this year despite new EU roaming regulation dragging on our reported results. Overall, we delivered organic Group service revenue growth of 1.6%*, 1, in the year (Europe: 0.6%*, 1; AMAP 7.7%).
Organic adjusted EBITDA growth
%
Growth in adjusted EBITDA supports our free cash flow which helps fund investment and shareholder returns. Our adjusted EBITDA grew organically by 11.8% this year, a significantly faster pace than service revenue, or 7.9% excluding regulation, UK handset financing and settlements. Consequently, the Group's adjusted EBITDA margin improved by 1.9 percentage points to 31.6%, or by 1.3 percentage points on an organic basis excluding regulation, UK handset financing and settlements.
Organic adjusted EBIT growth
%
Adjusted EBIT is an important indicator of profitability and returns for the Group. On a reported basis, our organic adjusted EBIT grew by 47% driven by our strong adjusted EBITDA performance, which translated into even faster adjusted EBIT growth, combined with lower depreciation and amortisation expenses which continue to stabilise as our capital intensity normalises post Project Spring. It has been a strong in-year performance, but there is still more work to be done to improve profitability and our return on capital.
Free cash flow pre-spectrum
€ billion
Cash generation is key to delivering strong shareholder returns. On a guidance basis, we delivered €5.6 billion of free cash flow pre-spectrum in the year, fully covering our dividend obligations, or €5.4 billion pre-spectrum payments on a reported basis.
Dividend per share
eurocents
The ordinary dividend per share continues to be a key component of shareholder return. It is the Board's intention to grow the dividend per share annually. This year we increased the dividend per share by 2%.
All amounts marked with an "*" represent organic growth which presents performance on a comparable basis, both in terms of merger and acquisition activity and movements in foreign exchange rates.
1 Excluding the impact of a German legal settlement.
Responsible approach
We are committed to working in a responsible way that benefits all of our stakeholders.
Scroll to explore
Building a sustainable business
Our strategy is built on an unwavering commitment to operating responsibly and a recognition that we have a significant role to play in contributing to the societies in which we operate.
Our sustainable business strategy
Our strategy is founded on Vodafone's purpose – to connect everybody to live a better today and build a better tomorrow – and on our commitment to responsible behaviour in everything we do. At the heart of our strategy is our intention to deliver significant transformation in three distinct areas, each of which has the potential to deliver meaningful socio‑economic benefits for our customers and for wider society.
Our programmes focus on women's empowerment, energy innovation and youth skills and jobs, and we now have long-term targets in place for each of these areas.
We remain committed to helping to achieve the UN Sustainable Development Goals ('SDGs') through the delivery of our strategy and the work of the Vodafone Foundation.
Our Global Transformation Areas
Our strategy focuses our efforts in the areas in which we believe we can have the greatest possible impact: women's empowerment, youth skills and jobs and energy innovation. We now have long-term goals in place for each one:
Women's empowerment
Equality of women remains a significant global challenge. By empowering women and promoting gender equality, we can enable communities, economies and businesses – including our own – to prosper.
Our 2025 goals
We aim to connect an additional 50 million women living in emrging markets to mobile
Our ambition is for Vodafone to become the world's best employer for women
Energy Innovation
Urgent action is needed to address climate change. This year, we have introduced two new goals that focus on achieving a significant reduction in the greenhouse gas emissions associated with our operations.
Our 2025 goals
To reduce our greenhouse gas emissions by 40%
To purchase 100% of the electricity we use from renewable sources
Youth skills and jobs
Persistently high youth unemployment and a growing digital skills gap are significant social and economic challenges. This year, we launched our What will you be? programme to help young people access career guidance, training content and discover opportunities for employment ,so they can thrive in the digital economy.
Our 2022 goals
To support 10 million young people to access digital skills, learning and employment opportunities
To provide up to 100,000 young people with a digital workplace experience at Vodafone
People and culture
Our people are behind every aspect of our Digital Vodafone strategy and are committed to delivering a superior network performance and outstanding customer experience.
Identifying and managing our risks
Our global framework allows us to identify, measure, manage and monitor strategic and operational risks across our footprint. It provides management with a clear line of sight over risk to enable informed decision making.
Committed to the highest standards of corporate governance
Strong and robust corporate governance is integral to creating long-term value and success for the benefit of our shareholders and stakeholders.