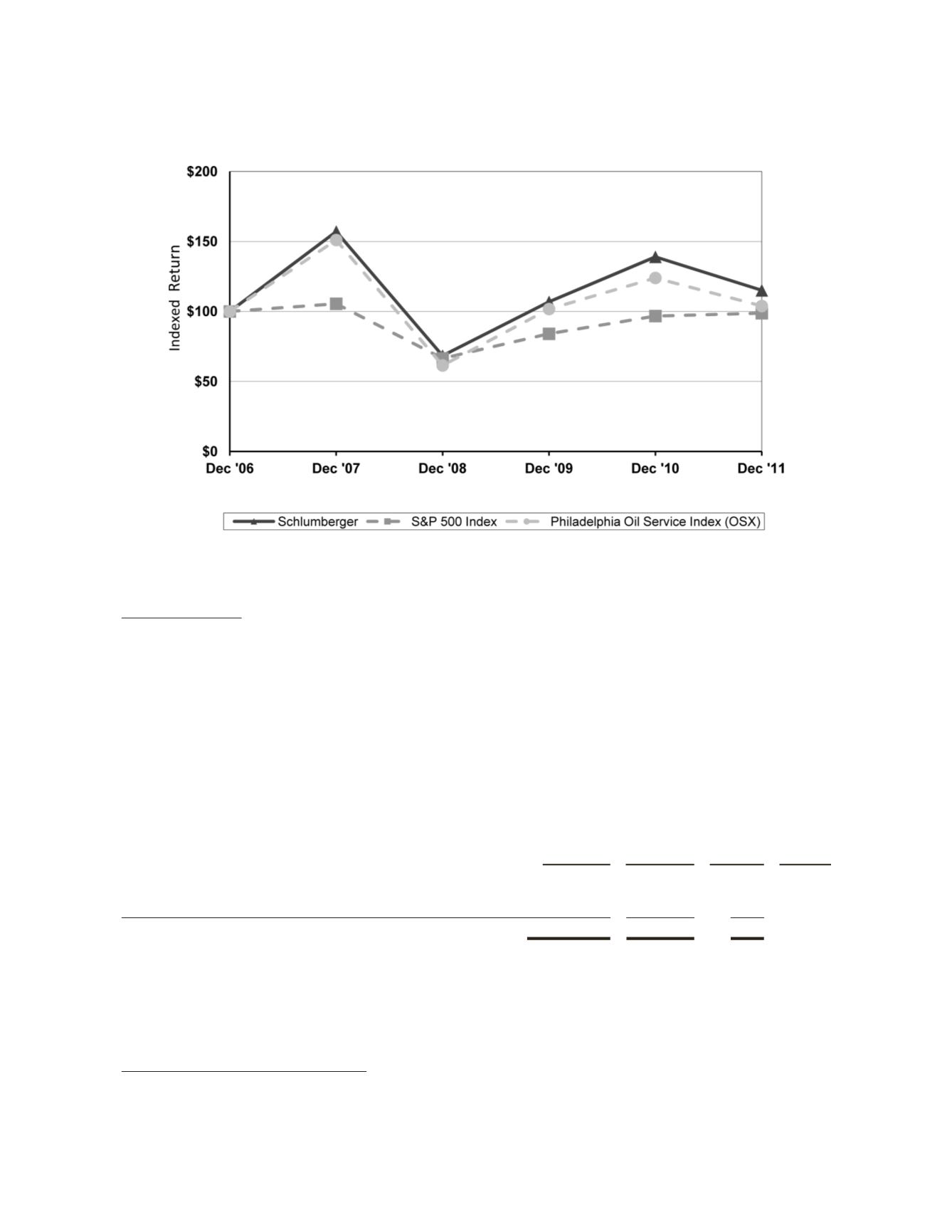 Comparison of five-year cumulative total return among
Schlumberger common stock, the S&P 500 Index and the
Philadelphia Oil Service Index (OSX)
Assumes $100 invested on December 31, 2006 in Schlumberger common stock, in the S&P 500 Index and in the
Philadelphia Oil Service Index (OSX) and reinvestment of dividends on the last day of the month of payment.
Share Repurchases
On April 17, 2008, the Schlumberger Board of Directors approved an $8 billion share repurchase program for
Schlumberger common stock, to be acquired in the open market before December 31, 2011. On July 21, 2011, the Board
approved an extension of this repurchase program to December 31, 2013.
Schlumberger's common stock repurchase program activity for the three months ended December 31, 2011 was as
(Stated in thousands, except per share amounts)
Total number
of shares
purchased
Average price
paid per
share
Total
number of
shares
purchased
as part of
publicly
announced
program
Maximum
value
of shares
that may
yet be
purchased
under the
program
October 1 through October 31, 2011
November 1 through November 30, 2011
December 1 through December 31, 2011
In connection with the exercise of stock options under Schlumberger's incentive compensation plans, Schlumberger
routinely receives shares of its common stock from optionholders in consideration of the exercise price of the stock
options. Schlumberger does not view these transactions as requiring disclosure under this Item 5. as the number of
shares of Schlumberger common stock received from optionholders is not material.
Unregistered Sales of Equity Securities