Avid Technology Inc., 1996 Annual Report
To our shareholders,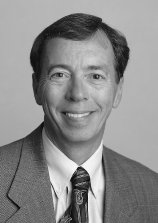 I joined Avid because of its promise. I saw Avid as a company with wonderful technology and a leading position in a market that has almost unlimited potential. This is a company whose business is to supply the technology that releases the limits on creativity and allows the user to tell virtually any story with audio and video from high budget Hollywood epics to a child's birthday party.
Our mission is to be at the forefront of our industry, providing the world with the most powerful available tools to create audio and video communications. Using our products, customers will be able to develop new ways to entertain, educate and inform. Today, about one year later, I believe in that promise more than ever.
Avid is a young company with a glorious history. We shipped our first product in late 1989. Today we generate more than $400 million in annual revenues. By any measure, that's extraordinary growth. Avid's name has become synonymous with computer-based nonlinear editing tools. One can go to virtually any major city in the world and find film and video professionals who describe themselves as "Avid Editors". Achieving that sort of brand identity in such a short period of time is a remarkable feat and one that continues to be at the foundation of our company.
Through a series of acquisitions, Avid has assembled a formidable array of related capabilities-newsroom computer systems from Basys and Softech; nonlinear digital audio systems from Digidesign and effects software from Parallax and Elastic Reality. In most of these markets, Avid is the leader.
Market leadership, though, is not enough. It must result in superior profitability and on that score, 1996 was a bad year. Like many start-ups, Avid grew faster than our ability to manage our business. Our operating disciplines simply were not good enough to translate great technology and market leadership into profits. This is apparent in the operating results of 1996 (they are detailed in the enclosed Form 10-K). In the last three quarters of the year, however, we took specific steps to strengthen our operations. The positive effect of these steps is already becoming apparent.
1996 accomplishments | First we turned our focus to customer support. We expanded resources and restructured the customer support organization to increase its responsiveness. Then we intensified training of customer support personnel, enabling us to increase customer satisfaction. These efforts resulted in a dramatic improvement in the performance of the customer support function. One measure of this improvement is that wait times on our customer support telephone lines currently average less than two minutes.
On the product front, we successfully migrated the Media Composer and Pro Tools product lines from Nu Bus-based to PCI-based Macintosh platforms. We launched MCXpress, an exciting new video editing product line. It is targeted at the corporate/institutional markets and operates on both Macintosh and Windows NT platforms. We rolled out Media Illusion, a new high-end graphics and effects software package. Finally, as the year drew to a close, we released the latest version of the Media Composer system, featuring 2:1 compression, script-based editing and enhanced real-time effects. All of these product releases underwent a rigorous quality assurance process, which we believe resulted in improved initial installations.
We strengthened our management team during the year. William L. Flaherty joined us as Senior Vice President of Finance and Chief Financial Officer and Clifford A. Jenks as Senior Vice President of Worldwide Sales and Marketing. Their addition has significantly expanded the expertise of our management team.
Finally, we stemmed the cash drain that had grown to over $27 million in the first quarter of 1996 alone. By better managing receivables and inventories as well as tightening control over capital expenditures, we generated over $40 million in cash in the next three quarters of 1996. At the end of 1996 our cash and marketable securities totaled $94 million, a net increase of $13.5 million for the year.
Over the course of 1996 we strengthened the foundation for the future and took some important strides towards realizing our potential.
Outlook | We see a bright future for Avid's products and technologies. High-end professional users of our technology in film, video and audio media are asking Avid for further enhancements and new product features. We are well-positioned to meet these needs. There are significant opportunities for growth as we extend our products and technology into less penetrated and entirely new markets. We believe that we have barely scratched the surface of the corporate/institutional and news broadcast markets.
Ultimately improvements in the price/performance of computer platform technology, the ease-of-use of applications and the expansion of network capabilities for distributing audio and video media make it inevitable that the number of potential users will grow dramatically. We intend to take advantage of that opportunity.
To do so, we need to continue to be technological innovators. This has always been one of Avid's strengths. We will need both to increase the functionality of our products and to lower their cost. We must further the progress we have made during the past year and strive to better manage our operations and our assets. We are committed to achieving significant profitability. We will build on the improvements we made in 1996 and make 1997 the next step in that process.
In closing let me take this opportunity to acknowledge our customers, our employees and our shareholders, who are all helping us fulfill our promise. I continue to believe that the best is still ahead for Avid.
William J. Miller
Chairman of the Board and
Chief Executive Officer
March 1997