Hershey Foods Corporation's performance in 1998 did not meet our expectations. While net sales of $4.436 billion increased by 3.1% and earnings per share (diluted) of $2.34 increased by 4.9%, achieving new records for the corporation, we had planned for better performance.
As you know, 1998 was an exuberant year for the U.S. stock market, particularly in selected sectors. Unfortunately the food industry in general, and Hershey's Common Stock price in particular, did not participate in this market growth as HSY ended the year at $623/16, essentially even with our close in 1997.
When we released our fourth quarter and year-end financial results in late January 1999, the stock market shared our disappointment. Consistent with today's volatile market, our stock price declined accordingly because we did not meet market expectations.
Looking ahead to 1999 and beyond, as we work to enhance the value of your investment, we believe we can better accomplish this task by focusing more intensely on what we do best: manufacturing, selling, distributing and marketing high quality chocolate and non-chocolate confectionery and related grocery products.
An important and most difficult decision in 1998 was to divest our pasta business. Pasta provided nice growth for over 30 years, but based upon our assessment of the longer-term prospects for the pasta category; i.e., little or no growth and intensive competition from both within and outside of the United States, we made the decision to sell the pasta business and redeploy the proceeds elsewhere in the corporation.
Obviously, this move will reduce our earnings base somewhat but will enhance our returns on capital. The pasta business was sold in January 1999 for $450 million, resulting in a one-time, after-tax gain of approximately $165 million, or $1.13 per share (diluted).
Now we intend to focus all of our attention on Hershey's core businesses of chocolate and non-chocolate confectionery products, chocolate-related grocery products which capitalize on our strong confectionery brands in the North American market, and key confectionery brands in selected international markets.
HERSHEY APPEALS TO ALL AGES
Hershey's products, and ownership in our company, appeal to consumers of all ages. Building upon our leadership position in the U.S. confectionery market, we continued to drive retail sales for the confectionery category. This has been accomplished through creative selling, marketing and merchandising techniques, which not only drove 1998 U.S. retail market growth for total confectionery in our major classes of trade at a rate of 2.9%, but enabled Hershey to achieve retail growth of 5.6%, exceeding the category growth rate and leading to record levels of market share.
Hershey's North American confectionery operations produced earnings comparable to the prior year, as manufacturing efficiencies related to higher sales volume were offset by higher commodity costs, principally milk and cocoa, and higher costs associated with seasonal and thematic merchandising efforts such as additional packaging, handling, shipping and storage.
New products continued to add significant growth to our business, with ReeseSticks achieving record introductory sales levels for Hershey and the industry. Introduced in February 1998, this product has been so successful that we do not have enough manufacturing capacity to produce all the usual pack types. New production equipment will be added in 1999 to enable us to fully develop the potential of this excellent new brand.
Hershey's Bites, introduced in December 1998, gives us another quality entry in the unwrapped, bite-sized candies category. Bites are available in four flavors: Hershey's Milk Chocolate with Almonds, Reese's Peanut Butter, Hershey's Cookies 'n' Creme and Almond Joy. Unwrapped, bite-sized chocolate candy represents about 28% of the chocolate packaged candy category, with sales of such items growing at a rate of approximately 7% during the year.
Whether the two new flavors of Hershey's Nuggets and Reese's Crunchy Cookie Cups miniatures are called new products or line extensions, they add up to the same thing: incremental sales dollars and excitement for the category. New items are important because they increase consumer interest in the category and result in increased sales of other candy products as the impulse to buy and eat candy favorites takes charge. Introduced in July 1998, these products are solid entries for our packaged candy line.
Another source of significant growth in 1998 was the focus on sales expansion of newly acquired brands such as PayDay, Whoppers and Jolly Rancher. Including new products such as Jolly Rancher Jolly Jellies, the former Leaf brands achieved sales growth rates more than double our overall confectionery growth rate in 1998. This growth is an important part of our Leaf integration plan and is necessary to increase the utilization of acquired plants to optimal levels.
The final stage of our Leaf plant rationalization took place in early 1999, and we now have just three production facilities of the eight originally acquired. Assuming further sales growth for these brands, as well as continued plant efficiency gains, we should achieve profit margins comparable to our other confectionery brands by the end of 1999.
Thematic merchandising provides a fresh look, enables additional placements within stores, creates interest and excitement in our products, and drives growth in our established brands. These programs are especially effective in aligning our products with activities which are top-of-mind for consumers and fit well with the impulse nature of our business. Our strengths in merchandising give us a competitive advantage in special one-time events such as "The Lost World: Jurassic Park" (1997) and "Godzilla"1 (1998), as well as in our seasonal businesses.
Although sales generated by the "Godzilla" program during the second quarter of 1998 fell short of the high level set by the 1997 "Lost World" program, the promotion still was very successful. We plan to continue to create exciting new programs such as these, as well as enhancing existing sponsorships such as NASCAR, NFL, NCAA FINAL FOUR and MAJOR LEAGUE BASEBALL2.
However, there are some higher packaging, handling and distribution costs associated with this thematic merchandising strategy. We must execute this approach in a more cost-effective manner, reduce complexity and improve sales forecasting. These improvements will be easier to accomplish as we gain the full effectiveness from our new E21 enterprise-wide information system.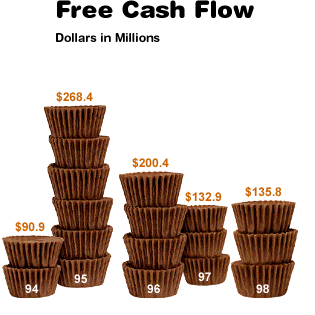 Hershey Pasta and Grocery Group experienced sales growth of 3.2% in 1998, with all of the gain coming from volume growth for grocery products such as syrup, cocoa and ice cream toppings, as well as licensing activities and food service sales. Pasta sales were down slightly, in line with the category's decline of 3.3% for the year. Earnings increased substantially for this business, with grocery products providing the primary contribution to the higher profits. Earnings for the pasta business were above the previous year's despite a difficult commodities environment.
Our international operations struggled in 1998 because of the economic turmoil in the Asian and Russian markets. While this is a small part of our overall business, the results were disappointing. During the year we realigned our Russian business, closing an administrative office in Moscow. In the latter part of the year, business in our Asian markets rebounded somewhat, and new distribution arrangements established in Brazil contributed incremental sales in 1998.
Looking to the future internationally, we intend to grow our international business significantly by emphasizing key Hershey's brands in selected markets. In recent years nearly half of our international sales have been generated by four brands: Hershey's Kisses, Hershey's Nuggets, Hershey's Cookies 'n' Creme and Hershey's Syrup. We plan to focus on building global brand equity for these products along with the establishment of more effective distribution arrangements.
SHARED SERVICES ORGANIZATION MANAGEMENT CHANGES
In 1998 Hershey completed the second full year of its new shared service organization which fosters cooperation, customer focus, efficiency and cost savings across the corporation. The implementation of our E21 enterprise-wide information system utilizing SAP R/3 software is an integral part of this process. The new system became operational in Canada in April 1998. This provided us with valuable insights and experience, greatly enhancing the early 1999 implementation of the supply/financial aspects of E21 in our large domestic business. This new system will solve most of our Y2K issues.
In October 1998, we announced management changes which are a continuation of the shared services organizational design we embarked upon several years ago. As we moved from a vertical divisional structure into a more horizontal shared services environment, it was logical to organize our senior management along these lines. In addition, as top managers approach the traditional retirement age for Hershey executives, we also are mindful of our responsibility to have a capable, experienced and tested management team to provide continued leadership for Hershey as we move into the new millennium.
Effective January 1, 1999, the following senior management changes took effect. Joseph P. Viviano, formerly President and Chief Operating Officer, became Vice Chairman. He continues to serve on the Board of Directors and the Management Committee. He also has direct responsibility for Hershey's international business.
Michael F. Pasquale, formerly President, Hershey Chocolate North America, became Senior Vice President, Confectionery and Grocery, and joined the Board of Directors. His primary responsibility is to lead the effort to increase the profitable growth of our businesses, enhancing returns in the process. To assist in this regard, a corporate-wide Operating Committee of senior executives, chaired by Mr. Pasquale, was established.
Raymond Brace, formerly Vice President, Operations, became Senior Vice President, Operations, with responsibility for operations and manufacturing shared services. His chief task is to provide procurement, manufacturing and distribution services to support our growth in an efficient, cost-effective manner while continuing to provide excellent customer service.
Robert M. Reese, formerly Vice President, General Counsel and Secretary, became Senior Vice President — Public Affairs, General Counsel and Secretary, with responsibility for the corporation's legal, government relations and corporate communications activities.
Sharon A. Lambly, Vice President, Human Resources, since 1988, retired in December. Over the years she made significant contributions to Hershey Foods through her astute and common-sense management of the human resources function and was eminently successful in integrating the human resources point of view in the management decision-making process. She was a credit to Hershey Foods, and we wish her the best in retirement.
Succeeding Ms. Lambly as Vice President, Human Resources, is John R. Canavan, who actually joined the corporation in September 1998 to ensure an orderly transition of duties. He comes to Hershey from IBM, where he served in a succession of human resources positions.
Effective March 1, 1999, Allan Z. Loren, Executive Vice President and Chief Information Officer, American Express Company, became a member of the Board of Directors. His experience in ensuring that technology effectively supports business needs will serve the corporation well.
Vincent A. Sarni, a Director since 1991, will retire from the Board in April 1999. He has served on the Compensation and Executive Organization Committee and chaired the Committee on Directors and Corporate Governance. Hershey Foods has benefited greatly from his vast experience, discerning questions and solid advice.
MEASURING PROGRESS
While there are many ways to measure progress in achieving our goals, Hershey's management team has three primary benchmarks: earnings per share, free cash flow and economic value added (EVA). These measurements work hand-in-hand to help us focus on decisions which lead to the most efficient uses of our resources to produce the results expected by investors.
The entire Hershey team, including every employee, has a stake in the performance of the corporation. We are all committed to achieving increased sales growth and efficiency improvements leading to lower costs. These efforts will lead to improved profitability, increased cash flows and higher returns, driving Hershey's Common Stock price to higher levels over the long term and increasing value for our stockholders.



Kenneth L. Wolfe
Chairman and Chief Executive Officer

Joseph P. Viviano
Vice Chairman

1 "The Lost World: Jurassic Park" is a trademark of Universal City Studios, Inc. and Amblin' Entertainment, Inc. "Godzilla" is a trademark of Toho Co., Ltd.
2 MAJOR LEAGUE BASEBALL is a registered trademark of Major League Baseball Properties, Inc. NASCAR is a registered trademark of the National Association of Stock Car Auto Racing, Inc. NFL is a trademark of the National Football League, NCAA and FINAL FOUR are registered trademarks of the National Collegiate Athletic Association.