Financial highlights


1 Earnings before business acquisition and consolidation expenses, other income, interest, taxes, depreciation and amortization.
2 Excludes business acquisition and consolidation expenses and assumes a US effective tax provision at 36 percent.

To our shareholders:
Hexcel's world is changing. The swift, dramatic changes in the global

business environment during 1998 affected market trends, financial

results and business outlooks for many corporations, including

Hexcel. It was decidedly not business as usual.
John Lee, Chairman and Chief Executive Officer (left); Tad Kinne, President and Chief Operating Officer
Over the past three years, Hexcel has made remarkable progress. We have led the consolidation of the advanced structural materials industry. We have tripled our revenues and established a solid record of profitability. And we have achieved leadership positions in our global markets.
In short, we have built a strong enterprise which will be a solid foundation for us going forward.
Now, in 1999, we are continuing our corporate evolution, building on that foundation to capitalize on change.
Our overriding objective is clear, and constant: To add
value for our shareholders and our customers.
To achieve this objective, we are focused squarely on three areas during 1999:
Reduce costs and improve productivity throughout our business, so we improve profitability in our major markets.
Refocus our research and technology efforts, so we can continue to grow through internal development of new products and applications.
Improve the balance in our sources of revenue by reaching beyond our strong base in commercial aerospace to new markets for advanced structural materials.
This annual report describes the opportunities and challenges facing Hexcel in a changing business environment. And it outlines the strategies and initiatives we are pursuing to position the company to capitalize on that change.
1 9 9 8 F i n a n c i a l R e s u l t s S e t R e c o r d s
Hexcel's financial results for 1998, our 50th anniversary year, surpassed the records we established in 1997. In fact, it was our third consecutive year of consistent growth. For the first time, the company's sales exceeded $1 billion. Adjusted EBITDA and adjusted net income both reached records. And adjusted earnings per share increased 22 percent from the record 1997 level.
While our 1998 financial performance was strong, the Asian financial crisis and its implications began to affect our business during the year:
First, demand for new commercial aircraft in Asia was reduced, and some existing orders were deferred or canceled.
Second, Asian producers of fiberglass electronic materials, faced with lagging sales at home, cut prices and sold aggressively into other world markets.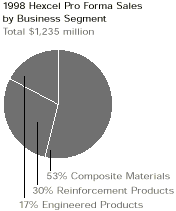 Looking ahead, there is evidence that some Asian markets are beginning to strengthen. While it will take time for the region to regain its full economic vitality, we see significant opportunities for growth in this area over the longer term.
H e x c e l ' s P r i m a r y M a r k e t s :
C h a l l e n g e s a n d O p p o r t u n i t i e s
While all of Hexcel's primary markets present some short-term challenges, they continue to offer attractive growth opportunities. These markets are described in more detail beginning on page 10 of this report:
Commercial Aerospace: Hexcel's largest market offers significant long-term growth potential, despite current soft market conditions in Asia. Based on the existing global fleet of over 10,000 aircraft and announced build rates for Airbus and Boeing, anticipated market growth and replacement of older aircraft should mean at least 700 new aircraft built annually for the next several years. This compares with a record 788 aircraft in 1998 and 380 in 1995, the low point of the previous cycle. Moreover, Hexcel is well positioned with both Boeing and Airbus, and stands to benefit no matter where the demand for new aircraft originates.
Space and Defense: A new generation of fighters, transports, helicopters and other military aircraft, in development during the 1990s, will enter full scale production after 2000. Hexcel materials are already included in over 50 military aircraft programs in the US and Europe, and the company is poised to capitalize on this increased demand.
Hexcel materials are also used in a wide range of rockets, and we have a growing position in satellites. Postponement of some commercial satellite launches slowed demand for Hexcel's satellite materials during 1998. However, this market is now expected to rebound, and it promises attractive growth as the commercialization of space continues.
Electronics: Inventory adjustments temporarily reduced demand of printed circuit boards during the summer of 1998. In addition, excess manufacturing capacity and currency devaluations in Asia have led to intense pricing pressures for fiberglass electronic materials. Further rationalization of global capacity may be required, pending an upturn in Asian markets. However, the fundamentally strong demand for personal electronic devices, combined with Hexcel's leading market position, offer good long-term potential.
Recreation and General Industrial: Developing new applications for our materials is an important driver of future growth for Hexcel. While many of these opportunities may take time to mature, they can further diversify our sources of revenue. During 1998 we established a strategic alliance with Sika Finanz AG, a worldwide leader in construction chemicals and structural adhesives, to develop and market composite systems for the construction industry. We achieved small but significant breakthroughs in the automotive and long-haul trucking industries, and we expanded the use of composite materials in high-speed trains and ferries and mass transit trains. We also enjoyed growing sales of composite materials for wind energy systems in Europe, and continued to supply materials to selected segments of the recreation market.
Hexcel's financial results for 1998 surpassed the records we established in 1997. For the first time, the company's sales exceeded $1 billion. It was our third consecutive year of consistent growth.
T h e F a c e o f H e x c e l i s C h a n g i n g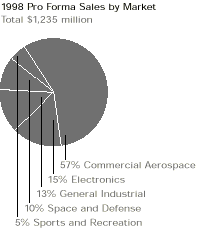 In the face of these changes in the global business environment, we are increasing our emphasis on operational effectiveness, product innovation and balance in our sources of revenue. Initiatives currently underway to help us do that are described in more detail beginning on page five of this report. However, here is a brief summary:
Operational Effectiveness: We are focusing on operational effectiveness through cost reduction and productivity improvement. The centerpiece of these efforts is to implement the principles of Lean Enterprise, a program aimed at identifying and eliminating costs which do not add value for our customers or shareholders. In addition, we have an ongoing effort to identify opportunities for consolidation and rationalization in our global manufacturing facilities.
Another aspect of operational effectiveness is the organization of our business units. During 1998, our US, European and Pacific Rim composite materials businesses were reorganized into a single global business unit. This move mirrors the steps taken to integrate our existing structural fabrics operations with the Clark-Schwebel operations acquired in 1998 (see below). These changes reflect the reality of a global customer base, global competitors and the need for more integrated, cost effective strategies and operations. To oversee the integrated strategy, planning and execution of our global operations, we established a new Global Operations Leadership team, headed by Tad Kinne, our new chief operating officer.
Product Innovation: New products can help us add value for our customers and shareholders, maintain our technological leadership and, in some cases, diversify beyond our aerospace base. For example:
During 1998, we developed and patented a new retrofit package to modify overhead stowage bins to accommodate four carryon bags, rather than the usual two. Hexcel has contracts with United Airlines and Continental Airlines to retrofit these "ATIX" stowage bins and thereby provide more carryon space for passengers. With Hexcel's system, the bins can be retrofitted overnight, after daily flights are completed.
The makers of the popular Nissan Quest minivan are using Hexcel's new energy absorbing honeycomb technology to enhance passenger safety. Hexcel components are installed in the headliner section of the vans, where a person's head could make contact in a collision. New auto-safety standards, to be fully phased in by 2003, make this an exciting new market for Hexcel.
Balance in Our Sources of Revenue: Beyond our new strategic alliance with Sika and other initiatives to expand the franchise for our materials, in September 1998 we completed the acquisition of Clark-Schwebel, the world leader in the production of fiberglass materials used to make printed circuit boards for electronics and telecommunications equipment. Since that time, we have been integrating the Clark-Schwebel operations with existing Hexcel fabrics operations, and these operations are now doing business globally under the name Hexcel Schwebel.
This acquisition creates a stronger platform for Hexcel in the fast-growing electronics and telecommunications industries. Hexcel Schwebel also commands leadership positions in composite reinforcements, ballistics and construction materials. And the acquisition diversifies our business base without affecting our leadership positions in commercial aerospace, space and defense.
We have built a strong enterprise, one which will be a solid foundation for us going forward. Now, in a continuation of our corporate evolution, we are transforming ourselves once again, to strengthen that foundation and capitalize on change.
R e d u c i n g o u r D e b t L e v e l
Our financial focus for 1999 is on reducing costs and generating free cash flow to reduce debt. Last year we established a goal to generate $100 million of free cash flow between September 1998 and year-end 1999. We have been encouraged by the $15 million of free cash flow we generated in the fourth quarter of 1998, and we are firmly focused on generating the balance of our target in 1999. We anticipate that the larger portion of this amount will come in the second half of 1999, aided reductions in capital expenditures, inventories and other working capital. Once these actions are accomplished, we will establish new interim goals to reflect current market conditions.
W o r d s o f W e l c o m e a n d T h a n k s
During 1998 we welcomed H. E. Tad Kinne, who joined Hexcel in July as president, chief operating officer and member of the board of directors. At the same time, Stephen C. Forsyth, an 18-year company veteran, was elected executive vice president and chief financial officer.
Hexcel's continued progress would not be possible without support from our shareholders, customers, employees, management team and board of directors. To each of them, we extend sincere thanks. In particular, we would like to extend our appreciation to Hermann Vodicka and Joseph T. Sullivan, who retired from the board in early 1999.
To maintain and strengthen our position as the global leader in advanced structural materials, Hexcel is changing —shifting its focus to place more emphasis on operational effectiveness, product innovation and balance in our sources of revenue. By doing that, we can add value for our customers. We believe this is the key to growing existing markets, diversifying into new markets, achieving profitable growth and enhancing shareholder value.


John J. Lee
Chairman and Chief Executive Officer
March 31, 1999