Quick Facts
| | | | |
| --- | --- | --- | --- |
| FINANCIAL HIGHLIGHTS | 2012 | 2011 | 2010 |
| Revenue | $54,127 | $53,105 | $49,545 |
| Operating expenses | 52,784 | 47,025 | 43,904 |
| Net income | 807 | 3,804 | 3,338 |
| Adjusted net income1 | 4,389 | 4,311 | 3,495 |
| Diluted earnings per share | 0.83 | 3.84 | 3.33 |
| Adjusted diluted earnings per share1 | 4.53 | 4.35 | 3.48 |
| Dividends declared per share | 2.28 | 2.08 | 1.88 |
| Assets | 38,863 | 34,701 | 33,597 |
| Long-term debt | 11,089 | 11,095 | 10,491 |
| Shareowners' equity | 4,733 | 7,108 | 8,047 |
| Capital expenditures | 2,153 | 2,005 | 1,389 |
| Cash and marketable securities | 7,924 | 4,275 | 4,081 |
KEY METRICS
2012
2011
2010
Return on assets (adj.)1
12.0%
12.6%
10.7%
Return on assets (GAAP)
2.2%
11.1%
10.2%
Return on equity (adj.)1
56.9%
55.1%
44.0%
Return on equity (GAAP)
13.6%
50.2%
42.4%
Return on invested capital (adj.)1
24.6%
24.2%
21.2%
Return on invested capital (GAAP)
6.5%
21.8%
20.4%
Dividend yield
3.1%
2.8%
2.6%
(in millions except for per-share amounts)
FREE CASH FLOW
2012
2011
2010
Net cash from operations
$7,216
$7,073
$3,835
Capital expenditures
(2,153)
(2,005)
(1,389)
Proceeds from disposals of PP&E
95
27
304
Net change in finance receivables
101
184
108
Other investing activities
94
(257)
230
Free cash flow
$5,353
$5,022
$3,088
(in millions of dollars)
A Letter from Scott Davis – UPS Chairman and CEO
In 2012, UPS once again succeeded in a year filled with challenges. Despite the economic paralysis created by the European debt crisis and the fiscal cliff in the U.S., UPS generated record adjusted earnings per share. The results prove the value of our global integrated network, innovative technology and broad portfolio of capabilities, all backed by a solid economic foundation. These attributes allow UPS to shrink the globe for our customers, enabling their supply chains. The UPS vision is guided by four transformative strategies:
Deploying technology-enabled operations
Providing unique and industry-specific customer solutions
Expanding our global network
Serving the needs of end consumers around the world
In the pages that follow, you'll see examples of these strategies in action. The UPS vision delivered another year of industry-leading adjusted operating margins and adjusted return on invested capital.
Customer Driven Solutions - A Strategy That Delivers Returns
The transformation of UPS from a package delivery company to a global supply chain leader began many years ago. We've been inventing solutions to efficiently deliver customers whatever they need, wherever they need it, whenever they need it. Along the way we recognized the impact globalization and technology would have on manufacturing, distribution and consumer shopping paradigms. For example, the ever-expanding online market presents UPS with growth prospects now and well into the future. To take advantage of these opportunities, we continue to create solutions that residential customers around the world want, such as UPS My Choice® and UPS Access Point™. Not only are we expanding the portfolio with industry-leading solutions, UPS is also deploying technology enhancements that improve operating efficiency and enhance the customer experience. We believe if you deliver consistently, customer loyalty will follow. This will ensure that UPS remains a provider of choice, while generating strong financial results.
Technology Innovations
More than a decade ago, three UPS engineers started an experiment using GPS devices to improve operational efficiencies. Their prototype solutions and inventions formed the basis for more than 150 UPS patent applications worldwide for our telematics technology. It's the single largest portfolio of inventions in the UPS patent portfolio. Today, UPS is achieving outstanding results through our telematics solution, a technology suite which tells us exactly where each vehicle is, captures data on how a vehicle performs mechanically, and alerts us about safety improvement opportunities.
These partnerships translate into meaningful returns to shareowners. During 2012 we generated almost $5.4 billion in free cash flow2, a testament to operations execution and the emphasis UPS places on capital efficiency. Strong free cash flow, year after year, enables us to reinvest in our business, make significant share repurchases and increase the dividends we pay. In fact, not only did we increase our dividend per share by 9.6 percent in 2012, we have also either increased or maintained the dividend for more than four decades.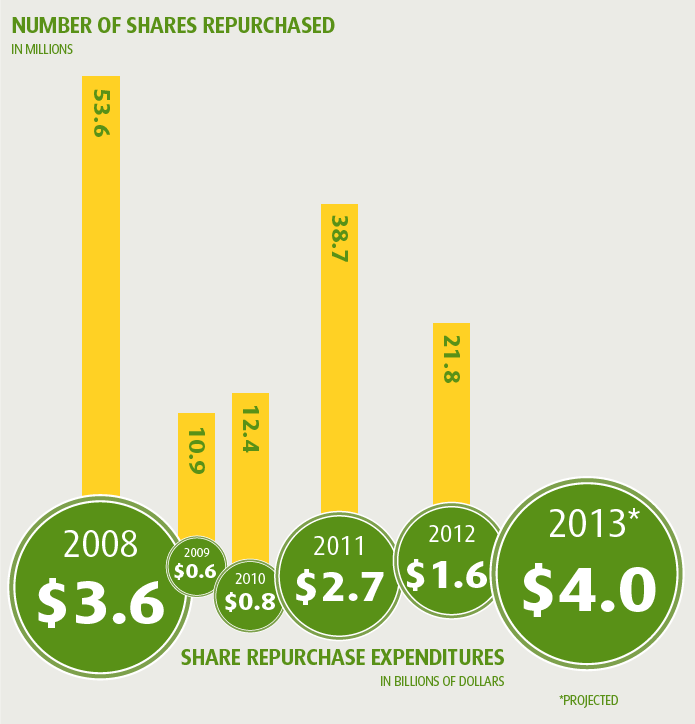 Creating Opportunity as a Global Partner and Thought Leader
In 2010, we embarked on a sales and marketing transformation to better align our go-to-market strategy with customer needs. Today, we segment our business and pursue revenue growth through six key industry verticals: Government, Industrial & Automotive, Professional & Consumer Services, Healthcare, High-Tech and Retail. We have deployed global programs to excel in these industries and are recognized as a thought leader in each. Our logistics expertise in these sectors enables UPS to interact with a broad range of companies.
Through these interactions we better understand that consumers want a choice of delivery options, delivery dates and timely updates that are communicated clearly, as well as hassle-free returns. We also recognize that healthcare customers have serious concerns regarding increased regulatory compliance, legislative changes and product protection. In addition, high-tech executives have told us they anticipate export growth over the next two years and see trade agreements and the growing middle-classes driving demand for their products. We envision a future where UPS will thrive as we align our strategy to address these developing market dynamics.
2012 Financial Performance
2012 was a year filled with opportunities and challenges. Our bid to acquire TNT Express is probably the first to come to mind. It would be an understatement to say we were disappointed by the decision of the European Commission to block the acquisition. While we viewed the TNT transaction as part of a compelling growth platform, UPS is moving on. We believe that the opportunities unfolding around the world are far too great for us to be deterred by any single development. Our financial strength enables UPS to both evaluate future prospects and continue to invest in our portfolio. We intend to pursue growth opportunities—both organically and through acquisitions—and continue to roll out innovative solutions.
UPS My Choice® is a Win-Win
UPS My Choice provides consumers with the visibility, flexibility and control to manage home deliveries around their busy lives, helping avoid the disappointment associated with missed deliveries. In the first year alone, we reduced multiple delivery attempts on over 500,000 packages due to operational efficiencies created by UPS My Choice, resulting in a significantly improved delivery experience for UPS My Choice members.
U.S. Domestic
Our U.S. Domestic performance demonstrated the benefits of our coordinated sales strategies and operations initiatives. Revenue for the year grew 3.6 percent, adjusted operating profit4 improved 6.4 percent and adjusted operating margin4 expanded to 13.8 percent. Growth was driven by residential shipments, an area where we continued to leverage technology to serve the market. Combined with the UPS integrated network, this technology enables us to be more productive. For example, we can now redirect a SurePost® package to merge with an existing UPS delivery stop, increasing density and reducing expense.
UPS My Choice®, the technology-enabled service we deployed in October 2011, continues to exceed our expectations. As of March 2013, the number of My Choice subscribers stood at 2.5 million—and counting. Our other service enhancements include the expansion of the UPS Next Day Air® footprint here in the States. Today, UPS delivers to more businesses and ZIP codes overnight by 8:30 a.m. and 10:30 a.m. than anyone else.
International
2012 was a challenging year for our International segment, given the weakness in global trade, the European debt concerns, and declining shipment weights from high-volume shippers. Still, UPS generated $1.8 billion in adjusted operating profit4 and our adjusted annual operating margin4 of 14.9 percent led the industry. We remain bullish on the opportunities in Europe and Asia.
During the year we continued investing in our capabilities and our brand. As the Official Logistics and Express Delivery Supporter of the 2012 London Olympic and Paralympic Games, UPS staged the largest peacetime logistical undertaking in the world. We also acquired the European consumer delivery company Kiala, whose e-commerce technology platform broadens our service portfolio for business-to-consumer deliveries. We introduced new returns services to 30 countries in Europe. In North America, we expanded across eight cities in Canada. In Asia, we launched a new flight between Zhengzhou, China and Incheon, South Korea to meet customer needs in growing markets.
Supply Chain and Freight
While the Supply Chain and Freight segment also faced challenges, the UPS Freight® and Distribution units performed well. UPS Freight increased revenue and tonnage and expanded its adjusted profit margin5 about 70 basis points for the year. The Forwarding unit was pressured by weak global trade and forwarding market conditions in the second half of the year. In our Distribution unit, we continued to invest in new technology and facilities. In 2012, we increased our global healthcare network presence in eight locations in North America and Asia Pacific, expanding our distribution capabilities by more than one million square feet. UPS also began to implement a global, state-of-the-art warehouse management system that further integrates supply chains for our Healthcare customers. These investments not only drive growth in our Distribution business, but also across the entire enterprise.
The Triple Bottom Line
UPS's industry leading operating margins, attractive ROIC, and leadership in sustainability demonstrate the synergies between being a good corporate citizen and economic success. While others may claim they practice sustainability, we documented our results in our ninth annual sustainability report in 2012, which received an A+ rating from the Global Reporting Initiative for its accuracy and transparency. In 2011, the most recent year for which we have data, our use of advanced route-planning technology reduced the miles UPS drove by 85 million—saving 8.4 million gallons of fuel and 83,000 metric tons of CO2 emissions. In a single year, our use of telematics has saved almost 100 million minutes of engine-idling time and more than 650,000 gallons of fuel. These savings aren't just good for the environment, they are good for our bottom line.
In our communities, weather disruptions affected businesses and families alike and we responded by contributing both cash and services to those affected. In addition, UPS employees logged more than 1.8 million volunteer hours during 2012. On the environmental front, we expanded our alternative fuel vehicle fleet. Our actions earned UPS the highest score in the 2012 Carbon Disclosure Project's Leadership Index of S&P 500 companies.
2013 and Beyond
In 2013, we expect earnings per share to grow between 6 percent and 12 percent over the adjusted 2012 EPS5. We expect to achieve this growth in spite of increased pension expenses, unfavorable currency comparisons, and a mixed global economic outlook. In line with our focus on increased shareowner distributions, we raised our 2013 share repurchase plans from $1.5 billion to $4.0 billion and on February 14, announced an 8.8 percent increase in the UPS quarterly dividend.
Looking beyond 2013, we remain committed to our long-term target of 10 percent to 15 percent growth in earnings per share. We intend to leverage our human and financial capital to capture profitable opportunities. Focusing on the four transformative strategies outlined above, UPS will seize opportunities in the global marketplace to support the omni-channel consumer experience, reverse logistics, offshoring and reshoring of production, and growth in China and emerging markets. We have developed an infrastructure to benefit from these trends, and our employees, customers, communities and shareholders will share in the rewards.
On behalf of the nearly 400,000 employees who are passionate about running our integrated, highly efficient business, I thank you for your investment. Managing it wisely to ensure long-term superior returns is our number one priority.
D. Scott Davis


Investor Information
Annual Meeting
Our annual meeting of shareowners will be held at 8 a.m. on May 2, 2013 at the Hotel DuPont, 11th and Market Street, Wilmington, DE. Shareowners of record as of March 15, 2013 are entitled to vote at the meeting.
Investor Relations
You can contact our Investor Relations Department at:
UPS
55 Glenlake Parkway NE
Atlanta, GA 30328-3474
800-877-1503 or 404-828-6059
investors.ups.com
Exchange Listing
Our Class B common stock is listed on the New York Stock Exchange under the symbol "UPS." Transfer Agent and Registrar Computershare Shareowner Services Send notices of address changes or questions regarding account status, stock transfer, lost certificates, or dividend payments to:
United Parcel Service, Inc.
c/o Computershare Shareowner Services
P.O. Box 358415
Pittsburgh, PA 15252-8415
or:
480 Washington Boulevard
Jersey City, NJ 07310-2053
Form 10-K
Our Annual Report on Form 10-K for the year ended December 31, 2012 forms part of the UPS 2012 Annual Report. If you would like an additional copy of our Form 10-K, you can access it through the Investor Relations website at investors.ups.com or at the Securities and Exchange Commission website, sec.gov. The Form 10-K also is available free of charge by calling, contacting via the website, or writing to the Investor Relations Department.
UPS Shareowner Services
Convenient access 24 hours a day, seven days a week.
Class A Common Shareowners
www.cpushareownerservices.com
888-663-8325
Class B Common Shareowners
www.cpushareownerservices.com
800-758-4674
Calls from outside the United States: 201-680-6612
TDD for hearing impaired: 800-231-5469
TDD for non-U.S. shareowners: 201-680-6610
X Close
See reconciliation of FCF on inside front cover.
X Close
See reconciliation of Non-GAAP financial measures on page A1 of the annual report PDF.