We remain confident in the strategies our company is pursuing

Joel W. Johnson
Chairman of the Board
President and
Chief Executive Officer

In fiscal 2000, Hormel Foods continued to demonstrate the success of our long-term strategic initiatives. We significantly increased the proportion of our pork and turkey business that is branded and value-added, and we grew market share in key retail categories. Our ethnic product portfolio was expanded with a major strategic enhancement in the olive oil business. Our leadership in the growing foodservice market increased as did our presence in every international market where we compete. Additionally, the major reorganization and the introduction of Economic Value Added (EVA) financial management systems, announced late in 1999, were successfully and enthusiastically implemented by the entire employee team at Hormel Foods.
The quantitative results document our progress. For the fiscal year ended October 28, the company reported total earnings of $170,217,000, an increase of 4.1 percent, or $6,779,000, over earnings of $163,438,000 for fiscal 1999. Reported earnings per share were $1.20, an increase of $.09, or 8.1 percent, over last year's figure of $1.11.

Total earnings for fiscal year 1999 included a one-time gain of $3,808,000, or $.03 per share, from the sale of land by Campofrio Alimentacion, S.A., Madrid, Spain, a company in which Hormel Foods has an equity ownership interest. Excluding this gain, the current year's earnings per share reflect a 10.1 percent increase over the prior year.

All per share amounts have been adjusted to reflect the two-for-one split of Hormel Foods common stock approved by shareholders on January 25, 2000.

Dollar sales for fiscal year 2000 increased 9.5 percent to an all-time record $3,675,132,000 versus the $3,357,757,000 achieved last year. Total tonnage volume increased slightly from last year's record results despite reductions in pork processing levels at midyear and Jennie-O Foods decision to emphasize smaller bagged whole birds.

In a review of the past year, it is now clear that the anxiety surrounding Y2K led to a significant surge in purchases of nonperishable products. This was especially true in our fiscal 2000 first quarter which included the months of November and December when hoarding reached its peak. The portfolio of the Grocery Products Division positioned the company to benefit from this phenomenon. Our production, sales, transportation and logistics teams performed superbly in maximizing the opportunities Y2K provided.

Economic Value Added (EVA) Economic Value Added results improved 26 percent in fiscal 2000. The improvement was driven by maintaining capital at fiscal 1999 levels while increasing net operating profit after tax (NOPAT) by 10 percent.

Managers at Hormel Foods are making decisions based on the EVA concept that all capital has a cost. Following this principle, there is more focus on getting better returns on existing assets, disposing of assets not returning the cost of capital and adding new assets only if the returns are greater than the cost of capital. All three approaches contributed to EVA growth this past year.

Marketing and R&D Support To support the many new products introduced as well as increase market penetration for the company's many longstanding and well-known brands, marketing expense for fiscal 2000 was $292,808,000. This includes all media, advertising and promotion initiatives.

Especially gratifying was the Meat Products Division's selection as "Supplier of the Year" by Wal*Mart Stores, the highest honor bestowed to its suppliers by one of the world's largest retailers. The highly coveted award confirms the success of our strategic initiatives in building partnerships with the largest retailers, club stores and mass merchandisers in the industry. We were chosen from more than 400 suppliers who provide fresh meat and deli products to Wal*Mart. The criteria was based on new product and marketing programs, sales gains from the previous year and order fill rate.

Companywide, Hormel Foods was honored as the 2000 "New Products Company of the Year" by PREPARED FOODS magazine. The trade publication cited the company's innovative new products, value-added, convenience-driven strategies and expansion of ethnic and gourmet brands as the basis for receiving the award. MEAT MARKETING & TECHNOLOGY magazine selected Hormel Foods as the "Company of the Decade." Calling the company a "Master Marketer," MM&T noted that of all the meat companies doing business during the 1990s, none had a more consistent record of progress and performance than Hormel Foods.

Research and development plays a critical role in the creation of new products. R&D is also the key to improving existing products and packaging as well as increasing the safety, efficiency and productivity of company manufacturing operations. Total investment in this important aspect of our business reached a record $9.6 million.

Capital Additions and Improvements Ongoing plant expansion and modernization programs illustrate the confidence our company has for expanded future market opportunities. The increased investment in new and improved facilities enables us to broaden our product lines, expand customer service and operating efficiency, reduce costs and improve product quality. For fiscal 2000, capital additions rose to $100,125,000, a 26.5 percent increase from the $79,121,000 expended the year earlier.

Of major significance was the decision, announced late in the fiscal year, to construct a 140,000 square foot distribution center in Dayton, Ohio. The $16.8 million facility will employ 125 people responsible for shipping 300 million pounds of product annually. The new facility will increase distribution capacity, improve delivery time and customer service to East Coast customers and result in improved inventory management and reduced outside warehouse charges. Construction is expected to be completed this summer. In Houston, Texas, a $17.3 million expenditure resulted in the renovation and opening of a 93,000 square foot plant for production of cured and smoked meats, principally retail precooked bacon products and spiral sliced Cure 81 hams.

The popularity of bacon, both center of the plate or as a topping ingredient, led to the expansion of operations at company plants in Austin, Minn., and Rochelle, Ill. Three lines for Black Label bacon production were added to meet strong increased demand for this top-of-the-line brand. New microwave cooking and high-speed automated packaging equipment more than doubled the capacity available for bacon bits and bacon toppings for foodservice sales.

Continued growth of the company's cooked ham business resulted in the installation in Rochelle of a new state-of-the-art continuous cooking and chilling operation which is capable of producing more than 40 million pounds of deli and foodservice products annually under the Hormel and Dubuque brands. Another investment that added 4.5 million pounds of additional capacity and improved yields was a new oven in Oklahoma City, Okla., for Fast 'N Easy hamburgers and sausage patties.
One of the company's most exciting investments is the installation in Austin of AutoFom equipment, a technological breakthrough in analyzing and evaluating hogs. Through the use of high-speed computers and an array of ultrasonic transducers, thousands of cross-sectional images are taken of hogs entering the production process. Ultimately, AutoFom information will be used in determining each animal's true value as well as providing genetic and feeding data to help produce higher quality pork products for the consumer.

Common Stock and Cash Dividends In January 2000, shareholders approved a two-for-one split of the company's common stock, increasing the number of authorized shares from 200 million to 400 million. The intent of the stock split was to achieve wider distribution of the shares and a broader market for the company's common stock by making more shares available for trading at a lower price per share.

We believe the stock market continues to undervalue most companies in the food industry. As a result, we have concluded that repurchasing our common stock is a prudent use of cash, improves earnings per share and return on equity while also demonstrating management's confidence in the future performance of the company. In September 1998, the company announced plans to repurchase up to five million shares, or 10 million split adjusted shares, of Hormel Foods common stock. Through fiscal year close on October 28, 2000, the company had purchased 9,042,100 shares on the open market.

For the 34th consecutive year, the company's annual cash dividend rate on the common stock of the corporation was raised. The new rate of $.35 per share, up from $.33 per share, amounted to a 6.1 percent increase. Hormel Foods has an unbroken history of paying dividends to shareholders since becoming a public company in 1928.

Senior Management Changes I would like to recognize the important career-long contributions made by retiring members of our management team. Don J. Hodapp, executive vice president and chief financial officer, retired April 30 after 34 years with the company. In the course of his distinguished career, he held important management positions in finance, production, information systems and general management. Robert A. Slavik, vice president of meat products sales, retired at calendar year-end after 33 years of dedicated service. Thomas J. Leake, corporate secretary and senior attorney, announced his planned retirement, effective early in 2001. He has been an integral member of the company's Law Department for 27 years, serving as senior attorney since 1984 and corporate secretary since 1990.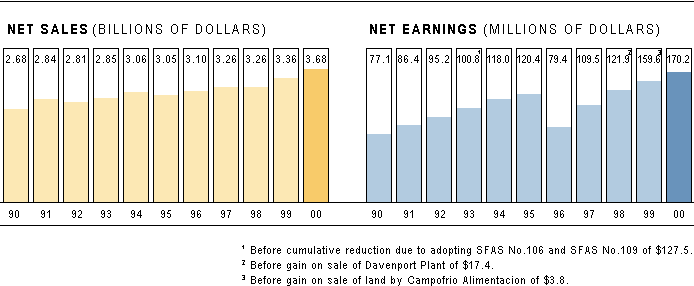 We are fortunate to have great management depth and are pleased to announce a number of promotions as a result of these retirements. Within the administrative area, Michael J. McCoy, previously vice president and controller, was elected senior vice president, chief financial officer and a member of the Board of Directors. James N. Sheehan, formerly corporate treasurer, was named vice president and controller. Jody H. Feragen, assistant treasurer with National Computer Systems in Eden Prairie, Minn., joined Hormel Foods as corporate treasurer late in the calendar year. Roland G. Gentzler, director of finance for refrigerated foods, was named assistant controller. James W. Cavanaugh, an assistant secretary and senior attorney in the Law Department, was chosen to be the company's new corporate secretary.

We further strengthened our management ranks within several marketing and sales functions of the company, moving talented employees into new positions of responsibility. Steven G. Binder advanced from vice president to group vice president of foodservice. Thomas R. Day, director of foodservice sales, and Dennis B. Coettsch, director of foodservice marketing, were elected vice presidents. Daniel A. Hartzog, director of business development for meat products, was named the new vice president of meat products sales.

Near the end of fiscal 2000, Geraldine M. Joseph announced her intention to retire from the Board of Directors at calendar year-end after 23 years of dedicated service. Geri's insightful counsel was valued by three generations of Board chairmen and contributed to our growth, diversification and management team development.

In March, we were honored to have John G. Turner, vice chairman of ING Americas, Minneapolis, Minn., join the Board of Directors. His business and financial perspective, gained over a successful career in the insurance industry, is welcomed in our deliberations.

Exiting fiscal 2000, we remain confident in the strategics our company is pursuing. Our focus is on branded, value-added products through multiple channels of distribution in domestic and international markets. We are convinced that aggressiveness, innovation, efficiency and financial discipline will be rewarded in the long term.



Joel W. Johnson
Chairman of the Board
President and Chief Executive Officer