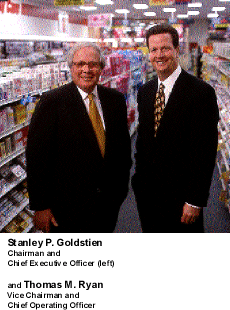 From our company's beginning as one store in Lowell, Massachusetts, in 1963 to a Fortune 100 company today with nearly 3,900 stores that lead the Northeast, Mid-Atlantic, Midwest and Southeast drugstore markets, CVS has always demonstrated a willingness to embrace change. Looking back over the last two years provides some excellent examples. Having completed one of the largest and most successful corporate restructurings in history--turning Melville Corporation, a diversified specialty retailer, into a highly focused drugstore chain in 1996--we basically rebuilt our company. In May, 1997, we undertook the largest drugstore acquisition ever, completing the reshaping of our company and helping to reshape the drugstore industry. And, with the new world of healthcare, we are "at the plate" with the most innovative solutions for our managed care customers. Yet, despite ongoing dramatic change, we have never lost our focus on the customer and we continue to deliver superior financial performance.

The year 1997 was an historic year for CVS. It was a year of major change and explosive growth. We are proud of our achievements and we are confident that the basic values of our corporate culture--which led to our success in 1997--will continue to lead to strong growth for years to come. With that in mind, the theme of this Annual Report is Growth--Growth from store operations, Growth from new stores and relocations, Growth from the Revco acquisition, and Growth from innovative healthcare initiatives. All of these endeavors should lead to the continued enhancement of value for our shareholders.

Over the course of 1997, CVS' stock price increased dramatically, resulting in a total return to shareholders of 56% that significantly exceeded market averages. Our market capitalization more than doubled to over $11 billion. We are extremely pleased with these strong results, which we believe reflect CVS' excellent performance as well as investors' continued excitement about our outstanding growth prospects.

A Vibrant Industry Our growth plans are supported by a very favorable industry environment, including highly compelling long-term demographics. We intend to continue to capitalize on key trends, including an aging American population, an increasing demand for retail formats that provide easy access and convenience, greater responsibility being borne by all Americans for their healthcare, discovery of new and better drug therapies, and a need for cost-effective healthcare solutions.

Outstanding Sales and Earnings Growth We are pleased to report that the combined CVS/Revco has delivered outstanding growth rates. Total sales for the combined company rose 16.4% to $12.7 billion in 1997, while pharmacy sales increased 23.6%. Since the acquisition of Revco was accounted for as a pooling of interests, all of the results for prior periods include both CVS' and Revco's performance.

On a comparable store basis, sales jumped 9.8% and pharmacy same store sales rose a robust 16.7% over the prior year. Total same store sales for stand-alone CVS increased an industry-leading 10.5%, while Revco's same store sales increased 9.0% for the year. We are especially proud that our core CVS business remained very strong throughout 1997, as we pursued a number of major undertakings, including the acquisition and integration of Revco. On a comparable basis before any one-time items, operating profit jumped 30% for the year. This was driven not only by our strong sales growth--but also by a significant decline in selling, general and administrative expenses, reflecting store operating improvements as well as cost savings from the Revco integration and the Melville restructuring. Comparable earnings from continuing operations, excluding the effect of one-time items, climbed 38% in 1997 to $380.1 million, or $2.12 per diluted share, from $275.2 million, or $1.55 per diluted share in 1996. Our earnings from continuing operations have shown compounded annual growth of 33.1% for the past 3 years.

The Revco Acquisition: A Formidable Challenge, An Enormous Opportunity In late May, we consummated the largest acquisition in the history of the chain drug industry by acquiring Revco D.S., Inc., presenting our organization with a formidable challenge. We firmly believe we are up to that challenge. The Revco acquisition met all three of our stringent acquisition criteria. It was immediately accretive to earnings; it provided leadership position in new markets; and it offered significant upside potential that may be achieved by narrowing the performance gap between the two companies. As you will read in the following pages, our integration of Revco has been proceeding extremely well. We are on or ahead of schedule in all phases of the integration. By the end of 1998, all of the Revco stores are expected to be converted to CVS stores, carrying the CVS name.

Ramping Up New Store Growth Our real estate strategy is predicated on market leadership. We aim to develop the #1 or #2 position in every market in which we operate. Furthermore, it is not just the quantity--but the quality--of our store locations that count. We are committed to having locations that are the most convenient for our customers. To that end, we plan to reposition many of our stores to more convenient locations in our existing markets. In addition, we will open new stores in existing markets and we will pursue opportunities in new markets through self-development or acquisition. In 1997, we opened 287 new and relocated stores. We are accelerating our new store program and expect to open 300 new and relocated stores in 1998 and more than 350 per year in 1999 and beyond.
Store relocations are a critical element of our strategy, since we tend to see a significant increase in sales, profit and return on invested capital when we move a store from an in-line shopping center to a freestanding location. Since only approximately 17% of our total chain is currently freestanding,
this represents a tremendous opportunity.

Innovative Healthcare Initiatives CVS plays a valuable role in the delivery of integrated healthcare services. Our 10,000 pharmacists have direct access to more than one million patients per week and, with nearly 3,900 stores, we operate more "points of care" than almost anyone in the healthcare industry. Furthermore, with the addition of Revco's prescription mail order service, we now operate one of the largest retail/mail pharmacy benefit management (PBM) businesses in the country, covering approximately 5 million lives. Finally, we have an unparalleled pharmacy data warehouse that gives us the opportunity to analyze drug utilization trends and to determine potential savings and improvements in the quality of care. Our strategy is to take advantage of these tremendous assets to create and deliver solutions that help our managed care customers with the challenge of lowering healthcare costs while providing high levels of care. Our PBM, PharmaCare, focuses on developing innovative solutions for its customers. In addition to providing a full range of pharmacy benefit management services, PharmaCare offers unique services such as our proprietary Clinical Information Management System (CIMS), which has demonstrated our ability to help control rising healthcare costs for consumers. To help position CVS for future healthcare opportunities, we have also formed partnerships, which we hope to capitalize on, with other major participants in the healthcare industry.

Sustaining CVS' Growth Record As the nation's most customer-focused and innovative healthcare retailer, we believe we are very well positioned for strong growth in the evolving world of healthcare. CVS continues to execute its service-oriented, customer-focused strategy by building upon four distinct competitive advantages--market leadership, strong retail execution, managed care expertise and the use of advanced technology. These competitive advantages have been the key building blocks of our success and will continue to provide an important framework for our future growth. In addition to our aggressive store development program, we see significant opportunities to continue to purchase prescription files from independent pharmacies, which still represent about 30% of our industry. We will also continue to be open to opportunistic acquisitions that meet our stringent criteria. Additionally, we are evaluating international growth opportunities for the longer-term.

Aggressive Capital Management CVS is a return-driven company. Our long-term goal is to have our return on invested capital double our weighted average cost of capital. That is an aggressive goal that will challenge our organization which, if achieved, would place us among the top corporations in America on that measure. As a result of this capital management, the company has an extremely healthy balance sheet and expects to be a meaningful cash generator, even after an aggressive capital expenditure program. During 1997, we completed the sale of the remaining Melville assets, including our remaining Linens 'n Things stock and our Bob's Stores subsidiary, which further strengthened our cash position. In 1997, we expended $312 million in capital and we plan to ramp up our capital expenditures to $450 million in 1998 to support our aggressive, but focused, growth plans. Our strong long-term cash flow outlook should allow us to be opportunistic in aggressively pursuing growth in retail as well as healthcare, thereby providing opportunities to enhance shareholder value.

Management Incentives Aligned With Shareholders It is our strong belief that it is important to align the interests of our management team with those of our shareholders. Accordingly, our management team received new incentives in 1997 after we became a focused public entity, which encourage each team member to invest his or her personal capital in CVS stock. Management's stake in our company is increasing all the time, which we believe will continue to help foster superior results.

Board of Directors We welcomed two new members to our Board of Directors during 1997. Sheli Z. Rosenberg and Thomas O. Thorsen joined the CVS Board in May. Ms. Rosenberg is the President and Chief Executive Officer of Equity Group Investments, Inc. Mr. Thorsen is a retired Vice Chairman of the Travelers Corporation and a retired Senior Vice President of Finance of General Electric Company. M. Cabell Woodward, Jr. and Patricia Carry Stewart will be retiring from the Board of Directors this May. We are extremely grateful to both of them for their enormous contributions over their many years of service. We wish them good health and happiness in the years ahead. We also want to thank the entire CVS Board of Directors for their wise counsel throughout our eventful year. At the company's annual meeting on May 13, 1998, Thomas M. Ryan will succeed Stanley P. Goldstein as President and Chief Executive Officer of CVS Corporation. Stanley will remain Chairman of the Board.

A Tribute to CVS People The Revco acquisition doubled our total employee count to more than 90,000 strong. We have been highly impressed with the strength of the Revco organization and its people, who have become enthusiastic and valued members of the CVS family. In 1997, our people were challenged in every way and they demonstrated their talent and commitment, as evidenced by our excellent performance. At CVS, we believe that employees should be rewarded for jobs well done. We provide excellent growth opportunities for employees that demonstrate quality performance and dedication and, most of all, care about our customers. We want to thank all of our employees for a job extremely well done in 1997, particularly given the year's very hectic pace. We also want to thank all the CVS employees and their families who agreed to be photographed in this year's annual report--your time and enthusiasm is greatly appreciated. We look forward to working with the entire team during what is expected to be another exciting year for CVS in 1998.

Arbor Drugs, Inc. As this report was going to press, we announced an exciting development that will provide opportunities to accelerate our future growth. On February 9, 1998, we announced a definitive agreement to acquire Arbor Drugs, Inc., in a stock transaction valued at approximately $1.48 billion.

The transaction with Arbor, the most highly regarded regional chain, will establish the combined enterprise as the nation's top chain drug retailer, based on store count and prescriptions dispensed, with 1998 revenues expected to exceed $15 billion.

All of us at CVS are enthusiastic about this combination. The transaction is expected to contribute to earnings per share, excluding one-time merger charges; it provides a strong leadership position in metropolitan Detroit, the nation's fourth largest drug retail market; and, the combination offers considerable upside potential by leveraging the strengths of each organization to enhance the performance and long-term growth of the combined entity.

The acquisition is subject to regulatory approvals and a vote of the shareholders of Arbor. We hope to complete the transaction by March 31, 1998.