Corporate Headquarters
WellPoint, Inc.
120 Monument Circle
Indianapolis, IN 46204-4903
www.wellpoint.com
Account Questions
Our transfer agent, Computershare, can help you with a variety of shareholder-related services, including:
Change of address
Transfer of stock to another person
Lost stock certificates
Additional administrative services
Please include your name, address and telephone number with all correspondence, and specify a convenient time to contact you.
You can call Computershare toll-free at: (866) 299-9628 Monday through Friday, excluding holidays, from 9 a.m. to 5 p.m. Eastern Time.
Written correspondence can be sent to:
WellPoint Shareholder Services c/o
Computershare Trust Company, N.A.
P.O. Box 43037
Providence, Rhode Island 02940-3037
E-mail: wellpointinc@computershare.com
Online Materials
Please visit www.wellpoint.com under the "Investor Info" tab for SEC filings, financial press releases, stock performance and details about upcoming events.
You can also sign up to receive e-mail alerts whenever new information is posted and browse the site to download reports electronically. An electronic version of this report is also available at www.wellpoint.com/annualreport/2010.
Investor and Shareholder Information
Shareholders may receive, without charge, a copy of WellPoint, Inc.'s Annual Report on Form 10-K, including consolidated financial statements, as filed with the Securities and Exchange Commission (which is WellPoint, Inc.'s Annual Report to Shareholders).
WellPoint's Annual Report and other information are also available on WellPoint's Investor Relations Web site at www.wellpoint.com. To request an Annual Report, Form 10-K, or additional information, please choose from one of the following:
Institutional Investors
WellPoint, Inc.
Investor Relations Department
120 Monument Circle
Indianapolis, Indiana 46204-4903
(317) 488-6390
E-mail: michael.kleinman@wellpoint.com
Individual Shareholders
WellPoint, Inc.
Shareholder Services Department
120 Monument Circle
Indianapolis, Indiana 46204-4903
(800) 985-0999 (toll free)
E-mail: shareholder.services@wellpoint.com
Annual Meeting
The 2011 annual meeting of shareholders of WellPoint, Inc. will be held at 8:00 a.m. Eastern Daylight Time on Tuesday, May 17, 2011, at the Hilton Hotel at 120 West Market Street, Indianapolis, Indiana.
Market Price of Common Stock
Our common stock, par value $0.01 per share, is listed on the NYSE under the symbol "WLP." On February 9, 2011, the closing price on the NYSE was $65.25. As of February 9, 2011, there were 97,360 shareholders of record of our common stock. The following table presents high and low sales prices for our common stock on the NYSE for the periods indicated.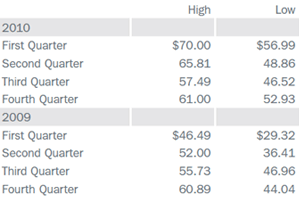 Dividends
On February 23, 2011, WellPoint announced its Board of Directors declared a quarterly dividend to shareholders in the first quarter of 2011 of $0.25 per share. This quarterly rate represents an annualized dividend of $1.00 per share, which equates to a yield of approximately 1.5 percent based on the Company's stock price at close of trading on the New York Stock Exchange on February 22. The initial dividend payment was made on March 25, 2011, to shareholders of record as of March 10, 2011. Future quarterly dividend payments are subject to Board approval and may be adjusted as business needs or market conditions change.