At Xilinx, we think and act as a global company. Our commitment to international expansion is to better serve a broad and growing base of global electronic system manufacturers. This past year, we opened our first strategic manufacturing site outside of the United States, in Ireland. We added new sales offices abroad. We localized our software for the Japanese market, incorporating the Japanese character sets. We expanded the network of distributor and manufacturers' representatives supporting Xilinx internationally. As a result of these and other efforts, our international revenues increased 81% over the prior year. While domestic revenues currently comprise 65% of total revenues, we recognize that our future growth is dependent on continued worldwide expansion.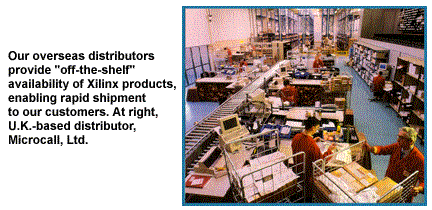 The Xilinx sales organization combines a focused direct sales management team with an extensive network of independent sales organizations and distributors. Instead of developing a large direct sales force with its overhead and high fixed costs, we have developed an optimal organizational structure for reaching a customer base of more than 15,000 different buying entities. This sales network has proved to be very effective in today's competitive marketplace because of the independent sales representatives' and distributors' extensive reach and customer knowledge. Manufacturers' representatives work closely with major customer accounts. The success of this strategy is clearly based on having the largest number of field technical support engineers in the programmable logic industry and the most comprehensive training programs for field sales personnel.
Xilinx offers technical support through a network of approximately 75 field application engineers (FAEs) and internal applications engineers. Manufacturers' representatives and distributors employ an additional 200 FAEs who are dedicated to supporting Xilinx. Xilinx also maintains technical support hotlines in the United States and abroad, providing timely responses to customer questions. The latest information on Xilinx's programmable logic devices and development system software is provided to customers via Xilinx's network of electronic services, including the Xilinx World Wide Web, a technical electronic bulletin board, and an e-mail and fax-on-demand system, all accessible 24 hours a day, seven days a week.
In a continual effort to be more responsive to our customers, we are committing additional resources to training and technical support in 1996. Comprehensive post-sales technical support distinguishes Xilinx from the other programmable logic suppliers and gives us a strong competitive advantage. As with many other technologies, technical support is essential to driving new applications and market growth.
Xilinx is a fabless' semiconductor company, meaning that it does not operate its own wafer fabrication facilities. Being without a foundry allows the company to focus on what it does best-- product design and market development. In the fast growing programmable logic market, a manufacturing strategy based on alliances is the optimal way to share the cost of technology, gain flexibility and ensure security of supply for our customers. We currently have several fab partners, with our major supplier being Seiko Epson of Japan, but others include Yamaha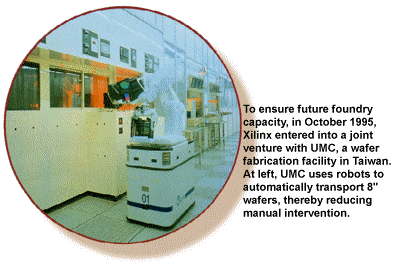 and United Microelectronics Corporation (UMC). These foundry partnerships transcend the scope of traditional customer-supplier relationships in that we employ our own process technology experts who work closely with our foundry partners in the implementation of process improvements. We also work closely with our foundries on the development of new processes like our XC8100 family of one-time-programmable FPGAs.
While Xilinx does not build and operate a fab of its own, it has taken an equity stake in a foundry for the first time in its history. In order to ensure foundry capacity of leading-edge process technologies to meet the rising demand for PLDs, we entered into a joint venture with UMC and other parties to construct a wafer fabrication facility in Taiwan. We will invest $136 million in installments over the next two years in exchange for a 25% equity stake in the new foundry. The new fab will produce 8-inch wafers using 0.35 micron and later 0.25 micron or better submicron technology. The $1 billion foundry is expected to be operational in mid-1997. In the meantime, UMC will provide us with interim capacity from its existing 8-inch wafer facilities in Taiwan.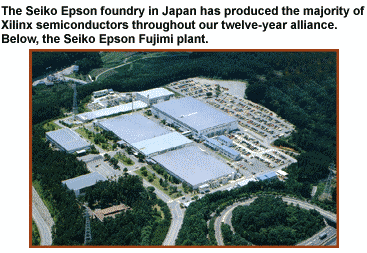 Over the past ten years, Xilinx has been able to reduce programmable logic prices by as much as 30% per year due to improved manufacturing yields. The programmable market is very price elastic, and the growth of the market has accelerated as we have been able to pass these savings on to our customers in the form of price reductions. In order to drive down our manufacturing costs, we must consistently be at the forefront of proven process technology. Accordingly, we will continue to pursue strategic alliances with foundries that allow us access to leading process technologies.
The other strategic manufacturing imperative is to shorten our manufacturing cycle time. Currently, nearly all of our wafer fabrication is outsourced abroad; the assembly of our integrated circuits into plastic and ceramic packages is completed in Korea and the Philippines. Final testing is completed in Xilinx San Jose, Xilinx Ireland or by a subcontractor. This entire cycle, silicon through final testing, can require as much as three to four months. Our objective is to improve Xilinx's global operations by getting products into our customers' hands faster, more efficiently and at a lower cost.
Employing over 1,200 people worldwide, Xilinx has sales, marketing and technical support offices in the United States, the United Kingdom, Germany, France, Sweden, Hong Kong, Korea, Taiwan and Japan. We have engineering in California, Colorado, Scotland and Ireland. Our global opportunities necessitated the establishment of a non-U.S. engineering and manufacturing site capable of serving the growing worldwide customer base outside of North America.
We examined a number of potential locations in Europe before deciding that Ireland was the ideal location for continued global expansion. The availability of a flexible, highly skilled work force and Ireland's burgeoning information technology economy were critical factors in this decision. Also important to us were the existing electronics industry infrastructure and Ireland's proximity to key European markets.
The Ireland facility is Xilinx's first site established outside the United States that substantially replicates operations in the California-based headquarters. Currently, the manufacturing facility handles all packaged device testing and quality assurance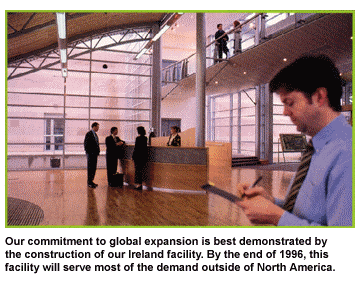 in addition to some software development. In the near future Xilinx Ireland will also undertake IC product development. European demand for our products is presently being met from the Ireland site. By the end of 1996, this facility will serve most of the demand outside of North America. Our Dublin location is targeted to employ 300 people at full production by the year 2000.
Commencing operations in April 1995, the new Ireland facility affords Xilinx several major competitive advantages. With closer access to our European customers, we can provide improved service and faster response times, thereby enhancing customer service. Local product availability and support should enable Xilinx to achieve further competitive differentiation. Shipping products to international customers from Ireland rather than California improves our lead times. Lastly, a 100,000 square foot facility affords significant additional capacity and flexibility for meeting our global manufacturing and engineering requirements.
Our Ireland facility not only represents a significant investment for our company, it is a clear corporate commitment to continued global expansion.
In April 1995, Xilinx acquired NeoCAD Inc., a Boulder, Colorado-based developer of field programmable gate array design software. While software represents less than 4% of total revenue, it is extremely critical to the success of Xilinx. The crucial balance between device density, performance, cost and delivery is driven by the co-development of silicon and software. A 60,000 square foot facility is being constructed in Boulder to house our software efforts in the areas of research and development, manufacturing and quality control.
The Xilinx software strategy is to deliver an integrated design solution for a broad customer base, ranging from customers who are not familiar with designing systems using FPGAs to the most sophisticated customers accustomed to designing high density, mask programmed gate arrays. The objective is to deliver strategic software advantages that combine ease of use with design flexibility, effective silicon utilization and competitive performance.
The next generation software builds upon the existing user interface of the current Xilinx software release, but underneath is a new generation software platform based on the NeoCAD core technologies. This new merged release, available in the fall of 1996, will satisfy the complete spectrum of CPLD and FPGA customers. It will have better performance results for high density designs, improved completion times, and the platform will be a scalable, industry standards-based environment which makes it easier for customers to support new technologies quickly.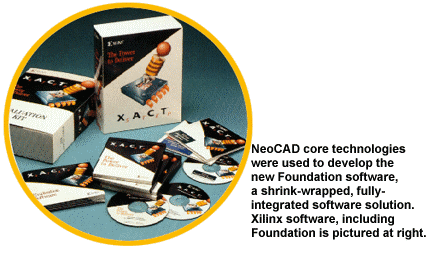 The marketing and selling of our software is as important as the development. We will offer three different product families, which will support our entire programmable logic product line. One product is an off-the-shelf, or shrink-wrapped, solution that is easy to learn and easy to use. For those customers who are new to designing with PLDs or want a low cost solution, we offer this entirely integrated software solution. Another product is for designers who want to integrate programmable logic design into their existing electronic design automation (EDA) tool environment. With interfaces to over 50 EDA vendors, this product allows users to select tools with which they are most familiar and therefore shortens their design cycle. The third product is for high-end system level design applications which have historically been dominated by gate arrays. Xilinx will provide pre-implemented, fully-verified 'drop-in modules,' called LogiCores, for commonly used complex functions such as digital signal processing. These cores of intellectual property will change the way in which logic has been historically designed. As a result, users can slash development time by many months, reduce design risk and obtain optimal performance for their designs.
By delivering strategic advantages such as competitive low-end solutions that are easily upgradable, open systems integration that leverages existing EDA partnerships, and high density and high performance leadership, Xilinx is establishing the benchmark for future generations of programmable logic design solutions. Furthermore, we are making the benefits of programmable logic accessible to a much wider range of design engineers.
Programmable logic has gained acceptance from a wide variety of applications and can be found in products ranging from network interface cards to phone switches, and from karaoke machines to ultrasound equipment. The diversity of applications contributes to the stability and growth potential of the programmable logic market. While the market for PLDs in North America is certainly the largest, it is incumbent upon Xilinx to look to other regions that may have a smaller revenue base, but are growing more rapidly. In Europe, designs tend to have unit volumes and product densities that favor PLDs. The telecommunications area is a particular case in point. Companies like Alcatel, British Telecom, Ericsson and Nokia use vast quantities of Xilinx FPGAs because they face unpredictable production volumes and frequent design modifications. The flexibility of Xilinx FPGAs allows these companies to shorten their design cycles and reduce development costs.
There have been many advances in telecommunications technology in recent years such as the simultaneous transmission of voice, data and video and improvements in sound quality. The tools that make these advancements possible are Asynchronous Transfer Mode (ATM) and Digital Signal Processing (DSP), respectively. Xilinx is a leader in offering silicon solutions to its growing number of customers who are implementing ATM and DSP applications. In the near future, Xilinx will offer ATM and DSP pre-designed, fully tested drop-in LogiCores modules. These modules will help save our customers months in development time for their high performance, high density applications.
For high volume, high demand market segments like telecommunications, Xilinx is the only programmable logic supplier that can convert FPGAs into low cost mask programmed devices. The Xilinx HardWireTM solution gives customers the lower unit cost of a gate array along with product life cycle flexibility. Xilinx benefits by keeping its customers longer, and customers benefit from not incurring additional design risk.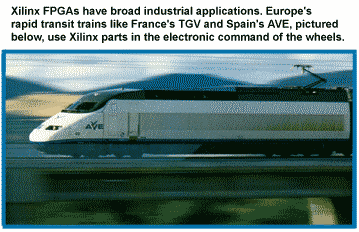 In calendar 1995, Xilinx remained the number one supplier of programmable logic in the European market with 32% market share. Revenues from Europe increased 73% year over year to nearly $120 million. In 1996, we are expecting significantly more HardWireTM business from Europe, as well as increased numbers of ATM and DSP applications.
Xilinx's strategy of building shareholder value through global investment and global sales growth has proven successful, with Europe being a crucial element of this worldwide geographic expansion.
Xilinx's customers in Japan include most of the largest Japanese electronic manufacturers and many smaller, fast growing companies in the data processing, communications, and instrumentation areas. Japan has not embraced PLD technology as quickly as the United States or Europe, although the trend is changing. Japan was the fastest growing geographic area for all PLDs in 1995 and our revenues from Japan more than doubled last year.
Japan was initially a difficult market for our products to penetrate because FPGAs compete directly with mask programmed gate arrays, products in which the Japanese manufacturers have been extremely competitive. However, with cost-optimized architectures like the XC5200, Xilinx is attacking the low end of the gate array market, a $1.2 billion potential opportunity. Approximately 25% of XC5200 revenues in fiscal 1996 was from Japan, demonstrating the strong acceptance of this cost-optimized product family. In the past, Japanese customers mainly used FPGAs for product design and prototyping but not in volume applications. Now, due to FPGA cost reductions, heightened customer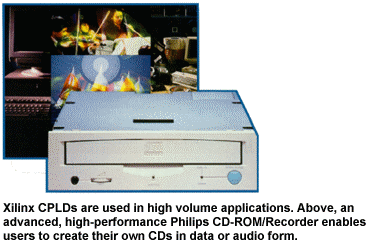 awareness and less direct gate array competition, FPGAs are increasingly being used for production purposes. We have taken other steps as well to improve our penetration into the Japanese market. We have localized our software to incorporate the Japanese character sets. In addition, with the newly introduced XC9500 family, Xilinx has set a new standard for in-system programmable CPLDs. Initial customer acceptance, particularly in Japan, has been extremely positive.
Rest of world (ROW), consisting principally of Asia-Pacific, is the smallest market to date, but as design expertise increases, demand for CPLDs and FPGAs will also increase. Instead of being used for prototyping, PLDs have gained more acceptance in applications requiring volume production. Xilinx sales from ROW grew 61% in fiscal 1996 and are expected to double next fiscal year.
Starting with a solid foundation of well-established competitive advantages, Xilinx is further strengthening its worldwide business through increased advertising, sales and technical support and the introduction of new products that better address its international customers' needs. More than ever, we are determined to be first to the global marketplace with new, innovative programmable logic products.
<!******************************************** This was designed and produced by 3W Concepts, Inc. (www.3wc.com)3W Concepts can be reached at (415) 378-8552 or at info@3wc.com**********************************************>