In 2014, Intelsat continued to lead the sector in what is almost certain to be recognized as a renaissance period for satellite communications. It is our view that more innovation in the satellite sector is likely to happen in the next decade than in the past 50 years combined.
Our industry is experiencing a resurgence in terms of our role and relevance in the global landscape. Ubiquitous connectivity is fundamental to enabling a content-driven society as well as connected devices and machines in an Internet of Things ("IoT") environment. A new and powerful community recognizes that satellite is the best platform to extend the reach of connectivity everywhere, particularly in remote regions with rising GDP.
Intelsat is positioned to win in this environment. We know satellite communications, we know media, and we know telecommunications infrastructure—especially in the developing world.
Intelsat is at the forefront, investing in new technology while supporting a diversified business that is profitable and positioned for growth.
Ground technology companies are putting metamaterials, software and other innovations to work in our sector, creating new and exciting ground solutions such as terminals and antennas that will revolutionize access to satellite communications. We are incorporating innovation into our satellite designs and ecosystem to unlock a new set of emerging vertical applications that can be powered by our high performance broadband connectivity.
By focusing on the needs of our customers, our network, and our organization, we are building the right foundation in this exciting era and positioning the company for sustainable and profitable growth over the long term.
Our Customers...
In 2014, Intelsat continued on its strategic path of creating products and services that support the growth of our customers, as well as new service capabilities for growing applications that require improved bandwidth performance.
For the full year 2014, we reported revenue of $2.472 billion and Adjusted EBITDA1 of $1.959 billion (79 percent of revenue), a decline of 5 percent and 4 percent respectively, as compared to 2013.
Importantly, we retired $475 million in debt, delivering on our plan to create equity growth through debt reduction. Overall, our performance was in line with our expectations for the year, which reflected certain headwinds that impeded the delivery of top line growth across our customer sets.
The new and innovative capacity of our upcoming launches, particularly our Intelsat EpicNG® platform, is our path back to growth. These satellites are currently expected to begin entering service in 2016. In 2015, we have one launch scheduled, Intelsat 34, which is largely a replacement satellite. As a result, our interim financial performance will be shaped by on-going headwinds which are expected to persist this year and into 2016. Our operating priorities take these realities into consideration as we continue to work on our long-term goals.
Network Services

At $1.150 billion, our network services customer set declined 4 percent as compared to 2013, and represented 46 percent of our 2014 revenue.

Our challenges in this customer set stem from legacy services reaching the end of their lifecycle, no new launches of network services capacity in 2014 and an oversupply condition in Africa that has resulted in on-going pricing pressure on roughly 12 percent of total company revenue.

Yet, this business is one where we arguably see the greatest long term opportunity, as demand for broadband connectivity, anytime, anywhere, accelerates on a daily basis.

Our network services strategy includes:

Launching of our next generation high throughput satellite ("HTS") platform, Intelsat EpicNG;
Optimizing the entire satellite service ecosystem, including networking hardware (terminals) and satellite access systems (antennas), with the goal of improving our customers' total cost of ownership. Combined with the higher performance of Intelsat EpicNG, our customers will be able to address new opportunities, thus expanding our addressable market; and
Introducing new end-to-end service models to allow customers in the enterprise, wireless infrastructure, and mobility sectors to leverage shared ground infrastructure as well as flexible and portable networking.

We believe that as we enhance these services, we will allow our customers to introduce new solutions and rapidly expand service territories—of which should result in broader addressable markets for Intelsat.

The next significant growth catalyst for our network services business is the launch of the first Intelsat EpicNG satellite, Intelsat 29e, which is expected to enter service in mid-2016.

Media

At $881 million, our media customer set was essentially unchanged as compared to 2013, and represented 36 percent of our 2014 revenue.

Growth in media services is primarily driven by the launch of new capacity at our satellite neighborhoods. Our sole launch in 2014, Intelsat 30, is one of two satellites for which the primary Ku-band payload is fully committed for a 15-year period by DIRECTV® Latin America for the delivery of direct-to-home ("DTH") services. Intelsat 30 entered into service in late 2014, providing growth in 2015 and into 2016, when it will be joined by Intelsat 31, the second of the DIRECTV® contracted satellites.

Our media strategy includes:

Continuing to invest in our media neighborhoods, supporting growth of our blue-chip content owners and DTH platform operators.

For instance, in 2014, we announced a new satellite, Intelsat 36, for which the entire Ku-band payload is fully committed for a 15 year period to our customer, MultiChoice, the leading DTH service provider in South Africa. In 2015, we expect to launch Intelsat 34, providing fresh capacity for our video distribution and DTH neighborhood at 304.5° E, in Latin America; and

Introducing services that enable our customers to more efficiently distribute content in a multi-format, multi-device environment.

The next significant growth catalyst for our media business will be the launches of Intelsat 34, Intelsat 31 and Intelsat 36, in the third quarter of 2015, first quarter of 2016, and second half of 2016, respectively.

Government

At $410 million, our government customer set declined 16 percent from 2013, reflecting reduced U.S. government spending following the 2013 sequestration, and represented 17 percent of our 2014 revenue.

With the withdrawal of troops from Afghanistan continuing throughout 2015, our government business remains focused on understanding the best opportunities for the U.S. government to utilize commercial satellite services for fixed and mobile requirements. We believe that commercial services provide the U.S. government a cost-efficient approach to achieving global coverage as well as the ability to build depth of resources rapidly during times of conflict.

Our government strategy includes:

Expanding the provision of end-to-end services, leveraging our global ground infrastructure and commercial space assets to complement U.S. government capabilities; and
Exploring outsourcing of technical services, such as satellite flight operations to commercial operators and preserving government resources for classified space-based capabilities.

Our Intelsat EpicNG capacity, ecosystem and service offerings are being designed to the requirements of our government customer set, including fixed network, communications on the move as well as aeronautical and maritime broadband applications. As Intelsat EpicNG is deployed globally, we will be ideally situated to continue to serve what we believe is a growth segment over the long run.

Overall, our customers are at the center of everything we do: long-term planning, service development, and highly reliable delivery of connectivity. Our customer-centric mentality ensures that our foundation is future-focused.
Our Network...
In contrast to the landscape even a decade ago, the amount of innovation in space, on the ground and all points in between provides Intelsat with a broad array of technology that is being deployed within our ecosystem. As we incorporate new technology, we update the foundation on which we deliver differentiated services to existing customers, as well as provide connectivity that can unlock new applications.
The Intelsat EpicNG satellite program represents the next evolution of our global fleet, replacing our IX-series satellites with high performance capacity better suited to today's applications.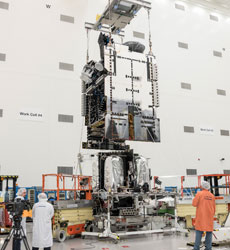 We are confident that we have chosen the right technology based on the fact that we started our design by first working with our current customers and prospective customers, and understanding their future network requirements from a holistic perspective: throughput, coverage and performance.
Taking advantage of innovations in payload design, Intelsat EpicNG includes the satellite world's most advanced digital payload, available exclusively to Intelsat for a period of time. The all-digital design is a first for fixed satellite service ("FSS") commercial high throughput satellites, setting Intelsat EpicNG apart from other HTS satellites in-orbit or launching in the near future.
The Intelsat EpicNG all-digital payload allows connectivities in any bandwidth increment from any beam to any beam. This attribute enables independent frequency selection of the uplink and downlink. Combined, these features provide unprecedented adaptability for a customer's network configuration and topology, enabling customers to leverage installed hardware and to operate mixed spectrum networks.
Our next-generation Intelsat EpicNG satellite platform is fully integrated with our existing, flexible global network, which means that we can target our HTS investments to the regions of highest opportunity, without sacrificing global coverage.
Backwards compatibility is another distinguishing feature of the Intelsat EpicNG platform. This means our customers—who have billions of dollars invested in their networking equipment—will be able to use their existing network hardware to access our satellites.
Open architecture also sets Intelsat EpicNG apart from other high throughput projects. This feature gives our customers full control over the management of their networks and selection of hardware, allowing them to differentiate their services in their respective markets.
In 2014, we continued the design and build process for six Intelsat EpicNG satellites, incorporating next generation technology that will increase throughput while reducing the cost per bit delivered to our customers. This same technology is expected to provide better capital expenditure efficiency, with a lower cost per unit in service, as well as the ability to consolidate orbital roles over time, resulting in improvements to lifecycle capital expenditures.
Our network will be a hybrid, as we will also include conventional capacity that best serves our media customers at our valuable orbital "neighborhoods." Intelsat 30 successfully launched and entered into service in 2014. We also continued the build of two media satellites (Intelsat 31 and Intelsat 34) and began work on Intelsat 36 during the year. These satellites will maintain and grow our media business as they enter service following their expected launches.
We also continue to invest in our IntelsatOne® terrestrial network, which complements our space network and allows our customers to access the entire global fleet from a single point on our terrestrial network. Here, too, we are taking advantage of innovations.
We have joined with Kymeta Corporation, the leading developer of metamaterials-based antenna technology, to design and produce innovative, flat, electronically steerable, Ku-band mTenna™ satellite antenna solutions that will be easier to install and less expensive to operate, and which will be optimized for the Intelsat EpicNG satellite platform. We have announced a similar project with Phasor Corporation, for an antenna suited to the business jet vertical market.
As we begin deploying Intelsat EpicNG satellites into networks using these antennas—as well as other customized solutions—Intelsat's services will be highly differentiated. Our goal is to provide high performance and cost effective infrastructure for targeted applications, including enterprise networks, rural wireless infrastructure in developing regions, and mobility broadband for planes and sea vessels. With the right technology for the right applications, we are laying the foundation for broad-based growth.
Our Organization...
When I arrived at Intelsat 10 years ago, the company had just begun the transition from its heritage as an intergovernmental organization.
Today, Intelsat is a fully commercial company with a leadership team that is second to none. Our workforce is dedicated and energized by our mission to "Connect the world, anytime, anywhere."
It is in this context that in late December, we announced the appointment of Stephen Spengler to the role of CEO effective April 1, 2015, and my move to the role of Executive Chairman. Steve has been at Intelsat since 2003, and our President and Chief Commercial Officer since 2013, leading our strategy, sales, marketing and business development efforts.
The succession of Steve, an industry and Intelsat veteran, assures a smooth transition, providing stability to our company as we remain focused on the long-term growth plan. In my role as Executive Chairman, I expect to continue to work closely with the board and management team, focusing on strategic priorities and providing support whenever the team needs it.
We have a talented management team through all levels of the organization, and I am confident in their ability to execute the initiatives described above. Our efforts over the course of 2015 will further strengthen the foundation, and provide a platform from which we can accelerate our progress as our new assets come into service in 2016 and beyond.
In Conclusion...
Our strategy is based upon the principle that if we create value for our customers, our business will be successful, allowing us to create value for our shareholders. We understand the steps necessary to return to top line growth, and to generate improving cash flow that will allow us to invest in our business and reduce debt. We are confident our decision to invest in our next generation technology is the right one. Until this capacity comes on line, we are building the services and new products that will allow us to move out quickly when the new capacity arrives.
As always, I thank you for your continuing interest in Intelsat.
David McGlade
Executive Chairman
---
1

In this shareholder letter, financial measures are presented both in accordance with GAAP and also on a non-GAAP basis. EBITDA, Adjusted EBITDA (or AEBITDA), free cash flow from (used in) operations and related margins, adjusted net income and adjusted net income per diluted common share included in this commentary are non-GAAP financial measures. Please see the consolidated financial information found in our earnings release and available on our website for information reconciling non-GAAP financial measures to comparable GAAP financial measures.