For more than 20 years, U.S. Cellular® has succeeded and grown by providing the best in customer satisfaction. This strategy continues to be the foundation for the company's success, resulting in both loyal customers and profitable growth.



Grew strategically and profitably



Added postpay customers
In 2006, the company added 297,000 net new retail customers, bringing its total customer base (including wholesale customers) to more than 5.8 million—a 6 percent increase over 2005. Despite competitive pressure, U.S. Cellular's postpay churn rate remained at a low 1.5 percent, demonstrating the company's proven ability to attract and retain customers with high-value National, Wide Area, and Family calling plans.

Expanded network
U.S. Cellular increased the total number of cell sites in service to 5,925, a 9 percent increase over 2005, expanding the geographic scope of the network and improving signal quality.

Increased revenues
Customer interest in U.S. Cellular's service offerings pushed service revenues to more than $3.2 billion in 2006—a 14 percent increase over 2005. Increased data usage and higher customer usage drove average monthly service revenue per customer to $47.23, a 4 percent increase over 2005.

Increased profitability and cash flow
As a result of increased revenues and effective cost and expense management, net income increased 16 percent to $179.5 million in 2006, compared to $155 million in 2005. Cash flow from operating activities was $693.4 million, a 10 percent increase over $630.2 million in 2005.

Maintained high customer satisfaction and call quality rankings
Time and again, U.S. Cellular's commitment to the quality of both customer service and the overall customer experience is reflected in surveys from J.D. Power and Associates:


•
For three consecutive times, U.S. Cellular received a ranking of "Highest Call Quality Performance Among Wireless Cell Phone Users In North Central Region" in the U.S. Wireless Call Quality Performance StudySM (Volumes 1 and 2 in 2006; Volume 1 in 2007). The North Central region covers Illinois, Indiana, Michigan, Ohio, and Wisconsin.
•
U.S. Cellular received a ranking of "Highest Overall Satisfaction Among Wireless Telephone Users in North Central Region in a Tie" in the 2006 U.S. Wireless Regional Customer Satisfaction Index (CSI) StudySM—Volume 1.

Strengthened existing markets
In 2006, U.S. Cellular focused on strengthening its markets. The company successfully transitioned the 15 Rural Service Area (RSA) markets in Nebraska and Kansas it received through an exchange of assets with Alltel in 2005. U.S. Cellular also acquired the remaining and majority interest in its Tennessee RSA 3 market, adding 21,000 customers, 8 retail stores, 17 authorized agent locations, and 46 cell sites.

Broadened distribution in Chicago and other markets
In the greater Chicago market, U.S. Cellular's largest, the company added 10 new company-owned locations and 11 authorized agent locations. Throughout U.S. Cellular, many locations were expanded, updated with a new store design, or converted from authorized-agent to company-owned locations.

Secured new spectrum through auctions
Carroll Wireless, L.P., in which U.S. Cellular is a limited partner, was granted 16 licenses in 2006 as a result of successful bids in the Federal Communication Commission's (FCC) Auction 58, held in 2005.

In addition, Barat Wireless L.P., in which U.S. Cellular is a limited partner, was the winning bidder in 2006 for 17 licenses in FCC Auction 66. The grant of these licenses is pending at the FCC.

All of these Carroll and Barat licenses cover market areas that are contiguous with or overlap U.S. Cellular's existing markets.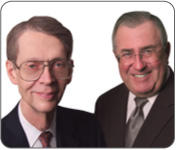 LeRoy T. Carlson, Jr. (left)
Chairman of the Board

John E. Rooney (right)
President and
Chief Executive Officer