Safe Harbor
Certain statements in the Annual Report that are neither reported financial results nor other historical information are forward-looking statements. Such forward-looking statements are not guarantees of future performance and are subject to risks and uncertainties that could cause actual results and Mosaic's plans and objectives to differ materially from those expressed in the forward-looking statements.

Shareholder Return Information
The following performance graph compares the cumulative total return on our common stock for a period beginning May 31, 2006, with the cumulative total return of the Standard & Poor's 500 Stock Index, and a peer group of companies selected by us.

Our 2011 peer group is comprised of Agrium Inc., CF Industries Holdings, Inc. and Potash Corporation of Saskatchewan Inc. Our stock price performance differs from that of our peer group during some periods due to differences in the market segments in which we compete or in the level of our participation in such segments compared to other members of the peer group. In accordance with Standard & Poor's policies, companies with less than a majority of their stock publicly traded are not included in the S&P 500 Index, and, accordingly, we were not included in the S&P 500 Index in the period covered by the graph on account of our former controlling stockholder. The comparisons set forth below assume an initial investment of $100 and reinvestment of dividends or distributions.

Stock Performance
Comparison of Cumulative Total Return Among The Mosaic Company, S&P 500 Index and Peer Group Index.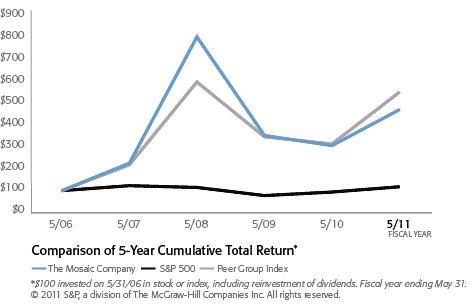 Media Contact
Rob Litt
Manager – Public Affairs
763.577.6187 (phone)
763.577.2987 (fax)
media@mosaicco.com
Investor Contact
Laura Gagnon
Vice President – Investor Relations
763.577.8213 (phone)
763.577.2986 (fax)
investor@mosaicco.com
Corporate Headquarters
3033 Campus Drive
Suite E490
Plymouth, MN 55441
763.577.2700 (phone)
800.918.8270 (toll-free)
763.559.2860 (fax)

Transfer Agent
American Stock Transfer & Trust Company
59 Maiden Lane
New York, NY 10038
877.777.0800

Independent Registered Public Accounting Firm
KPMG LLP
90 South Seventh Street
Minneapolis, MN 55402

Mosaic's 10-K Report, filed in July 2011 with the Securities and Exchange Commission, is available to shareholders and interested parties without charge by contacting Laura Gagnon.

Website
www.mosaicco.com

Annual Meeting of Stockholders
Mosaic shareholders are invited to attend our 2011 Annual Meeting of Stockholders. For date and location, please see The Mosaic Company 2011 Proxy Statement or visit the Company's website at mosaicco.com/proxymaterials.