Dr. Wallace E. Boston, President and Chief Executive Officer
45%

45% of APUS alumni return for a second degree.1

45% of APUS students referred by others.
96%

96% of APUS graduating seniors surveyed rated their experiences as positive.2

96% of APUS students surveyed agreed or strongly agreed that we met their expectations.3
Dear Shareholders,
American Public Education Inc. (APEI) has established an impressive track record since our founding in 1991. We have built a reputation for academic quality and innovation, and we have sustained our commitment to keeping higher education affordable through American Public University System (APUS). Over time, we have significantly expanded the diversity of our student base and the range of degree programs offered through APUS, and we have taken important steps toward diversifying our education enterprise. Most importantly, APEI has helped create opportunities for thousands of adult learners. Today, more than 38,000 alumni have earned degrees from our institutions of higher learning and gone on to make a difference in their communities and their professions.
In the process, APEI has achieved revenue and operating income growth and built value for our stakeholders. Since our initial public offering in 2007, our revenues have increased from $69.1 million to $329.5 million in 2013. This year's results reflect our achievements as well as the broader fiscal and economic realities of budgetary wrangling on Capitol Hill. In April and again in October, the Department of Defense tuition assistance benefits were temporarily suspended, so active duty military personnel could not use those benefits to enroll in our programs. In addition, the prolonged recession has made it more challenging for students to pursue higher education— even as the demand grows for certain professionals in fields such as technology and healthcare.
The higher education landscape is changing—with increasing competition, an evolving regulatory environment, rapidly emerging education technologies and shifting demand for certain professional skills. These changes create challenges as well as many exciting and unique opportunities for APEI. Today, we are positioned to leverage our core strengths to expand access to educational opportunities by further diversifying our student population, expanding into high-demand fields, advancing our technology platforms and branching out into new fields and education sectors through strategic partnerships, investments and acquisitions.
Our success is built on three core strengths—academic quality, affordability and innovation. We are regularly recognized by the broader academic community and other key stakeholders for the approaches we use to improve student outcomes and the learning experience. APUS was again recognized with the 2013 Effective Practice Award for best practices in online education by the Sloan Consortium, a national professional leadership organization. This was the third time we have received the Effective Practice Award from the Sloan Consortium. For the past two years, APUS ranked among the top online undergraduate degree programs in U.S. News & World Report's annual qualitative rankings. We continue to excel in affordability. Combined tuition, fees and books at AMU and APU are roughly 20% less for undergraduate and 40% less for graduate students than the average in-state cost at a public university.4
37,000 alumni

More than 37,000 APUS alumni are now making a difference in their professions and their communities.
Innovation is the key driver of our success. We lead by focusing on ways to improve learning and promote student success. APUS was recently selected as one of 12 Founding Institutions for the pilot of the John N. Gardner Institute for Excellence in Undergraduate Education's Gateways to Completion™ (G2C™) process, a research project designed to improve student persistence. Our participation in such projects and assessments helps us further improve student outcomes and strengthen our academic reputation.
We have historically taken a unique, relationship-oriented approach to building awareness among prospective students and partner with corporations, non-profits, government agencies and community colleges to increase awareness, instead of relying solely on traditional advertising. We believe this focused approach has helped us reach motivated students who are better prepared for the rigors of higher education and poised for success in their careers. We have then built strong relationships with students to help them succeed. The net result: high student satisfaction and referral rates.
Through innovations in technology, we uncover ways to improve operating efficiencies to keep higher education affordable and accessible. Our proprietary software and business process, mobile classroom access, and pioneering initiatives to combat the cost of textbook inflation combine to improve customer service, increase efficiency and lower certain costs for APUS and our students. Technology innovation also enables us to enrich the educational experience.
In 2013, we made a minority investment in Fidelis Education, an early stage company with an innovative software platform in development that helps students, faculty and staff to interact in meaningful ways outside the classroom, further strengthening the academic and career advising services we provide to them. In addition, we added a communication and networking tool to improve teaching excellence and enhance faculty collaboration—another example of how we stay at the forefront of new learning technologies that improve student learning and student outcomes.
Our core strengths—quality, affordability and innovation—add value for our students by making a quality higher education more accessible and opening the way for their accomplishments. In combination, they represent long-term competitive advantages for APEI and are central to our strategy going forward.
Hondros College of Nursing Graduates

Hondros College of Nursing joined APEI as its newest subsidiary on November 1, 2013.
over 800
alumni

More than 800 Hondros College of Nursing alumni are advancing the nursing profession, caring for patients and saving lives in Ohio and beyond.
A Strategy for the Future
Going forward, as we continue to expand through APUS, we also are exploring new opportunities for growth through strategic investments, acquisitions and partnerships. Our strategy is to expand into new fields and new education sectors, particularly those characterized by high demand and lower relative competition. We have made great progress to date.
Diversifying our programs. Today, through our subsidiaries, we offer more than 95 degree programs to over 110,000 students. Fully half are highly differentiated offerings in specialized fields such as Homeland Security, Space Studies and Intelligence. In 2013, APUS added new degree programs in Electrical Engineering, Public Policy, Mathematics, Cybersecurity, Natural Sciences and Health Sciences. We plan to add programs in key fields such as Computer Security and Healthcare, and to increase our focus on STEM (Science, Technology, Engineering and Mathematics) programs.
Broadening our international reach. In 2012, APEI made a minority investment to acquire 19.9% of New Horizons. As one of the world's largest IT training companies, with 300 locations around the world, we believe New Horizons provides a strong platform for growing our base of international students. In 2013, we hired an experienced executive to advance our international expansion plans.
Establishing a healthcare platform. In 2013, we acquired a 100% ownership interest in National Education Seminars Inc., which we refer to in this report as Hondros College of Nursing. The institution serves more than 1,300 students on four Ohio campuses and online, and has established relationships with hospitals and healthcare facilities throughout the state. The U.S. Department of Labor identifies nursing as one of the fastest growing fields during the next decade, and the acquisition positions APEI as an emerging leader in the areas of nursing, healthcare and public health.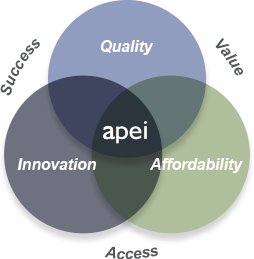 Exploring new opportunities in education technology. Today, emerging learning technologies such as adaptive and competency-based learning, social media, and simulation and gaming technology help us further expand access to higher education and improve the learning experience and student outcomes. We believe schools that embrace these technologies will be tomorrow's leaders. Going forward, we see exciting opportunities in education technology, which is evolving with lightning speed and is crucial to our success on every level.
Key Appointments
Effective January 1, 2014, Harry T. Wilkins, formerly executive vice president and chief financial officer of APEI, was named executive vice president, chief development officer, and CEO of Hondros College of Nursing. We are very pleased to have Harry leading this well regarded nursing school as well as our efforts to explore new business development opportunities.
Rick Sunderland succeeds Harry as APEI's chief financial officer. Rick's proven track record as senior vice president of APUS and as CFO of several growth companies made him the ideal candidate for the position. We welcome him to this new role.
In 2013, Paul Humphreys joined APEI as an Education and Business Development Consultant to play a leadership role in executing our expansion strategy through New Horizons and to pursue international relationship and business opportunities. Paul is a highly respected senior management professional with 25 years experience planning, launching, and managing education projects and companies in the Middle East, Canada, Southeast Asia, Africa and the United Kingdom. We are pleased to welcome him to APEI.
In Closing
We believe our strategy positions APEI for an exciting future. It builds on our strengths, seeks to broaden our revenue mix and creates new opportunities for growth in education, where we have established a reputation for leadership and innovation. In the years ahead, we will work to expand our presence in the military, public service and civilian communities through relationships and referrals; expand our program offerings; and promote the success of our students. The utilization of technology has disrupted the operating model of traditional higher education and will continue to do so for years to come. APEI intends to remain at the forefront of disruptive change, embracing technology for its potential to provide affordable and quality education to many.
Sincerely,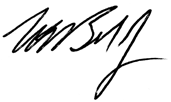 Dr. Wallace E. Boston
President and Chief Executive Officer
Represents 2012 conferrals.
National Survey of Student Engagement (NSSE), June 2012.
American Public University System, 1-year post-graduate survey, January–December 2013.
Public in-state tuition information provided by the College Board 2013 Trends in College Pricing, National Center for Education Statistics (NCES) 2012 Digest of Educational Statistics and APUS estimates.