Letter to Shareholders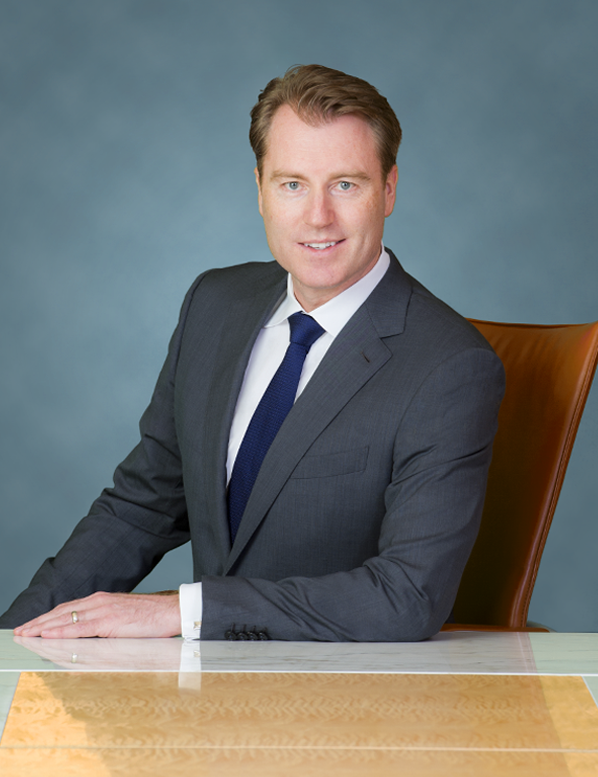 Paal Kibsgaard
Chief Executive Officer
Schlumberger revenue for 2014 reached a record $48.6 billion, up 7% and growing for the fifth consecutive year. In North America, revenue surged by more than $2.3 billion, driven by strong activity both on land and offshore as well as by the penetration of innovative hydraulic stimulation technologies. International revenue increased by $1.2 billion, or 4%, on significant strength in the Middle East & Asia and in spite of considerable headwinds in the face of activity challenges, geopolitical unrest, falling oil prices, and international sanctions elsewhere.
Oil markets remained relatively well balanced during 2014 as increasing global production capacity almost matched increasing demand. Yet, after more than three years of remarkable stability, oil prices dropped dramatically by more than 40% late in the year to end at their lowest levels since 2009. But unlike the previous fall in price that was triggered by a global economic recession, this year's drop resulted from a higher marketed supply of oil that became increasingly evident as North American tight oil production continued to grow and as OPEC shifted focus from protecting oil prices to protecting market share. At the same time, production recovered in countries that had suffered degrees of geopolitical disturbance, and the US dollar strengthened to further weaken overall commodity prices.
In natural gas markets, US prices reached multiyear highs in February on exceptionally cold weather and risks of local supply shortages. Storage, however, returned to historical average levels at the end of the year as sustained production growth in the Marcellus play and increasing associated gas production in US tight oil plays more than offset the impact of low activity levels in other unconventional plays. Overall, these increasing supplies more than met growing demand. Internationally, natural gas prices eased broadly in 2014 on mild temperatures in Europe, LNG capacity additions in the Pacific region, and the impact of weaker oil prices on oil-indexed natural gas pricing formulas.
Against this background, Schlumberger performance in 2014 was led by North America, where revenue grew by 16% on robust land activity and increased service intensity, market share gains, and new technology penetration. Offshore operations, however, suffered from a number of operational delays that affected drilling and exploration activity in particular. The 4% growth in International revenue was led by activity in a number of key markets, both on land and offshore. Middle East & Asia grew by 10%, driven by Saudi Arabia, Australia, the United Arab Emirates, and Oman. Revenue in Europe, the CIS & Africa improved by 1%, led by the Sub-Saharan region on strong exploration and development activities in the Central West Africa, Angola, and Continental Europe GeoMarket* regions. Norway also showed strong growth through market share gains and higher rig-related services for a number of customers. In Latin America, however, revenue slipped by 1% as strong activity in Venezuela and Ecuador was unable to compensate for lower activity and pricing in both Brazil and Mexico. As one measure of our ability to outperform the markets in which we operate, our operating income grew by 13% versus 2013, with more than 70% of that growth coming from International activity.
Schlumberger performance in 2014 was led by North America, where revenue grew by 16%. The 4% growth in International revenue was led by activity in a number of key markets, both on land and offshore.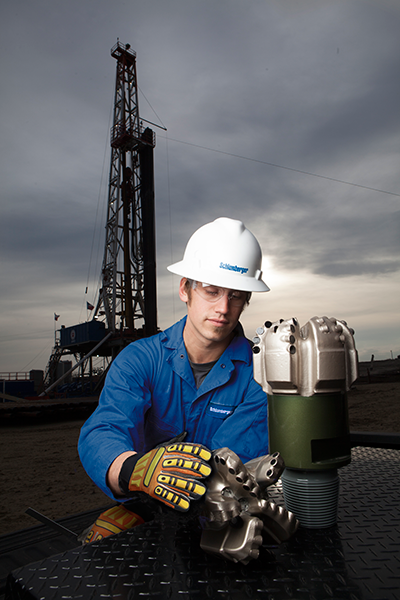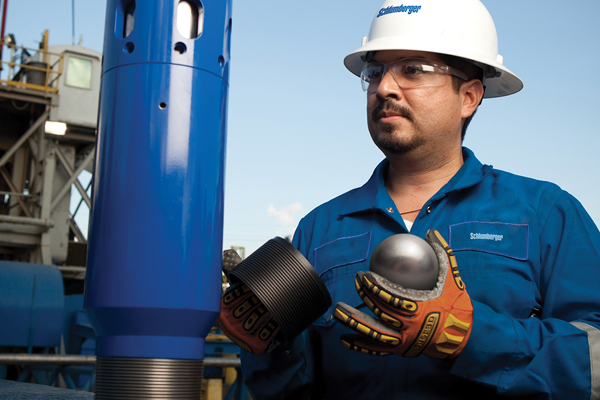 Product Group performance was led by the Drilling Group, mainly as a result of robust demand for Drilling & Measurements and M-I SWACO technologies as activity strengthened in the North America and Middle East & Asia Areas. Rig revenue from the May 2014 acquisition of Saxon, a key component of our Integrated Project Management operations, also contributed to Drilling Group growth. The Production Group benefited from strong results in Well Services, where pressure pumping activity increased through market share gains, operational efficiency improvements, and new technology introduction. Schlumberger Production Management grew as projects in Latin America, particularly in Ecuador, continued to progress in line with our plan. Production Group activity was also boosted by our expansion in the Artificial Lift business as we added a number of regional acquisitions—both in operations and in equipment design and production—to our portfolio. Strength in the Drilling and Production Groups was, however, offset by a slight fall in Reservoir Characterization Group revenue. While Well Testing activity expanded on higher exploration work and software sales increased in all Areas, weakness in the seismic market lowered marine vessel utilization and reduced multiclient seismic data license sales.
In terms of health, safety, and the environment, our performance continued to improve in 2014 with a strong focus on driving and journey management.
Accident Injury Rate
We also made good progress toward our overall goal of reducing our accident injury rate, which decreased by 16% compared with the previous year. Despite this focus, we suffered three fatalities directly related to driving during the year and we will continue to make this a safety priority in the future. To guard against the risks that land road journeys present, we have continued deployment of our Global Journey Management Centers around the world, and we can now monitor and control 94% of all trips made in countries we consider to exhibit medium and high driving risk. We believe that the surveillance and support that the Journey Management program provides will further improve our performance over the next few years.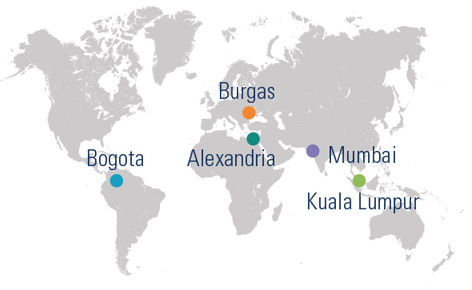 Global Journey Management Center
6000+ Trips Monitored Per Day
50K+ Drivers Supported
22K+ Vehicles Monitored
80 Countries Supported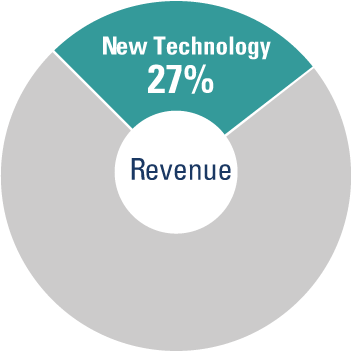 New technology sales remained strong across all Groups during the year, reaching more than 27% of total sales and increasing effective pricing in almost all regions. Among the new technologies introduced during the year, the Wireline Quanta Geo* photorealistic reservoir geology service—the latest in a series of formation imaging devices that we have developed over 30 years—uses novel microelectrical techniques to produce detailed images of rock formations in wells drilled with nonconductive fluids while Drilling & Measurements GeoSphere* real-time reservoir mapping technology helps position wells in reservoir sweet spots by mapping zones up to 100 feet from the well. New production technologies included the innovative Well Services BroadBand Sequence* and BroadBand Precision* pressure pumping stimulation services that help ensure that each fractured zone contributes effectively and efficiently to each well's production. As commodity prices constrain industry performance, these and other services exemplify the need to change the way we work by accelerating the pace of technology innovation, while delivering new levels of efficiency and reliability in the oilfield market.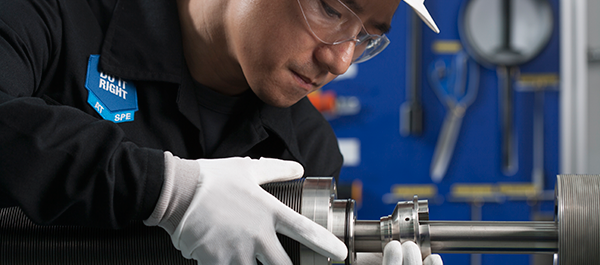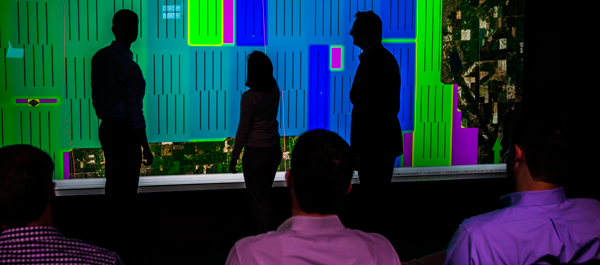 By now accelerating our progress against transformational goals that are independent of the macroeconomic environment—by targeting a tenfold reduction in operational nonproductive time, a doubling in asset utilization, a 20% increase in workforce productivity, and a 10% lowering of support costs—we will be able to further extend our market leadership.
As we enter 2015, the commodity price trends that have resulted from the increased marketed supply of oil raise short-term uncertainty on customer spend and activity. However, we believe that the oil markets are in fact relatively well balanced and that increasing global production capacity is in line with the growth in demand that results from continuing global economic recovery. In the longer term, decline rates will impact production capacity and weaker exploration will delay supply additions—the combination of which will ultimately lead to tighter market conditions and consequently drive increasing investment.
In an uncertain environment, we are highly focused on the things we can control, and we have already restructured and resized our business to match the activity levels we expect in the early part of the year. We anticipate 2015 being full of opportunities, on which we fully intend to capitalize, and with our wide geographical footprint, extensive business portfolio, and clear financial strength, we remain confident in our ability to outperform in any part of the cycle—including the current leg.
In closing, I would like to thank our customers for their confidence and support, and our employees for their commitment and focus.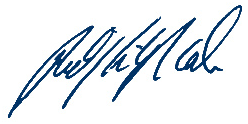 Paal Kibsgaard
Chief Executive Officer