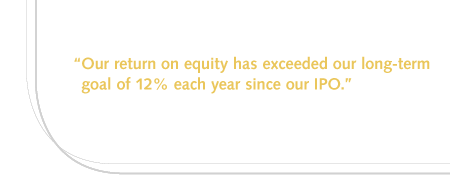 We are passionate about improving our performance year after year. We achieved this again in 2005.
Revenues grew 10.7% in 2005, primarily from an increase in gross premiums written. Gross premiums increased as a result of growth in established markets, such as California where premiums grew 5.9%, and from the introduction of products into new markets.
Our Low Cost personal auto product, a product that best fits those individuals buying insurance to meet their state's minimum insurance requirements, was introduced in Indiana, Ohio and Virginia;
Our Value-Added personal auto product, designed for those who want to protect their assets but may have a blemish on their driving record, was introduced in Indiana and Wisconsin;
Our Premier personal auto product, our product for standard and preferred drivers, was introduced in Florida, Pennsylvania, Alabama, Missouri and Ohio; and
Our Commercial Vehicle product was introduced in Missouri and Ohio.
Increased productivity from our employees also allowed us to improve our performance. We achieved a gross premium growth rate of 5.2% during 2005 without increasing headcount. As a result, employee productivity, measured as gross written premiums per employee, was up 6.3%.
Technology has allowed us to improve this productivity. For example, in the past our customer service department processed new policy applications as well as endorsements to existing policies. Today, we have improved our systems to allow applications meeting certain criteria to be processed without manual intervention. Improvements such as this have enabled our customer service department to handle the increase in business while decreasing staff.
Our operational successes translated into outstanding bottom-line performance. Although the increasingly competitive market resulted in our spending more on advertising than in years' past, the increased productivity and gross premium growth allowed us to achieve a 1.1 point decrease to our statutory underwriting expense ratio. Our diluted earnings per share increased 10.2% while our book value per share increased 14.1%. In addition, our return on equity has exceeded our long-term goal of 12% each year since our IPO with an 18.1% ROE in 2005.