<!******************************************** This website was produced by 3W Concepts, Inc. 1670 S. Amphlett Blvd. Suite 20 San Mateo, CA 94402 (415) 378-8552. **********************************************>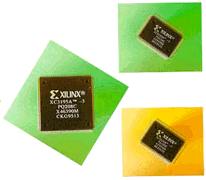 In today's environment of fierce competition and shorter product life cycles, a company's ability to quickly bring a new product to volume production largely determines its success. For technology leaders, time-to-volume production is replacing time-to-market (availability of first units) as the crucial imperative.
With product cycles shrinking rapidly, Xilinx customers face unrelenting pressure to design and produce new products in the shortest possible time. As they adapt to new markets, our customers struggle with unpredictable production volumes and frequent design modifications. By using Xilinx programmable logic, customers ean shorten design cycles and reduce development costs. Because electronic system manufacturers can customize a variety of different logic functions efficiently on a single device, time-to-volume production is reduced from several months to a few weeks. Last minute changes can be implemented in a matter of hours.
Xilinx products create a dramatically faster and more efficient product development process. Manufacturers around the world are using Xilinx FPGAs to win the race to market and volume production, and they are reporting impressive results. StrataCom, Inc., a leader in wide area network communications, was able to deliver its latest hardware platform six months earlier than planned.
Xilinx delivers the industry's fastest time-to-volume production solution by focusing on real world design issues through targeted architectures; more powerful, innovative software; and industry-leading customer support.
---
<!========== Navigation Bar =======================>








Copyright © 1996 Xilinx, Inc. All rights reserved. Reproduction without permission is strictly prohibited.