Dear Fellow Shareholders:
In fiscal 1997, Xilinx recaptured the technological lead and stepped up the pace of innovation in the programmable logic industry. This Annual Report is purposely small. Its reduced size is meant to dramatize how Xilinx uses advanced integrated circuit (IC) technology to increase the density and reduce the size of its devices.
Throughout much of fiscal 1997, a semiconductor-wide inventory correction reduced customer demand. In addition, Xilinx was in the midst of a product transition. Our previously rapid growth slowed. By midyear, we were taking action to get back on track. First, we refocused our R&D resources on our core businesses: SRAM-based field programmable gate arrays (FPGAs) and Flash-based complex programmable logic devices (CPLDs). Second, we dramatically accelerated our adoption of leading-edge semiconductor manufacturing technology in order to increase gate densities, increase device speed, and reduce the cost per device.
These two steps enabled us to sample the industry's first 0.35 micron mixed voltage FPGAs. In addition, we shipped new logic design software and began selling ready-to-use logic cores that reduce time to market for our customers. By our fourth fiscal quarter, revenue growth had returned to historic levels. For the fiscal year as a whole, revenues grew to a record $568 million, up slightly from $561 million in fiscal 1996. Net income was $110 million, or $1.39 per share, up from $102 million, or $1.28 per share, in fiscal 1996.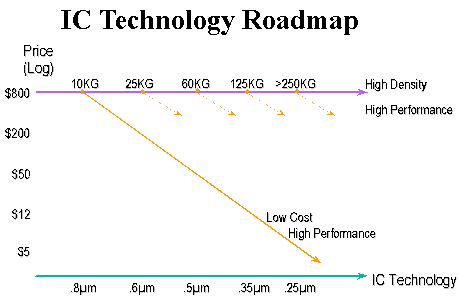 AS XILINX AGGRESSIVELY ADOPTS MORE ADVANCE PROCESS TECHNOLOGIES, THE BENEFITS TO OUR CUSTOMERS ARE TWOFOLD: NOT ONLY CAN WE BE FIRST TO MARKET WITH THE DENSEST, FASTEST AND LOWEST POWER DEVICES, BUT WE CAN MIGRATE OUR EXISTING PRODUCTS TO SMALLER GEOMETRIES, THEREBY DRAMATICALLY REDUCING THE PRICE PER DEVICE.
Accelerating Technology Leadership
Programmable logic companies' process technology has traditionally lagged by a generation or more the IC manufacturing technology used by memory companies. This is no longer the case for Xilinx. Based on the technology roadmap we established in fiscal 1997, we are now among the most aggressive adopters of advanced IC technology in the semiconductor industry. We sampled our first products using 0.35 micron IC process technology in fiscal 1997, and we plan to introduce 0.25 micron in fiscal 1998.*
It took us ten years to increase FPGA density from 1,000 gates to 25,000 gates. Following our current technology roadmap, we believe we will make another exponential leap, from just over 25,000 to 200,000 gates, in about two years, or a quarter of the time required for the last leap.* At the same time, we are leveraging advanced IC process technology to slash product prices. For example, a 10,000-gate Xilinx FPGA that sold for more than $100 in 1994 sells for approximately $10 today.
When transistors on semiconductor devices shrink below 0.5 micron in size, the devices themselves require power supplies lower than the current standard of 5 volts. In fact, each new generation of transistor size will require a correspondingly lower voltage. Xilinx is now the only programmable logic supplier with pin compatibility between devices of different voltages. That means only Xilinx customers can replace a 0.5 micron FPGA with a higher-performance 0.35 micron FPGA without having to redesign the circuit board. Thus Xilinx FPGAs form a bridge between the technological past and future. Our customers can evolve their product designs in stages, selecting the Xilinx FPGAs that give them the best combination of density, speed, power and price.
Delivering Complete Solutions
When Xilinx pioneered FPGAs, we changed the way our customers designed and developed their products. Now we're changing the way logic itself is designed. Looking forward, customers will no longer design large-density FPGAs one gate at a time. They will integrate complex logic designs into their products at the system-level. Xilinx has a superior understanding of the system-level challenges of programmable logic. We offer complete solutions based on that understanding and partner with our customers to guide them through the complexities of sub-micron IC technology. In addition, as customers design products using FPGAs of 100,000 gates or more, they need more sophisticated design software. They also need pre-implemented cores of logic that help reduce time to market. Xilinx provides both types of software as part of an integrated solution. In such a challenging technological domain, field support becomes critical to assure customers that their logic devices, design software, and logic cores work together flawlessly. Xilinx provides that level of support, around the clock and around the world. The end result is that Xilinx is becoming a strategic, system-level solutions provider for many companies.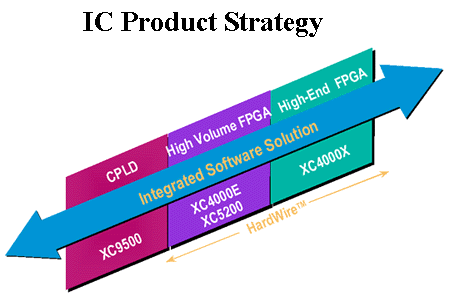 At the heart of the Xilinx solutions strategy is our XC4000X family: the highest-density, fastest-speed, and lowest-power FPGAs on the market today. We are also pushing strongly into the market for CPLDs by delivering innovative architectural features at the industry's lowest prices. During product life cycles, customers may elect to switch between programmable and conventional gate arrays to meet changing volume production needs. Our HardWire program gives customers this flexibility without requiring any changes to their existing logic designs.
During fiscal 1997, Xilinx became the only programmable logic company to offer two complementary design software packages. For customers who want maximum flexibility, our Alliance Series integrates third-party software for use with Xilinx FPGAs. Our Foundation Series, introduced in fiscal 1997, is a complete, low-cost, easy-to-use software package. The Foundation Series has been instrumental in helping Xilinx ship a record 35,500 cumulative software design systems -- a number unmatched by any other programmable logic supplier. Furthermore, late in fiscal 1997 we began shipping our powerful new MI core technology. These products make Xilinx software among the most robust, intuitive, and complete solutions in the market.
We are leading the field in the logic core market, having shipped our first LogiCORETM software offering to more than 200 customers in fiscal 1997. LogiCORETM modules provide 5,000 to 6,000 gates of verified, drop-in logic that directly reduce time to market for our customers by a matter of months. Customers can absolutely count on these cores because we guarantee their performance. Our growing core library will include internally developed, fully supported LogiCORETMmodules, complemented by licensed third-party cores.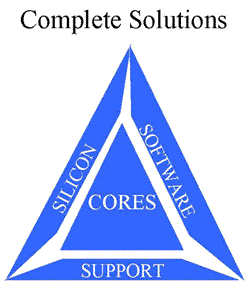 With all these technical advances comes the challenge of customer support. Our view is that support begins long before the sale and continues long after it. We consult with customers about their plans, making sure they select the right software and devices at the beginning of a project. Furthermore, we do not make customer support another "product" customers must buy -- it's an integral part of the relationship. This level of support lifts us out of the ranks of technology vendor and into the role of strategic solutions provider for our customers around the world.
Creating New Opportunities
By increasing densities and simultaneously driving our prices down, we are making our FPGAs directly competitive with gate arrays. Until fiscal 1997, we had no devices with densities above 25,000 gates. By the end of fiscal 1997, we offered 0.35 micron FPGAs with over 50,000 gates, and during fiscal 1998 we expect to offer 0.25 micron FPGAs with more than 100,000 gates.* As a result, we will be able to penetrate the heart of the gate array market, between 50,000 and 100,000 gates. The total gate array market in 1996 was approximately three times larger than today's programmable logic market. We are also seeking new high-volume markets, such as consumer and automotive, for our lowest-priced FPGAs with fewer than 10,000 gates.
Before the turn of the century, we expect to bring our customers the revolutionary benefits of reconfigurable logic.* In essence, reconfigurable logic devices will be programmed not once, but as often as needed, on demand. A single reconfigurable FPGA will be able to do the work of multiple devices by continually changing its logical identity.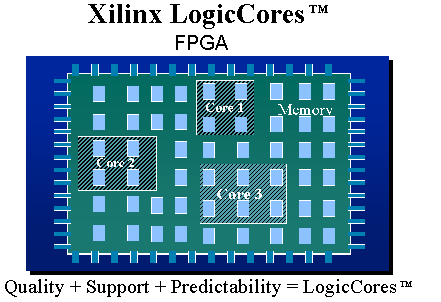 To continue transforming how logic is designed and used around the world, we need to keep growing as a company. We are evolving toward a business unit structure focused sharply on specific markets while maintaining a single sales force for consistent contact with customers. We are also developing systems and processes to become a strategic, enterprise-level supplier to global, high-volume customers.
For Xilinx, leadership is not just a matter of products or technology; it's a matter of providing the most complete solutions to our customers worldwide. We could not maintain this leadership without a loyal customer base, committed partners, quality vendors, and the talented, hardworking people who make up Xilinx. Thank you too, our shareholders, for your continued support this past year. I look forward to our progress together in the years to come.
Sincerely,

WILLEM P. ROELANDTS
Chief Executive Officer and President
* This statement is a forward-looking statement. Actual results may differ as a result of risks and uncertainties, including risks discussed in this Annual Report under "Management's Discussion and Analysis -- Other Factors Affecting Future Results." In particular, readers are urged to consider the risks discussed in the first three paragraphs of that section in evaluating this forward-looking statement.
FOUNDED IN 1984, XILINX IS THE WORLD'S LARGEST SUPPLIER OF PROGRAMMABLE LOGIC SOLUTIONS. THE COMPANY PIONEERED THE MARKET FOR FIELD PROGRAMMABEL GATE ARRAYS (FPGAs) -- STANDARD LOGIC COMPONENTS PROGRAMMED BY THE CUSTOMER USING XILINX DESIGN SOFTWARE. XILINX FPGAs PROVIDE A REVOLUTIONARY ALTERNATIVE TO CUSTOM LOGIC CHIPS THAT REQUIRE WEEKS OF MONTHS OF DESIGN TIME. XILINX PROGRAMMABLE LOGIC DEVICES PROVIDE ELECTRONIC EQUIPMENT MANUFACTURERS WORLDWIDE WITH FASTER TIME TO MARKET AND INCREASED FLEXIBILITY.
---
| Annual Report 1997 |
| Letter to Shareholders | Financial Highlights | MD&A | Consolidated Statements |
| Notes to Consolidated Statements | Selected Consolidated Information |