STOCKHOLDER INFORMATION
Company Headquarters
The Estée Lauder Companies Inc.
767 Fifth Avenue, New York, New York 10153
212-572-4200
Stockholder Information
Stockholders may access Company information, including a summary of the latest financial results, 24 hours a day, by dialing our toll-free information line, 800-308-2334. News releases issued in the last 12 months are available online at www.elcompanies.com
Investor Inquiries
We welcome inquiries from investors, securities analysts and other members of the professional financial community. Please contact the Investor Relations Department in writing at the Company's headquarters or by telephone at 212-572-4384.
Annual Report on Form 10-K
If you would like a copy of the Company's Annual Report on Form 10-K, as filed with the Securities and Exchange Commission, please call the toll-free information line, 800-308-2334, or write to the Investor Relations Department at the Company's headquarters. Our 10-K is also available on our website at www.elcompanies.com. The most recent certifications by our President and Chief Executive Officer and Chief Financial Officer pursuant to Section 302 of the Sarbanes-Oxley Act of 2002 are filed as exhibits to our Form 10-K. We have also filed with the New York Stock Exchange the most recent Annual CEO Certification as required by Section 303A.12(a) of the New York Stock Exchange Listed Company Manual.
Common Stock Information
The Class A Common Stock of The Estée Lauder Companies Inc. is listed on the New York Stock Exchange with the symbol EL.
Quarterly Per Share Market Prices

Dividends
Dividends on the common stock are expected to be paid annually following the declaration by the Board of Directors. The last annual dividend was $.55 per share and was paid in December 2008.
Annual Meeting
The Company's Annual Meeting of Stockholders will be held on Friday, November 13, 2009, at 10:00 a.m. at:
Jumeirah Essex House
160 Central Park South
New York, New York 10019
Attendance at the Annual Meeting will require an admission ticket.
Stockholder Services
BNY Mellon Shareowner Services is the Company's transfer agent and registrar. Please contact BNY Mellon directly with all inquiries and requests to:
Change the name, address, or ownership of stock;
Replace lost certificates or dividend checks;
Obtain information about dividend reinvestment, direct stock purchase or direct deposit of dividends.
BNY Mellon Shareowner Services
P.O. Box 358015
Pittsburgh, PA 15252-8015
888-860-6295
www.bnymellon.com/shareowner/isd
Performance Graphs
The following graphs compare the cumulative five- and fourteen-year total stockholder return (stock price appreciation plus dividends) on the Company's Class A Common Stock with the cumulative total return of the S&P 500 Index and a market weighted index of a publicly traded peer group. The returns are calculated by assuming an investment of $100 in the Class A Common Stock and in each index on June 30, 2004 for the five-year graph, and November 16, 1995 (the Company's initial public offering date) for the fourteen-year graph. The publicly traded companies included in the peer group are: Avon Products, Inc., Beiersdorf AG, L'Oreal S.A., LVMH Moët Hennessy Louis Vuitton S.A., The Procter & Gamble Company and Shiseido Company, Ltd.
Cumulative five-year total stockholder return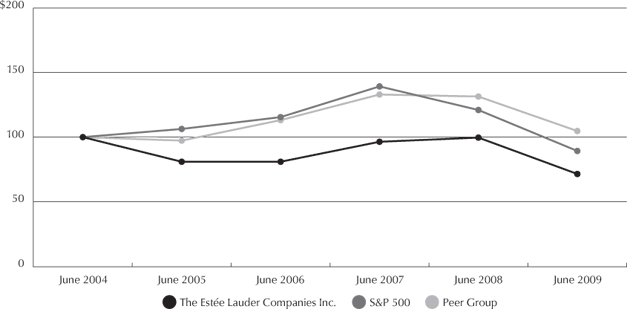 Cumulative fourteen-year total stockholder return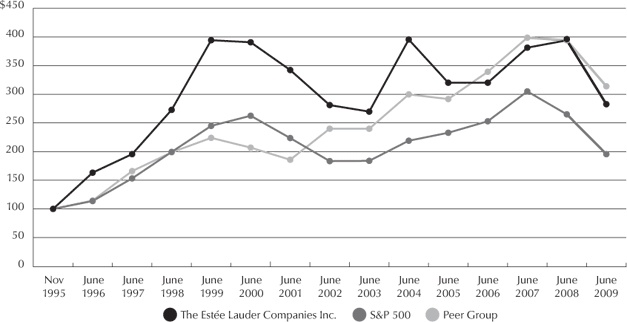 Trademarks
The Estée Lauder Companies Inc. and its subsidiaries own numerous trademarks. Those appearing in the text in this report include: 3-Step Skin Care System, 8 Flower Nectar Aromatic Care, A Perfect World, Advanced Night Repair, Age Rescue, Air Control, All Firm, All Skins, Almost Lipstick, Almost Powder, American Beauty, AnyWear, Aramis, Aramis Classic, Aramis 900, Aramis Always, Aramis Devin, Aramis Life, Aromatic Cleansing Balm, Arovita C, Aveda, Batana, Bb. Gel, Creme de Coco, Curl Conscious, Bb. Shine Spray, Bb. Tonic Lotion, Beauty Boost, Beautiful, BeautyBank, Beloved, Blue Algae Enriched Firming Cream, Bobbi Brown, Bobbi Brown beach, Bobbi Brown Extra, Bobbi Brown Skin Foundation, Brilliantine, Bumble and bumble, Bronze Goddess, Calyx, Camouflage Cream, Chakra, Clinique, Clinique Happy, Clinique Medical, Clove Shampoo, Colorprint, Concentre de La Mer, Crème de la Mer, Curl Conscious, Custom Blend, Cyber White EX, Daily Moisture Defense Lotion, Damage Remedy, Darphin, Dazzleglass, Denblan, Double Wear, Dramatically Different, Dreamy Eyes, Dry Remedy, Enbrightenment, Estée Lauder, Estée Lauder pleasures, Even Better, Eyeliplex-2, False Eyelashes, Flawless Skin, Flirt!, Flowerific, Fluide de La Mer, Fluidline, Full Potential, Gellac, Good Skin, GoodSkin Labs, Grassroots, Grassroots Research Labs, Green Science, Hand Relief, Happily Ever After, Havana, High Impact, In Good Hands, Instant Moisture, Intensive Rebuilding, J.H.L, Jo Malone, La Mer, Lab Series Skincare For Men, Lash Envy, Lash-a-delic, Lipglass, LiquidLast, Lime Basil & Mandarin, Long Last Glosswear, Long-Wear Cream Shadow, Long-Wear Gel Eyeliner, Lumecin, Luminous, M·A·C, *magic By Prescriptives, Make A Difference, Maximum Comfort, Mega- Mushroom, Metallic Long-Wear Cream Shadow, MicroCrystal Skin Refinisher, Mineralize, Modern Fusion, Moisture Surge, Nectarine Blossom & Honey, New West, Night Health, Nite-trition, Nourish-Mint, Nutritious, Oil Control Daily Hydrator, Ojon, Orange Blossom, Origins, Origins Natural Resources, Origins Organics, Peace of Mind, Perfectionist [CP+], Perfect Mineral, Pomegranate Noir, Pomegranate Super-Anti-Oxidant Cream, Predermine, Prep+Prime, Prescriptives, Private Collection Jasmine White Moss, Pure-Formance, Re-Nutriv, Redness Solutions, Resilience Lift, Restorative Hair Treatment, Root Power, Rub-Out, Sensuous, Serum de La Mer, Shampure, Shimmer Brick, Skin Supplies for Men, Skinfinish, Smooth-365, Smooth Infusion, Soin Visage de La Mer, Spray de Mode, Squeeze Me, Stimulskin Plus, Studio Fix, Studio Sculpt, Sumo Tech, Sumptuous, Superbalanced, Super Line Preventor Xtreme, Surf Spray, Swa, Tawaka, The Eye Concentrate, The Hydrating Infusion, The Lifting Face Serum, The Radiant Facial, Time Zone, Tri-Aktiline, Tunu Elastik, TurboLash, Tuscany Per Uomo, Ultimate Diamond, Virtual Skin, Vitamin C Power Brightening, Viva Glam, Youth Dew, Youth Surge, Youthtopia and Zoom Lash.
Coach and Coach Legacy are registered trademarks of Coach Services Inc. Daisy Fuentes, Dianoche, So Luxurious, Dianoche Ocean and Dianoche Love are licensed trademarks from DAFU Licensing Inc. Donna Karan, Donna Karan Black Cashmere, Donna Karan Cashmere Mist, Donna Karan Chaos, Donna Karan Gold, Donna Karan Fuel for Men, DKNY Be Delicious Women, DKNY Be Delicious Men, DKNY Be Delicious Fresh Blossom and DKNY The Fragrances for Women and Men are all licensed trademarks from Donna Karan Studio. Dr. Andrew Weil is a licensed trademark from Dr. Andrew Weil and Weil Lifestyle LLC. Hello Kitty is a licensed trademark from Sanrio Company, Ltd. Kiton and Kiton Black are licensed trademarks from Ciro Paone S.p.A. Michael Kors, Island Michael Kors Bermuda and Very Hollywood Michael Kors are licensed trademarks from Michael Kors L.L.C. Missoni and Missoni acqua are licensed trademarks from Missoni S.p.A. Sean John, Unforgivable, Unforgivable Woman and I AM KING are licensed trademarks from Christian Casey LLC. Tom Ford, Black Orchid, Tom Ford for Men, Tom Ford for Men Extreme, Private Blend Champaca Absolute and White Patchouli are licensed trademarks from 001 Corporation. Tommy Hilfiger, "tommy", "tommy girl", Dreaming Tommy Hilfiger and Hilfiger colognes are licensed trademarks from Tommy Hilfiger Licensing LLC.