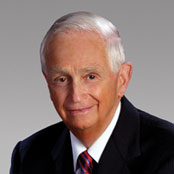 J.W. Marriott, Jr.


Executive Chairman and Chairman of the Board
A Message From The Executive Chairman
This year's annual report invites you to "See the World," featuring iconic landmarks around the globe. We're working hard to make sure you can do just that by staying in our hotels. When I started as chief executive officer in 1972, we had one hotel outside the U.S., in Acapulco, Mexico. Today, we have more than 600 properties outside the U.S., and nearly 70 percent of our hotel rooms under construction are beyond North America's shores. It's an exciting time to be in the lodging business.
2012 was an outstanding year; my first as the company's executive chairman. Our strong performance is a tribute to the commitment and hard work of our associates all around the world and the exceptional quality of our properties. As we continue to evolve as a company, we're staying true to our core values—Putting People First, Pursuing Excellence, Embracing Change, Acting with Integrity and Serving Our World. Our strength lies in these values and helps propel our vision of making Marriott the #1 hospitality company in the world.
Arne M. Sorenson


President and
Chief Executive Officer
To Our Shareholders
It's exciting to be at the helm of such a tremendous company, working with a talented and experienced team to grow the business and increase shareholder value. I appreciate Bill Marriott's confidence and support.
More of you are traveling internationally than ever—in 2012, the United Nations' World Tourism Organization reported that more than 1 billion trips were taken by people who traveled outside their borders. We are setting our sights to get to 2 billion! It's an ambitious goal; that's why I joined the board of Brand USA, and attended the World Economic Forum in Davos, Switzerland, where we urged governments around the world to adopt "smart visa" policies to stimulate global travel. Travel creates jobs and spurs economic growth. From Turkey to China; from Russia to the United Arab Emirates; and in the U.S., governments are increasingly thinking about international travel and tourism as trade, and they are working to remove barriers and be more strategic in granting visas and welcoming visitors.