food & beverage
What you eat & drink
In 2012, we will transition to a Food & Beverage (F&B) offering, which will combine Sealed Air's legacy Food Packaging and Food Solutions businesses with Diversey's food and beverage applications.
The F&B team will create measurable value by helping food and beverage processors, retailers and foodservice operators cost-effectively produce safer, more hygienic products that stay fresher longer, and protect and enhance their brand and merchandising appeal with consumers.
what sets f&b apart?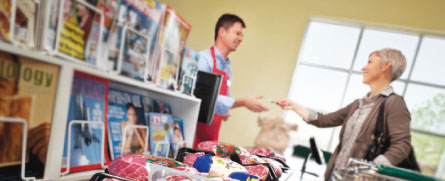 Decades of industry experience and expertise in food science, microbiology, application engineering, processes and protocols, and in cleaning and sanitation solutions has allowed us to offer a total systems approach and unparalleled customer support. We partner with food and beverage processors globally to help them produce, process and deliver their products cost-effectively, safely, efficiently, and with confidence through their supply chain.
F&B solutions will focus on:
Improving the management of contamination risk associated with food production and processing with integrated and automated clean-in-place solutions that integrate equipment, packaging materials and cleaning solutions
Helping processors in developing regions improve their processes and protocols to enhance product performance and safety
Reducing water and energy consumption through efficient, open-plant cleaning solutions and by leveraging the GE alliance to deliver water treatment solutions and energy management services to food and beverage processors globally
Improving productivity, efficiency and quality through automation and preventative diagnostics, services for equipment systems and quality management
Adding value with sustainable, proprietary and functional package features
Extending product shelf life, maintaining freshness and reducing food waste through specialty packaging technologies and systems
Enhancing merchandising appeal and ease-of-use, handling and storage for retailers, food service operators and consumers
Helping customers build strong brands through differentiated features and solutions