Corporate Information
Annual Meeting
1:00 p.m.
Tuesday, February 3, 2009
Hilton Short Hills
41 John F. Kennedy Parkway
Short Hills, NJ 07078
This annual report is not a solicitation of proxies.
Direct Stock Purchase Plan
The Direct Stock Purchase Plan established through Computershare Trust Company, N.A., enhances the services provided to existing shareholders and facilitates initial investments in BD shares. Plan documentation and additional information may be obtained by calling Computershare Trust Company, N.A., at 1-877-498-8861, or by accessing the "Buy Shares" feature located within the Investor Centre of Computershare's website at www.computershare.com.
NYSE Symbol
BDX
On February 19, 2008, Edward J. Ludwig, Chairman, President and Chief Executive Officer, submitted to the NYSE the Written Affirmation required by the rules of the NYSE certifying that he was not aware of any violations by BD of NYSE Corporate Governance listing standards.
The certifications of Mr. Ludwig and John R. Considine, Vice Chairman and Chief Financial Officer, made pursuant to Section 302 of the Sarbanes-Oxley Act of 2002 regarding the quality of BD's public disclosure, have been filed as exhibits to the Company's 2008 Annual Report on Form 10-K.
Transfer Agent and Registrar
Computershare Trust Company, N.A.
250 Royall Street
Canton, MA 02021
Phone: 1-877-498-8861
International: 1-781-575-2726
Internet: www.computershare.com
Shareholder Information
At November 5, 2008, BD had 8,793 shareholders of record. BD's Statement of Corporate Governance Principles, BD's Business Conduct and Compliance Guide, the charters of BD's Committees of the Board of Directors, BD's reports and statements filed with or furnished to the Securities and Exchange Commission and other information are posted on BD's website at www.bd.com/investors/.
Shareholders may receive, without charge, printed copies of these documents, including BD's 2008 Annual Report on Form 10-K, by contacting:
Investor Relations
BD
1 Becton Drive
Franklin Lakes, NJ 07417-1880
Phone: 1-800-284-6845
Internet: www.bd.com
Independent Auditors
Ernst & Young LLP
5 Times Square
New York, NY 10036-6530
Phone: 1-212-773-3000
Internet: www.ey.com
The trademarks indicated by italics are property of, or licensed to, Becton, Dickinson and Company, its subsidiaries or related companies. All other brands are trademarks of their respective owners.
Certain BD Biosciences products are intended for research use only, and not for use in diagnostic or therapeutic procedures. ©2008 BD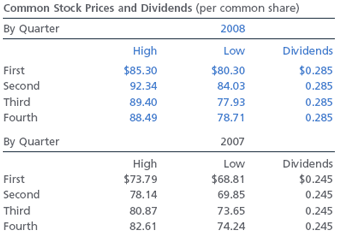 back to top