Financial Highlights
Global Reach
Mosaic serves customers in more than 40 countries around the world. In addition to our participation in potash and phosphate export associations, we own and operate infrastructure in key agricultural countries to facilitate the distribution of our products. This includes sales offices, warehouses, blending operations and port terminals in Argentina, Brazil, China and India; customer sales representatives in 10 countries; and a 20% stake in Fosfertil S.A., the largest phosphate producer in Latin America.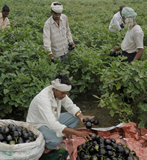 Demand Fundamentals
Population - There are 75 million more people in the world
to feed every year.

Fuel - Annual U.S. ethanol production is expected to grow from
10.5 billion today to 15 billion gallons by 2015.

Prosperity - A growing middle class in countries such as China
and India are consuming more protein-rich diets – increasing demand
for grain and oilseed.