Dear valued shareholders,
IN 2022, Ingredion delivered outstanding performance with top-line and adjusted operating income both growing by 15%. Our teams demonstrated resilience and agility in overcoming macroeconomic conditions and other unforeseen challenges to successfully execute against our Driving Growth Roadmap and create value for our shareholders and our customers.
STRONG FINANCIAL RESULTS
Net sales for 2022 increased to nearly $8 billion up from $6.9 billion the prior year. Our reported and adjusted operating income reached $762 million and $787 million, respectively, compared to $310 million and $685 million in 2021. Reported and adjusted earnings per share grew to $7.34 and $7.45, respectively, up from $1.73 and $6.67 last year. Also, for the full year, we returned $288 million to Ingredion shareholders through our dividend and stock repurchase programs.
This strong performance was even more noteworthy given the persistent industry-wide market conditions. Our largest raw material input, corn, was significantly impacted by the Ukraine conflict and a drought in Europe. Despite those supply shocks, our team secured the necessary quantities of raw material and maintained shipments to our customers while overcoming input cost inflation.
Also contributing to our success were expanded hedging practices that enabled us to mitigate profit volatility caused by rising commodity prices and offset over $200 million of foreign exchange impact. We also ramped up production and sales from our new facility in Shandong, China despite countrywide COVID-19 restrictions, expanding our capacity for specialty modified starches in a large, growing market.
OUR BOARD OF DIRECTORS Left to right: Dwayne Wilson, Catherine Suever, Gregory Kenny, Charles Magro, James Zallie, Paul Hanrahan, Stephan Tanda, Jorge Uribe, Rhonda Jordan, Victoria Reich, David Fischer
EXECUTING AGAINST OUR DRIVING GROWTH ROADMAP
Throughout the year, our teams did an exceptional job executing against our four strategic pillars, fueling our progress, and laying the foundation for continued growth.
Specialty ingredients once again delivered strong double-digit growth and ended the year representing 34% of our total revenue. We made substantial strides by growing our specialties portfolio with net sales higher across all four regions versus the prior year.
Among other highlights, we expanded our starch-based texturizer network to further enhance the resiliency and efficiency of our global supply chain, and we delivered breakthrough product innovations in our PureCircle franchise. In addition, plant-based proteins more than doubled in revenue, and despite a slower sales ramp than we had targeted, we made significant headway on improving product quality, increasing production volume, and developing our customer project pipeline. This positions us well to capitalize on growth opportunities within fortified bakery and snacks, alternative dairy, sports nutrition, and beverage categories.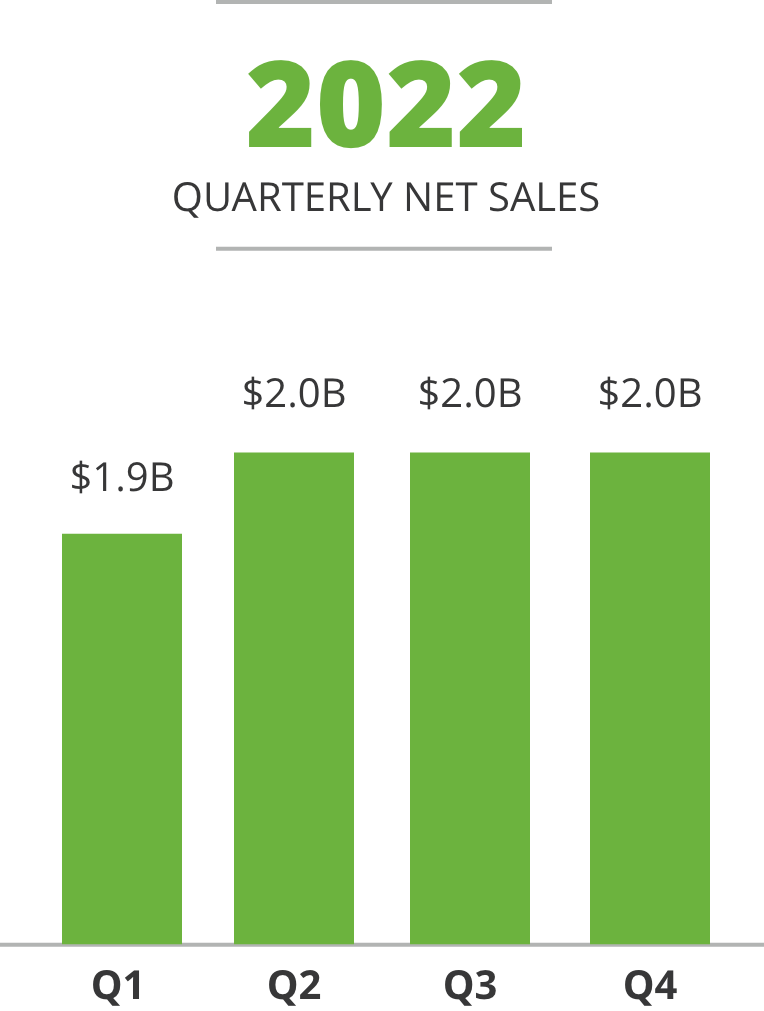 Our progress in the areas of "Commercial Excellence" and "Cost Competitiveness through Operational Excellence" also contributed significantly to our performance and solidified the foundation for future gains. For instance, our Pricing Centers of Excellence enabled us to deliver $1.3 billion in net sales growth. We also raised the level of sustainable sourcing of our five priority agricultural inputs to 47% from 32% in 2021. Additionally, we are holistically assessing how we purchase, produce, and transport raw materials and finished products to customers at the lowest cost and have made investments to enhance our supply chain and drive digital transformation within our manufacturing facilities.
In 2022, we released our 11th annual sustainability report, Making Life Better, and second annual DEI report, Beyond Belonging, charting our path forward as we advanced our purpose-driven and people-centric growth culture. We were honored to be included in Bloomberg's Gender-Equality Index for the sixth consecutive year. Additionally, we were among a select group of companies to have our 2030 emissions reduction targets validated by SBTi, which provides us with a roadmap aligned with climate science and reflects our ambition to make life better for society at large.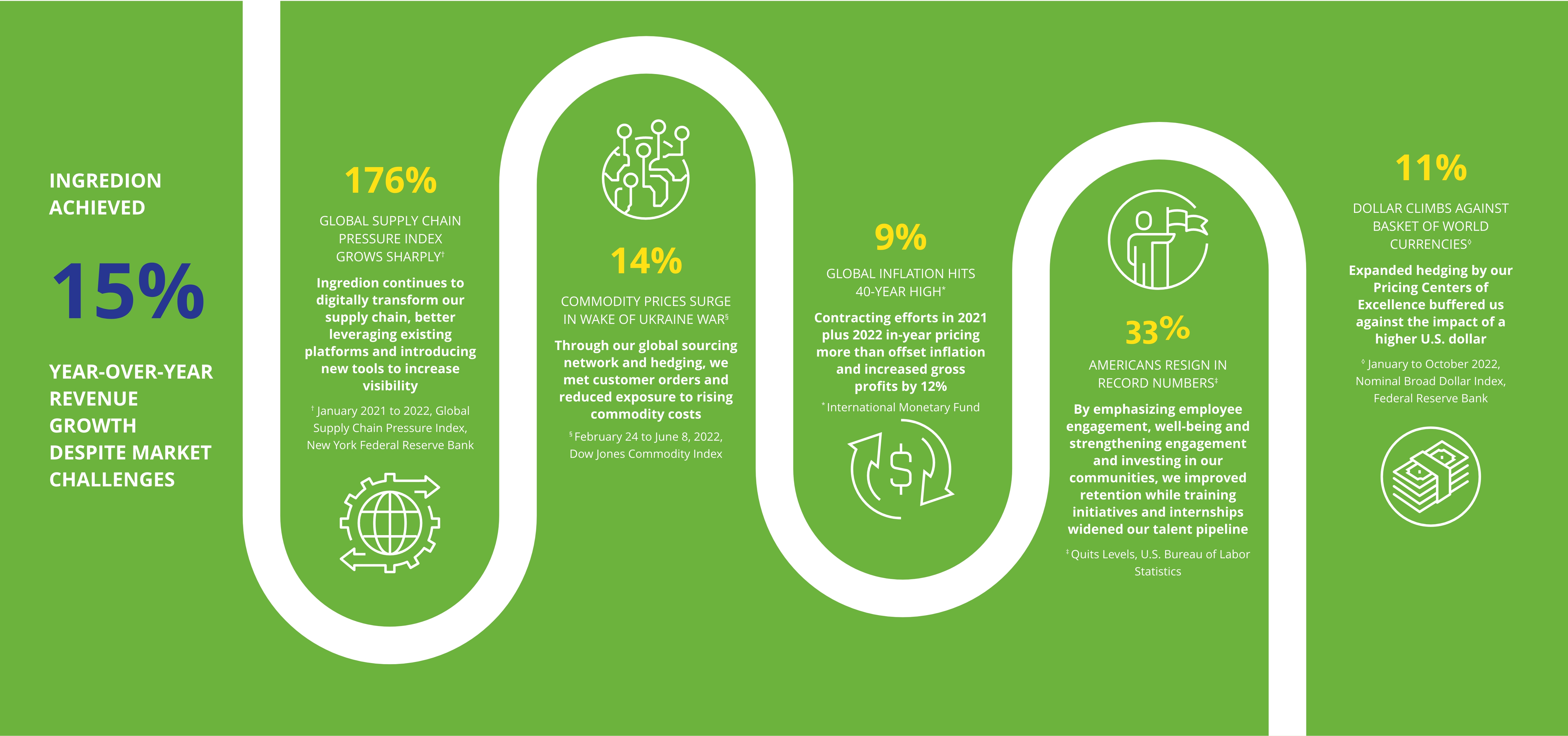 LOOKING AHEAD
Thanks to the creativity, drive, nimbleness, and commitment of our people, Ingredion turned in a very strong year. Looking to 2023, I am confident that we are well positioned to continue to execute against our strategic pillars for growth and benefit further from our resilient business model. Our priorities will be to drive mix enrichment by growing our specialty ingredient portfolio; continue to optimize our grind and maximize value from the finishing channels for core ingredients to further mitigate profit volatility; and invest in R&D and digital capabilities to drive innovation and enhance customer intimacy.
I would like to thank our shareholders for their continued trust in Ingredion. Finally, I extend my appreciation and gratitude to our board of directors for their continued dedication and support. Together, we look forward to building on our accomplishments in the coming years.
Sincerely,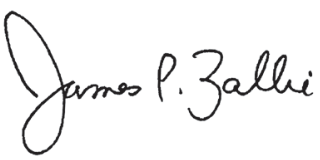 James P. Zallie
President & CEO