At Ingredion, we believe that environmental, social and governance initiatives are an expression of our values and the foundation of our success. Our 2030 All Life Sustainability Plan—focusing on Everyday Life, Planet Life, and Connected Life—is our roadmap forward.
This year, we made significant progress toward our environmental goals by securing approval for our greenhouse gas emissions reduction targets by the Science Based Targets initiative (SBTi).
A MOBILE APP FOR TAPIOCA FARMERS IN THAILAND
We are determined to innovate boldly in everything we do, in support of our partners, customers, and communities. Recognizing that the majority of small tapioca farms in Thailand have only wireless access, we launched a mobile app that provides farmers with instant access to information on farming and harvesting techniques as well as pricing information. Thanks to this tool, more than 1,000 farmers have increased their yields.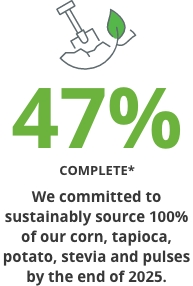 *estimate as of December 2022