Financing the Recovery of Our Nation's Economy
A multitude of uncertainties kept many companies from applying for new commercial loans and encouraged others to defer spending and expansion in 2012 — reservations about the strength of the economic recovery, the negative impact of concerns about the so-called fiscal cliff, and ambiguities about the future costs of health care legislation, to name a few. Despite those doubts and hesitations, for the full year 2012, U.S. Bank grew average commercial loans and leases by 17.9 percent over the prior year, accelerating growth over the 9.8 percent increase in 2011. This growth was driven by customer organic growth and new customers.
Knowing our customers and their businesses
Our success did not come easily but was bolstered by the excellent relationships we have with long-time current customers and our ability and commitment to learn the businesses, markets and industries of new ones. Additionally, our talent pool is wide and deep, with experienced, knowledgeable bankers in both traditional and specialty lending. Whether a customer's needs call for a term loan or a working capital line of credit, our expertise encompasses owner-occupied real estate lending, including construction lending, property acquisition lending and refinancing existing mortgages, and more.
U.S. Bank is recognized for its prudent risk management policies, and though we heed the judicious credit standards which successfully saw this bank through the worst of the economic downturn, we offer customized solutions, flexible terms and competitive pricing within those standards.
To serve the complex financial needs of ever-more-specialized industries, we have teams of bankers who concentrate on specific types of financing and particular industries. Our Commercial Real Estate (CRE) group specializes in providing credit and non-credit financial solutions for real estate developers, real estate investment trusts (REITs), and commercial property owners across the United States, while other groups have expertise in asset-based lending, leasing, dealer commercial services, healthcare and food industries, government banking, utilities, transportation, retail, energy and other industries.
Investments in community building
We also have a team of industry-leading professionals who bring innovative financing solutions to developments and businesses that can help entire communities. U.S. Bancorp Community Development Corporation is a national leader in community development financing, and our experts in tax credit investment and management bring more than 20 years of success to making equity investments in such projects as affordable housing, historic preservation and alternative energy projects.
The year 2013 will present many challenges in Wholesale Banking, but we are confident that our ability and willingness to lend, our bankers, our products and our focus on customer service will go a long way toward supporting an economic recovery by helping our clients grow their business.
---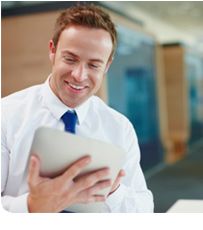 SinglePoint®: The single point for customers to manage, monitor and access account activity has gone mobile
Business customers stay informed and in control with SinglePoint®, our web portal to U.S. Bank's comprehensive suite of treasury management services. With everything accessible from one place, customers can monitor activity, access images, transfer and manage money, prevent fraud and more, from anywhere in the world. And now SinglePoint® customers can also access several on-the-go functions from their Web-enabled mobile device. The Mobile SinglePoint® design lets them access all the cash management tools they need when they are away from their desk or office — view account balances, transfer funds, approve time-sensitive payments, reset passwords, make positive pay decisions and view check images — all with strict standards and secure encryption.