Making Dreams Come True
From a first checking account to a home loan to retirement savings — from a small business loan to cash management systems — our Consumer and Small Business Banking division is there when goals and dreams need financial support to help make them come true — just as we have been for 150 years.
Now more than ever, individuals, families and small business owners and entrepreneurs want and need a banking partner that is still right there on the corner, as well as online, mobile, on the phone and in person — with all channels delivering the products and services that make things happen and make banking easier, faster, more understandable and more secure than ever before.
It's all about the quality, convenience and service
Our goal has always been to give customers the best service, value and convenience of any bank in the country, and we continually review our consumer products and services to assure quality. Those practices paid off when Money® magazine named U.S. Bank the best national bank in America for its basic checking and savings, student checking and checking accounts with features for seniors. Money cited U.S. Bank's broad retail banking network — fourth-largest in the country — and the ease which U.S. Bank customers can waive monthly maintenance fees. They also recognized U.S. Bank for offering advanced features such as the ability for customers to deposit a check from their mobile phone or tablet. The magazine noted that student checking accounts have no monthly maintenance fees, robust mobile banking and a large ATM network, which students rely on heavily. U.S. Bank's checking features for seniors also earned top honors.
Our checking packages help make money management easier and more convenient. A variety of bundled services let customers choose the right accounts and provide benefits stand-alone accounts might not offer. Our S.T.A.R.T. (Savings Today and Rewards Tomorrow®) program continues to grow and to encourage personal savings through a customized plan that lets customers save at their own pace and rewards regular savings with even more money in the form of U.S. Bank Rewards Visa® Cards. S.T.A.R.T. customers now number nearly 1,096,000.
Customers on the move take US with them. Anywhere.
Although we operate more than 3,000 branches and more than 5,000 ATMs in 25 states, our customers like to bank anywhere, anytime. As the world goes mobile, so does U.S. Bank with our line-up of bank-anywhere apps. Whether our customers carry a smartphone or an iPad®, we have their banking covered with free U.S. Bank apps for iPhone, iPad, Android and Blackberry. And our mobile website, designed with mobile devices in mind, is useful and easy even if our customers' phones don't run apps. With our mobile apps, mobile website and text banking, customers can easily pay bills, review transactions, locate branches and ATMs and check balances. They can even send and receive money with our Person to Person service, receive text alerts about their accounts and use a camera phone to deposit a check by sending us a picture of it through our Remote Deposit service!
---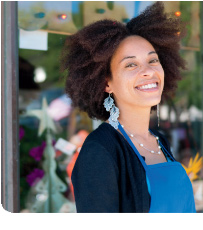 U.S. Bank ends SBA fiscal year with $525 million in new volume, moving up to second nationally
U.S. Bank has supported small businesses for decades through the U.S. Small Business Administration (SBA) lending program, and we ended the 2012 SBA fiscal year with $525 million in new volume and 1,661 loans committed as the small business sector continued to strengthen. Our strength in key markets continued, as we ranked first in dollar volume in Kentucky and Tennessee and were one of the top ten lenders in 27 of the 29 SBA districts. U.S. Bank ranked first in the number of loans in Kansas City, Minnesota, Portland, Seattle/Spokane, St. Louis and Tennessee and ranked as one of the top ten lenders in 21 of the 29 SBA districts. In addition to our small business loans and services, newsletters, websites and experienced bankers, we also support small business through numerous specialized seminars and sponsorships across our markets. U.S. Bank has a long-standing commitment to serve the Asian, Hispanic, African American and every other small business community by putting the strength and expertise of our team to work for small businesses across the nation.