Protecting Family Assets and Futures
U.S. Bank Wealth Management ranked among the top 20 wealth managers* in the September 17, 2012 issue of Barron's. And no wonder. From streamlined to intricate services, from investment management to legacy building, we provide three distinct approaches to personalized private client services to meet the needs of those beginning to accumulate wealth, enjoying the rewards of a successful life or seeking to grow and pass on their wealth or to make a mark on the world.
The Private Client Group offers a dedicated relationship manager backed by a team of professionals located in our branch offices. They provide sound solutions, sophisticated products and services and access by phone, online or in person, as well as online and mobile account management tools. The Private Client Reserve provides comprehensive financial planning, private banking, investments and personal trust strategies for high net-worth individuals and families to help them preserve and increase their wealth. Our new Ascent Private Capital Management offers ultra high net-worth clients with complex needs the comprehensive integrated services they require to provide for their families, as well as to leave a legacy that could impact the world. Ascent Private Capital Management advisors address both the quantitative and qualitative dimensions of multi-generational wealth with a fully integrated and balanced program including investment consulting, financial administration, information management, private banking and wealth impact planning.
Securities Services: Going global, Corporate Trust capabilities expand
We have expanded our global corporate trust presence with offices in London and Dublin, complementing our long-established Buenos Aires office. This expansion enhanced our full suite of global corporate trust service offerings to our domestic clients and international clients issuing debt in the global markets.
Despite the difficult economic climate of the past several years, our strong and stable management team, experienced employees and commitment to service, product and technology improvements position us well for the future. Over the past year, U.S. Bank Global Corporate Trust Services implemented a new automated account opening process and plans are underway for a soon-to-be-released customer information delivery system — just a few of the new tools designed for efficiency, accuracy and security. We continue to seek opportunities to diversify our product offerings and capabilities, further improve our technology and add value for our customers.
---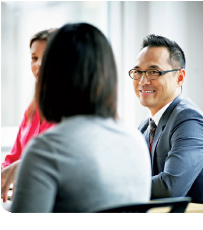 Corporate Trust offices growing, excelling
U.S. Bank has exhibited a long-term commitment to the corporate trust business — it takes expertise, remarkable service delivery and scale to do it well. One example of our commitment to the corporate trust business is the growth and investment in our Charlotte office, established in 2006 with our corporate trust group. U.S. Bank has expanded in Charlotte by adding capital markets, corporate banking, corporate real estate and a credit group.
Our London office received the No. 1 trustee rating in two categories — collateralized mortgage-backed securities (CMBS) and auto asset-backed securities (ABS) — in the 2012 European Structured Credit Investor's Survey. The office also sponsored the IMN Global ABSTM 2012 conference in Brussels in June, one of the largest securitization conferences in the European capital market. We offer our deep product knowledge and transaction experience from 48 offices in the U.S. and three international offices.