Strength Lies In Community
U.S. Bank's commitment to our communities goes beyond the financial products and services we offer. As important as those are, U.S. Bank strives to be a good neighbor, an involved civic citizen and a caring public partner through financial support and employee volunteerism. Through the U.S. Bank Foundation, we provide cash contributions to nonprofit organizations focusing on education, affordable housing and economic opportunity and artistic and cultural enrichment. Total charitable contributions from the U.S. Bank Foundation reached $23.2 million in 2012, and our company made additional corporate contributions of $24.5 million to a wide variety of worthy organizations for a combined total of $47.7 million. Further, our lending and investment programs help address the affordable housing and economic development issues facing many communities.
Volunteerism is ingrained in USB culture
We give our employees encouragement and support to be leaders in their communities. Our 61 employee-run Development Network chapters and local Community Leadership Teams, as well as our Leading US, Mentor-Connect and Proud to Serve programs, give structure and encouragement to employee community service.
Our employees care not only for each other through our Employee Assistance Fund for colleagues facing financial adversity, but also actively help in other times of need. The U.S. Bank Foundation donated $250,000 to the Red Cross Disaster Responders program to help the victims of Hurricane Sandy, the storm that wrought widespread destruction in New York City and New Jersey. Additionally, many of our U.S. Bank employees in NYC shopped together to purchase supplies for two New Jersey communities hit by Sandy, while others collected a large amount of critical supplies donated by employees. By that afternoon, U.S. Bank volunteers were enroute to Port Monmouth and Union Beach, NJ to deliver the supplies.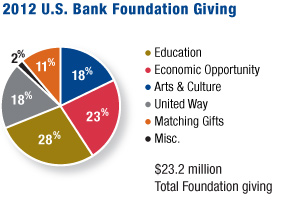 ---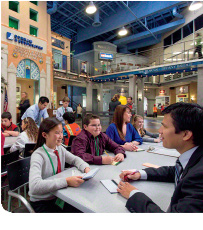 Where play leads to financial literacy
Junior Achievement (JA) programs help young people prepare for the real world. They learn how to manage finances, how jobs create strong communities and experience entrepreneurial thinking through JA's robust financial education programs, including BizTown. JA BizTown in San Diego's Mission Gorge neighborhood is a mini-city in which kids discover how free enterprise really works through a simulated town of local businesses, nonprofit organizations, a city hall and a U.S. Bank branch. Students learn to manage personal finances, become business owners and make financial decisions. U.S. Bank is a long-time supporter of JA activities in markets across our footprint.