Powering Payments and Commerce Around the World
U.S. Bancorp has positioned itself in the payments space to take full advantage of a recovering economy. From global merchant acquiring, to card processing, to mobile payments, to the burgeoning prepaid marketplace, we have continued to invest in new opportunities and new partnerships at home and around the world. As tens of millions now use their smartphones and tablets to keep their social, shopping, browsing and work worlds close at hand, we have taken an aggressive approach to developing services that meet their banking and payment needs. The latest in a history of successful market moves, including expansion into Mexico in 2010 and Brazil in 2011, is our February acquisition of Collective Point of Sale Solutions Ltd. (Collective POS) in Toronto, Canada. The deal expands Elavon's presence and distribution network in Canada and aligns with Elavon's global growth strategy.
Mobile payments for small merchants now a big business
As consumer adoption of mobile technology drives a demand for business innovation, U.S. Bank and Elavon continue to explore and pilot innovative mobile payment options that will bring value to cardholders and businesses accepting payments. The flood of mobile payment innovations has created new, organic growth opportunities with "micro-merchants." These small, independent businesses have, historically, not been able to consider credit card acceptance through traditional payment programs, but mobile solutions are changing their options. Elavon is at the forefront of developing industry leading options that enable commerce for small and independent business owners. Last year, Elavon was first to market in Europe with an EMV- (Europay, MasterCard, Visa) enabled chip and PIN security mobile payments option. Similarly, Elavon launched VirtualMerchant Mobile in the United States in 2011, providing our distribution partners a competitive solution offering. Our internal talent and innovation, and working with leading technology firms, app developers and major card companies, position us to develop viable mobile payment solutions that benefit everyone across the payments life cycle.
Prepared for prepaid predominance
Though we have been in the prepaid card business for many years through gift card issuance, AccelaPay, campus cards and others (see above), U.S. Bank has taken a significant step toward being the prepaid frontrunner with the recent acquisition of FSV Payment Systems Inc., a leading processor of prepaid cards and payroll cards for large, national employers such as McDonalds and Costco. With that transaction, we become one of the largest commercial bank payroll card processors in the industry, and we double our prepaid card business. We also gain a powerful prepaid processing platform that not only allows us to bring processing in-house, but also lets us provide full-service, end-to-end solutions very efficiently and with the flexibility to serve unique needs of customers.
---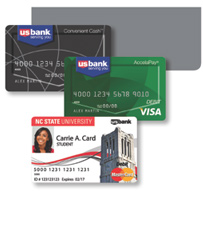 U.S. Bank prepaid cards: a customer convenience, a growing business
U.S. Bank continues to enhance its prepaid card business with a number of card options for a wide range of customer segments, all with competitive pricing and superior features. Convenient Cash, was rated #1 in lowest cost prepaid card for customers by nerdwallet.com allowing free cash loans at U.S. Bank branches and free cash withdrawals at U.S. Bank ATMs. U.S. Bank's AccelaPay® Visa Card is designed to replace costly paper paychecks. Employers deposit funds to the card each pay period, similar to direct deposit, and employees can access their funds in multiple ways. Both employer and employee gain convenience, safety and security. U.S. Bank recently launched a true, all-in-one, campus ID and prepaid Debit MasterCard®. Colleges and universities reduce operating costs for financial aid disbursement, and students enjoy the convenience, worldwide transaction capability and mobile banking functionality integrated into their student ID card. This innovative product allows us to expand beyond our traditional U.S. Bank footprint. Paybefore chose U.S. Bank's Contour Campus Card as a 2013 Paybefore Awards winner in the "Most Effective Solution" category.