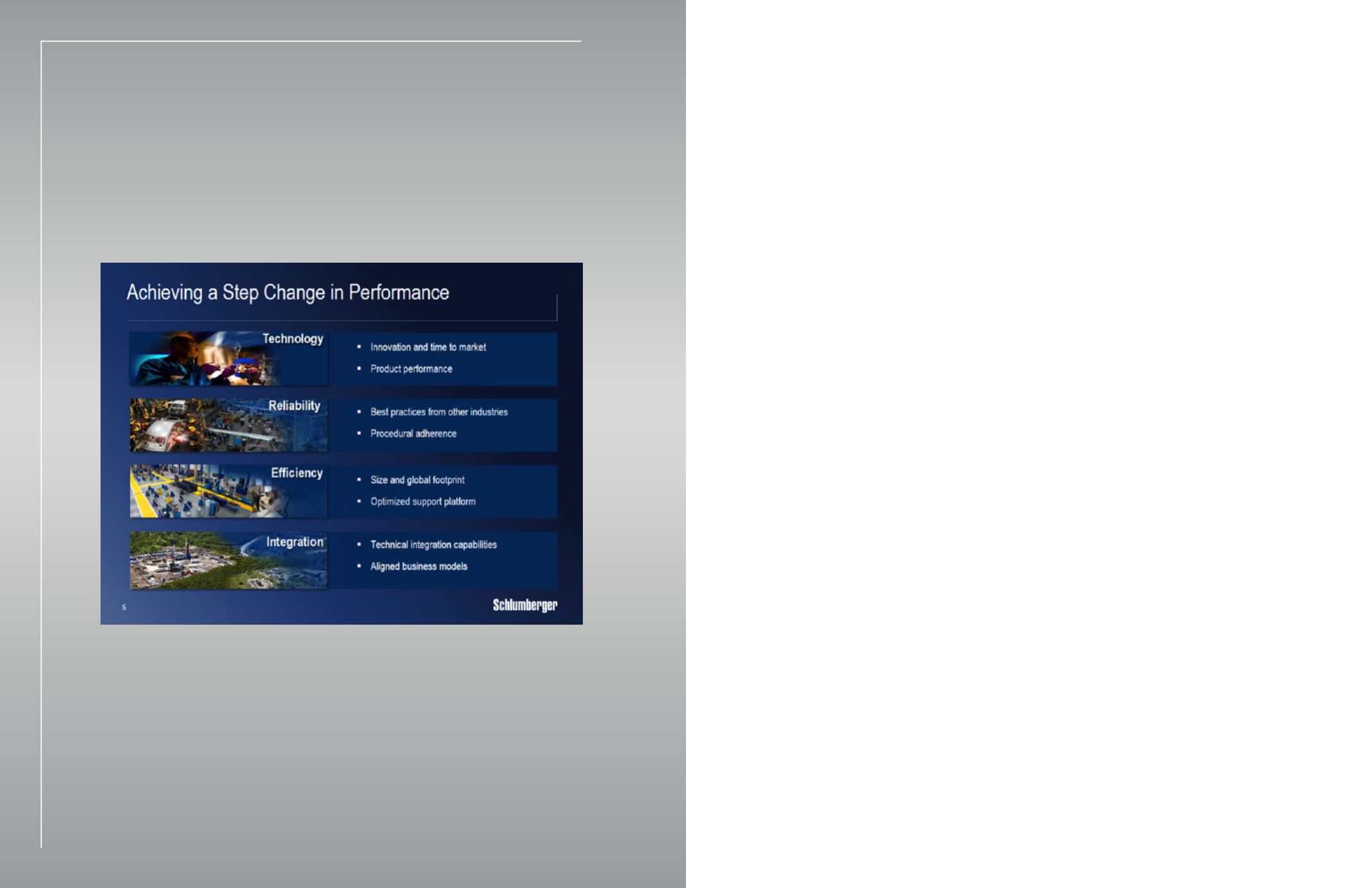 8
7
42nd Annual Howard Weil Energy Conference
Our first transformation program is focused on technology innovation and development and was
already launched in 2008.
The goal of the program is firstly; to increase the rate and magnitude of innovation to create more
products that can facilitate step changes in technical performance, instead of having the more
traditional evolutionary impact.
We also aim to accelerate the speed of our product development cycle in order to reduce time to
market for our new innovations.
And lastly, we look to dramatically improve the initial 'out-of-box' performance of the new products
we introduce to the market.
The second transformation theme is reliability where we, as a company, are looking to elevate our
performance to the 5 Sigma level seen in the automotive industry.
We will do that by emulating their design test and qualification methodologies and their approach to
equipment maintenance and repair, and also by creating a step-change in the way we adhere to clear
and simple operating procedures.
The third transformation theme is process efficiency, where we for a wide range of our internal
workflows, are looking to better leverage the scale of our operations to reduce costs by utilizing the
latest advances in IT infrastructure and transportation.
And the fourth transformation theme is integration where we see a significant performance upside by
further expanding the level of project management and integration we do for our customers.
Today, there are in general, too many individual suppliers involved in our customers' workflows which
adds unnecessary complexity in terms of establishing the optimal technical solutions and also in
achieving full commercial alignment with the customers' goals.
By moving towards fewer, larger service providers, who have broader technical offerings, a full range
of integration capabilities and the ability to better align commercially through new business models,
we can significantly improve both the technical and financial performance of our customer projects.
These four transformation themes are actively being pursued in our organization and are at various
stages of maturity and implementation.
Today, in the interest of time, I will elaborate on the technology transformation program.
In doing so, I will show you what we have achieved since the program was kicked-off six years ago
and also how the program is starting to have an impact on our results through a few examples from